Like many of you, this coming weekend means a Sunday full of football and grazing on high-calorie, delicious snacks.  Even if you're not the host, is it possible to bring a pot luck dish that tastes amazing, but is easy on the waistline?  One that no one knows is better for them?
That's always my strategy…bring something delicious that people will love and won't realize has been healthified (yes, that is my new word).  And I'm not talking a veggie tray…the real deal stuff a party wouldn't be the same without.  A recipe people ask you for.  Here are my top three recipes that feature the delicious dairy we all love, but slimmer on calories.  I even included a bonus recipe for Frozen Ice Cream Footballs on a Stick, which has not been slimmed down much, but at least will help control portion sizes! Trust me, I'm a dietitian who likes a good tailgate party!  Let me know what you think or if you have other favorite recipes to share that sneak in some good nutrition.
Slimmed Down Seven-Layer Dip
Modified and based off AllRecipes.com Seven Layer Dip II

Ingredients
1 1/2 tablespoons fresh lime juice
1/4 cup chopped fresh cilantro
1/4 cup salsa
garlic salt to taste
ground black pepper to taste
1 (8 ounce) non-fat plain Greek yogurt
1 (1 ounce) package taco seasoning mix
4 roma (plum) tomatoes, diced
1 bunch green onions, finely chopped
1 (16 ounce) can fat-free refried beans
2 cups reduced-fat  shredded Mexican-style cheese blend or reduced-fat Cheddar
1 (2.25 ounce) can black olives – drained and finely chopped
Directions
In a medium bowl, mix lime juice, cilantro, salsa, garlic salt and pepper.
In a small bowl, blend the Greek yogurt and taco seasoning.
In a 9×13 inch dish or on a large serving platter, spread the refried beans. Top with Greek yogurt mixture. Top with tomatoes, green onions, Mexican-style cheese blend and black olives.
Serve with whole grain tortilla chips and veggies.
Super Bowl of Chili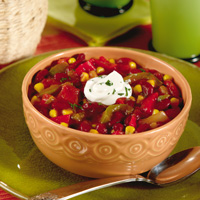 Makes 8 servings
Ingredients
1 (19 ounce) can black bean soup
1 (15 ounce) can kidney beans, rinsed and drained
1 (15 ounce) can garbanzo beans, rinsed and drained
1 (16 ounce) can vegetarian baked beans
1 (14.5 ounce) can chopped tomatoes in puree
1 (15 ounce) bag frozen whole kernel corn, defrosted
1 onion, chopped
1 green bell pepper, chopped
2 cloves garlic, chopped
1 tablespoon chili powder, or to taste
1 tablespoon dried parsley
1 tablespoon dried oregano
1 tablespoon dried basil
1 cup reduced-fat Cheddar, shredded for garnish
Directions
In a slow cooker, combine black bean soup, kidney beans, garbanzo beans, baked beans, tomatoes, corn, onion, and bell pepper. Season with garlic, chili powder, parsley, oregano and basil. Cook for at least two hours on High.
When ready to serve, sprinkle 2T shredded Cheddar cheese on each bowl.
Spinach and Artichoke Dip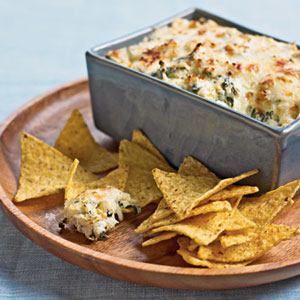 Ingredients
2 cups (8 ounces) shredded part-skim mozzarella cheese, divided
1/2 cup fat-free sour cream
1/4 cup (1 ounce) grated fresh Parmesan cheese, divided
1/4 teaspoon black pepper
3 garlic cloves, crushed
1 (14-ounce) can artichoke hearts, drained and chopped
1 (8-ounce) block 1/3-less-fat cream cheese, softened
1 (8-ounce) block fat-free cream cheese, softened
1/2 (10-ounce) package frozen chopped spinach, thawed, drained, and squeezed dry
1 (13.5-ounce) package baked tortilla chips (about 16 cups)
Directions
Preheat oven to 350°.
Combine 1 1/2 cups mozzarella, sour cream, 2 tablespoons Parmesan, and next 6 ingredients (through spinach) in a large bowl; stir until well blended.
Spoon mixture into a 1 1/2-quart baking dish. Sprinkle with remaining 1/2 cup mozzarella and remaining 2 tablespoons Parmesan.
Bake at 350° for 30 minutes or until bubbly and golden brown. Serve with whole grain tortilla chips or your favorite raw veggies like carrots, celery and bell peppers.
I couldn't resist…this is bonus recipe is great without any substitutions, though you could use slow churn ice cream or frozen yogurt instead of full-fat ice cream.
Frozen Ice Cream Footballs on a Stick (Cutest ice cream popsicles ever)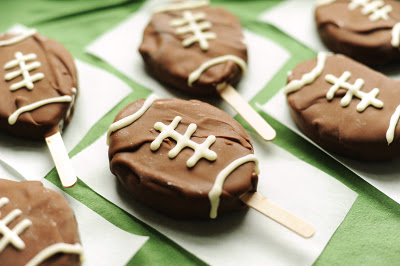 Enjoy!