This week our guest blogger is our dietetic intern Elizabeth Aurand. Elizabeth Aurand is in her senior year at Boston University studying dietetics. As an intern at The New England Dairy and Food Council, she hopes to learn how to link her interest in communications with her knowledge of nutrition to educate the public on an important topic that impacts all of us, food. When she's studying or getting her daily dose of dairy, the Ohio native spends her Saturday's watching college football and can often be heard cheering from her Allston apartment.
Take Action Against Hunger this Month with The Great American Milk Drive
              Hunger is a problem that affects individuals across the United States. According to Feeding America, 1 in 6 Americans struggle daily with hunger. Hunger can have a negative impact on physical and mental health, it negatively affects child development, and it can hinder academic performance in children.
This September marks the beginning of Hunger Action Month. During this month, Feeding America asks us all to band together to bring an end to hunger in this country. This can be accomplished through volunteering time or donating food to local food banks. To show your support and spread the word, you can wear orange as well as change your profile on Facebook and Twitter to go orange for Hunger Action Month.

Hunger Action Month Logo
Photo Credit: Feeding America
One way to help fight hunger during Hunger Action Month is to make a donation of milk to your local food banks. Milk is a great source of protein and other key nutrients that are critical for a healthy, balanced diet in adults and children. As a perishable food item, milk is rarely donated to food banks, but it is a commonly requested item by families in need. Must Be The Milk is asking YOU to address this problem directly through the donation of a gallon of milk to local families in need through the Great American Milk Drive. It's easy to do. Visit www.milklife.com/give to make a donation today.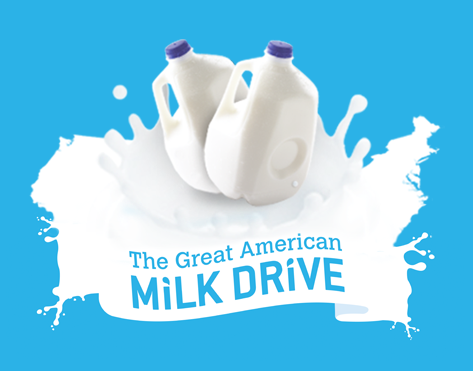 The Great American Milk Drive Logo
You can also donate by text. Text MILK to 27722 to donate one gallon of milk to a family in need. Make orange your color this September and help fight hunger with a donation to the Great American Milk Drive.
Leave a comment and let us know you donated!