Our guest blogger Elizabeth is at it again but this time she is sharing her experience at our most recent Fuel Up To Play 60 event in Swampscott, MA.
For the Love of Play
Elizabeth Aurand
Boston University Student and New England Dairy & Food Council Intern
This fall, Fuel Up to Play 60, Quaker and the NFL have joined forces to launch For the Love of Play, a campaign that encourages kids and the adults who care about them to get up and get active for 60 minutes of play a day — at school, at home, and everywhere in between.
This past Tuesday (9/16/14) Fuel Up to Play 60 visited Swampscott Middle School, home of Massachusetts' Fuel Up to Play 60 Student Ambassador, Tyler, to kick off For the Love of Play. Student leadership is the cornerstone of the Fuel Up to Play 60 program and gives youth a platform to help make their schools and communities healthier places to learn and grow. Tuesday's event featured speeches by Tyler, Massachusetts dairy farmer Marlow Duffy of Great Brook Farm State Park in Carlisle, MA and New England Patriot's defensive back, Devin McCourty. As an intern at New England Dairy & Food Council, I was lucky enough to be a part of the team for this very special event.
The day began bright and early with assembling the gym and outdoor area for the event. The décor was fittingly dairy chic with life-sized milk bottles, and plenty of banners promoting the Fuel Up to Play 60 program. (I may have decided what my apartment really needs is a life-size milk bottle. Plans on that are still pending.)
The excitement really started when 750 students filed into the gym receiving high-fives from Pat Patriot himself. The crowd quieted and the speeches began. Some personal highlights were Marlow Duffy discussing the pampered lifestyle the cows on their farm lead. They have their own tempurpedic mattresses shipped all the way from Germany. Now that's what I call a happy cow! After her speech, the lights in the gym dimmed, and the new Fuel Up to Play 60 promotional video began. It encouraged all kids to get out there and show their favorite way to play. The video faded and the crowd erupted in cheers as Tyler and the surprise guest Devin McCourty came out in a wheelbarrow position.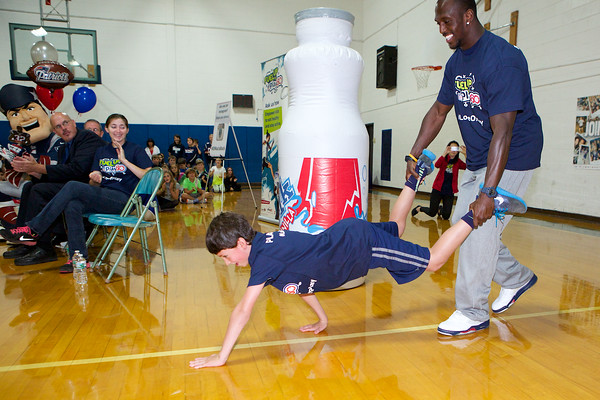 Devin spoke to the students about the importance of nutrition, especially dairy, and to his work as a professional football player. Tyler then held a question and answer session with Marlow and Devin. Marlow told us more their robotic milker, and Devin explained how important good nutrition is to remaining mentally and physically tough throughout the football season.
The event concluded with an inaugural lap outside the school led by Tyler, Marlow, and Devin to kick off the 100 Mile Club. This is a Physical Activity Play in the Fuel Up to Play 60 Playbook that challenges students to walk 100 miles over the course of the school year. The lap concluded with milk for the students, a great way to recharge after exercise and to celebrate the contributions of New England Dairy Farmers!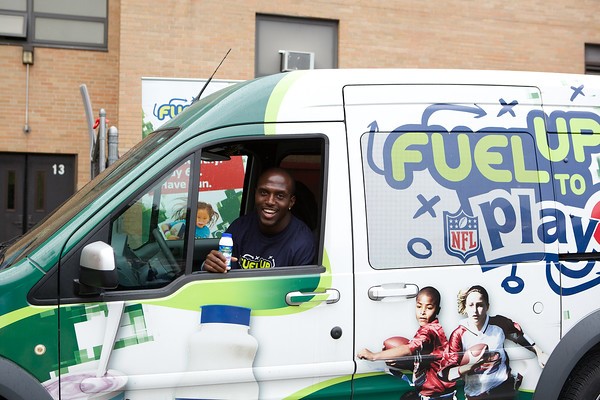 For the Love of Play means to be active doing the things that you love most. For me, that means dancing around my apartment, but it could mean something completely different to you. However you play, get up, get out there, and do it! Oh, and don't forget the milk!
Join the campaign by sharing your favorite way to PLAY on Facebook, Twitter, and Instagram with #LoveOfPlay.