This week's blog post comes from our New England Dairy & Food Council intern Kayla Arouchon.
Do you ever lie in bed in the morning and think, how will I get through this day? Well, you can and you will!
One small piece to jump-starting you morning that is essential for you AND your kids—breakfast.
I know, I know—we've heard it time and time again, but breakfast truly is the most important meal of the day and here's why:
Research has found that kids who eat breakfast have higher quality diets than those who do not eat breakfast. Also, kids who eat breakfast have less behavioral, emotional and academic problems.
What better reason do we need?!
Now, what to make for breakfast…
Here are three easy recipes you can make-ahead and enjoy the throughout the week!
Recipe 1: Courtesy of The National Dairy Council
Directions:
Heat oven to 350F.
Coat 9×9 pan with nonstick cooking spray.
Mix oats, ¾ cup of yogurt and brown sugar. Press out mixture into bottom of the pan.
In a large bowl whisk egg and cornstarch. Add the rest of the yogurt and white sugar; stir until blended.
If using frozen blueberries, mix 1 ¾ of them in flour until coated. Fold the blueberries into the batter and pour over the crust.
Bake for one hour or until a toothpick inserted into the center comes out clean.
Cut into 9 pieces and garnish with each with ¼ cup of blueberries.
Recipe 2:  An Original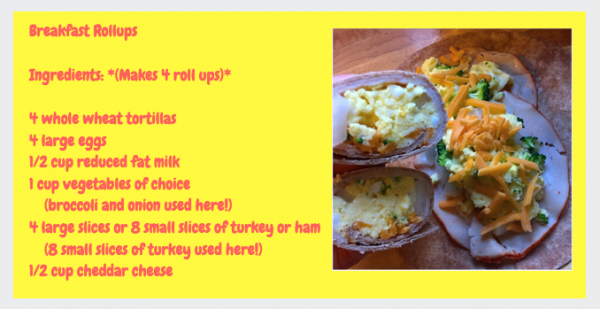 Directions:
In a bowl, whisk together eggs, milk, salt and pepper, any vegetable of choice (onions and broccoli chosen here).
Heat a nonstick pan to medium heat. Pour in chopped vegetables and cook until soft. Pour egg mixture over vegetables and scramble eggs. (Allow eggs to cool completely if making ahead of time)
Lay out 4 whole grain tortillas. Lay down deli slices first (turkey used here). Divide the cooked and cooled egg mixture over the four tortillas. Top with shredded cheddar cheese. Fold in the ends of the tortilla and roll it up.
Either eat immediately or wrap burritos individually in cellophane and tinfoil. Unwrap and heat in microwave or toaster over before serving.
Recipe 3:  An Original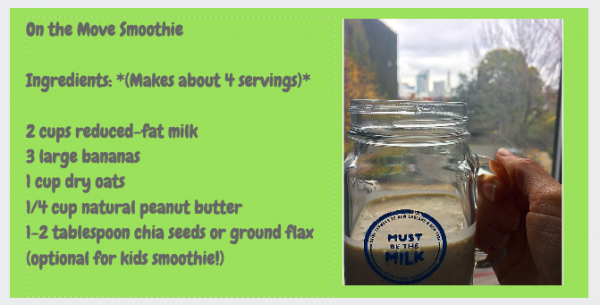 Directions:
In a blender, mix together all ingredients and blend!
If using a lower power mixer, cut up banana into smaller pieces.
I'm sure we can all agree these breakfast choices look great. But what happens when you sleep through your alarm? When your child needs to finish their assignment due today? Or you're just busy with everyday life!
Have no fear…school breakfast is here!
Research shows that school breakfast plays an important role in the health and well-being of our students. Students who eat school breakfast:
Have better attendance
Are tardy less often
Are better able to concentrate
Perform better academically through higher test scores and grades – especially when breakfast is eaten close to testing time
Make fewer visits to the school nurse
Have fewer disciplinary problems
Whether you are looking to begin, expand or promote a school breakfast program, or simply learn more about the program, we've got you covered. Check out the resources below to expand your knowledge of school breakfast.
For more information, visit www.newenglanddairycouncil.org.
It's safe to say my stomach is growling….how about yours??