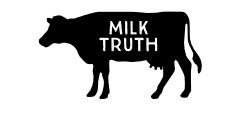 What is a local food that costs only twenty five cents per serving and is just eighty calories?
Milk.
For real.
There is quite a bit of work that goes into bringing this nearly perfect food to market. Imagine this day in the life of a dairy farmer: your alarm goes off at 4:00 AM. Regardless of how tired you might feel or whether it is raining, snowing, or winter storm "Marcus-ing" outside, it is time to get up. You have calves to feed and cows to milk. Your love for the land and your care for the cows on your farm gives you the motivation required to get out of bed each morning, every day of the year, and work to bring nutritious milk to market.
Plus, 97 percent of dairy farms in the US are family owned and operated, which means that no matter the weather or the day of the year, dairy farmers and their families are out on the farm working tirelessly to provide milk to you and your family all while working to support their own.
As I am sure you have noticed, there are more beverage choices than ever at the grocery store. There have even been many news stories about milk and milk alternatives lately. Most of us have not spent much time on a working dairy farm and may not look closely at the nutrient or ingredient labels on the beverages we have consumed. So take a few minutes today to get the real facts about milk and to learn the story behind the product you have seen on the refrigerator shelf for decades. You might learn something. For real.