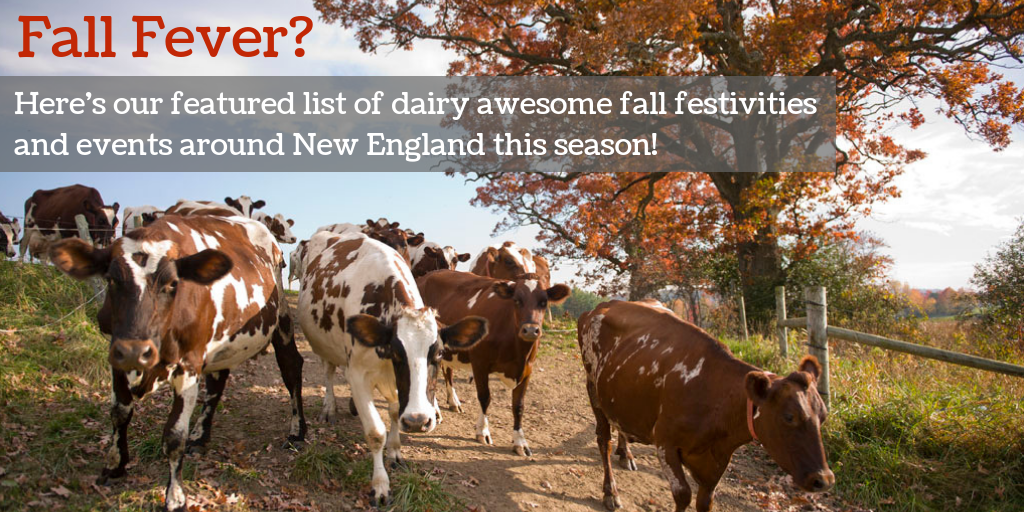 Massachusetts:
Appleton Farms in Ipswich, MA hosts several great events throughout the year! Check out some of the fall events they have planned: Meet a dairy farmer, Farm Friday Dinners, wagon rides, concert series, just to name a few.
The Trustees also cares for nearly 25,000 acres – all around Massachusetts. Search here for more of their events throughout the state.
If you are planning to go to The Big E (September 13-29), we hope you stop by the Mallary Complex to see the dairy cows and learn how milk travels from the farm to you. We have a cool exhibit right next to our amazing singing refrigerator!
More fun fall activities in happening in MA!
Connecticut:
Celebrate agriculture and enjoy a wagon ride tour at the Woodstock Fairgrounds on Sept 21! Fort Hill Farms in Thompson also has their seven-acre corn maze open through October 31. This year's design is a tribute to Cabot Cheese in celebration of the co-op's centennial.
More fun fall events happening in CT!
Rhode Island:
Smith's Castle in North Kingstown is hosting Harvest Festival: Dairy Days on October 19! Vendors and artisans will be on hand with handcrafted items, goods, and food. Enjoy apple crisp, ice cream and more during this day of family fun. Children will be able to have their faces painted, help with butter making and tasting, and Rhody Fresh will also be there with baby calves!
More fun fall activities in RI!
New Hampshire:
Remick Country Doctor Museum & Farm is the only country doctor museum in New England and one of only three in the United States. They provide year-round opportunities to engage with rural New England history! Their 15th Annual Harvest Festival is on September 21 this year and they also have several other fun events throughout the year.
More fun fall events happening in NH!
Vermont:
Billings Farm & Museum is a fully-operational dairy farm and a museum of Vermont's rural heritage located in Woodstock! They are open to the public daily but and have some special fall events coming up like "Wagon Rides Wednesdays" and their Harvest Festival on October 12.
More fun fall events happening in VT!
Also check out our state by state list of 2019 of county and state fairs!