If you are living with lactose intolerance, you may be under the impression that you have to give up dairy altogether. Well, I have good news for you. This is a common misconception, and you certainly do not have to give up dairy! And that's a good thing, because the Dietary Recommendations for Americans say that the general population should be consuming three servings of dairy every day for optimal health. Why should you be put at a disadvantage just because you have a lower lactase enzyme level than others? That hardly seems fair!
Below is a list of Frequent Asked Questions (FAQs) about Lactose Intolerance that our Boston University Nutrition Communications Intern Elizabeth Aurand answered for us! Keep reading for a couple of delicious lactose-intolerant-friendly recipes created by Blogger and Recipe Developer Katie Webster that you can 'wow' your holiday guests with this season.
FAQ: Does being Lactose Intolerant mean giving up my favorite dairy foods?
Often, the phrase "lactose intolerant" becomes equated with "dairy free." This is a common misnomer and does not need to be the case. Lactose intolerance is when a person is producing lower amounts of the enzyme lactase which is responsible for digesting lactose, the natural sugar found in milk. While this can make consuming dairy products uncomfortable, there are several ways to use dairy in the diet that can make it work for each individual without excluding it completely.
FAQ: Why is dairy important to keep in my diet?
Three servings of dairy a day are not only delicious, but they are important for getting all of the necessary nutrients into our diet. Dairy foods provide numerous vitamins and minerals as well as protein. Without dairy in the diet, it is difficult to meet the nutrient recommendations for these vitamins and minerals especially calcium, potassium, phosphorus and Vitamin D.
FAQ: How can I keep dairy in my diet?
Everyone's levels of lactose tolerance is different. Therefore, incorporating dairy back into the diet is all about making it work for you, and there are several ways to approach this. To begin, consume small amounts of dairy and increase the amounts as tolerated. Also, look into some great lactose-free or low lactose options such as lactose-free milk. There are also some dairy foods that are naturally low in lactose such as natural cheeses including Cheddar (yum!). Plain Greek yogurt and plain low-fat yogurt that contain live, active cultures are also often well tolerated as the active cultures assist with digesting the lactose.
FAQ: Does lactose-free milk have the same nutritional benefits as low-fat and fat-free milk?
The great news is that lactose-free milk does have all of the same nutrients as low-fat and fat-free milk. The only difference is that it does not contain lactose making it easier to digest for those with lactose intolerance. And it doesn't hurt that lactose free products taste great too!
Now that you have all the info you need about lactose intolerance and dairy consumption, it's time to get into the kitchen and start cooking with your favorite dairy foods! Here are two of our favorite recipes that everyone, including you lactose-intolerant folks, can enjoy. For more tips on eating healthy with lactose intolerance, join the conversation online using #EatConfidently.
Blueberry Almond Tart
Makes 10 servings
Active Time: 40 minutes
Total Time: 6 hours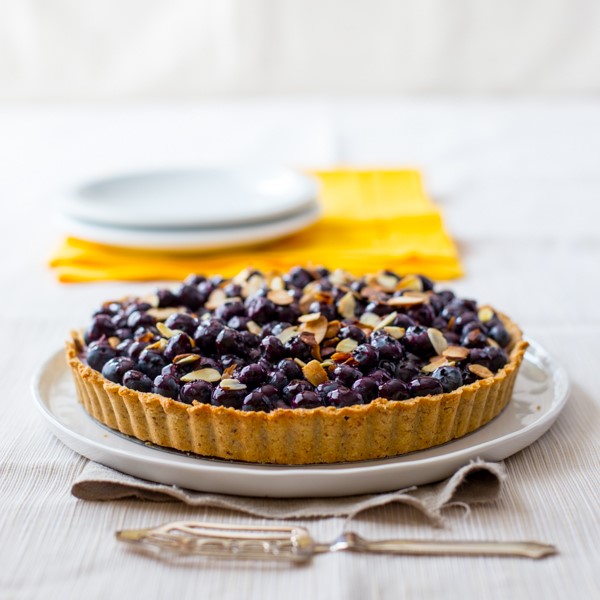 Ingredients:
Crust
½ cup whole almonds
1 tablespoon sugar
¾ cup whole-wheat pastry flour
3 tablespoons all purpose flour, plus 1½ teaspoon
¼ teaspoon salt
1 egg yolk
1 tablespoon coconut oil, melted
1 tablespoon canola oil
3 tablespoons cold water
Filling
½ cup blueberry jam
2 tablespoons apple juice
½ teaspoon almond extract
1 package unflavored gelatin
2 cups fat-free vanilla Greek Yogurt
2 cups blueberries
2 tablespoons toasted sliced almonds for garnish, optional
Preparation:
Prepare Crust: Preheat oven to 400 degrees F. Place a 9-inch tart pan with removable bottom on a baking sheet and coat lightly with cooking spray.
Place ½ cup whole almonds and sugar in a food processor fitted with steel blade attachment. Process until the almonds are the consistency of rough meal. Add whole-wheat pastry flour, 3 tablespoons all-purpose flour and salt and pulse until combined. Stir 1 egg yolk, coconut oil and canola oil in a small bowl. With the food processor motor running, drizzle yolk mixture through the feed tube and process until completely mixed in. Drizzle in water with the motor running and then pulse just until mixture clumps together.
Turn mixture out into the prepared pan; spread evenly and press firmly into the bottom and up sides to form a thin crust. Prick all over with a fork and transfer to the oven. Bake, pressing down with the back of a fork only if it starts to puff, until dry and slightly golden along the edges, 10 to 13 minutes. Turn off oven and let sit in hot oven 10 minutes. Remove from oven and cool crust completely. Brush the remaining 1 ½ teaspoon flour into any fine cracks and fork holes in the crust.
Stir blueberry jam and extract in a small saucepan until completely combined. Measure out two tablespoons for glazing the tart and refrigerate. Sprinkle gelatin over the remaining jam mixture, and allow to bloom about five minutes. Cook, stirring over medium heat until melted, 3 to 5 minutes. Remove from heat and let cool slightly, about 5 minutes. Whisk Greek yogurt and the gelatin mixture in a medium bowl. Pour into the crust. Refrigerate until the yogurt is set up, about 4 hours, or overnight.
Top the tart with blueberries. Brush the reserved blueberry jam mixture over the berries. Sprinkle with sliced almonds. Remove tart pan sides before serving.
Nutrition Analysis:
Per Serving (crust and filling): 242 calories; 8.9 g fat; 2.2 g saturated fat; 33 g carbohydrate; 8.5 g protein; 78 mg of sodium; 2.9 g fiber
Cheddar Bites Trio
Makes 64 Bites
Active Time: 20 minutes
Total Time: 20 minutes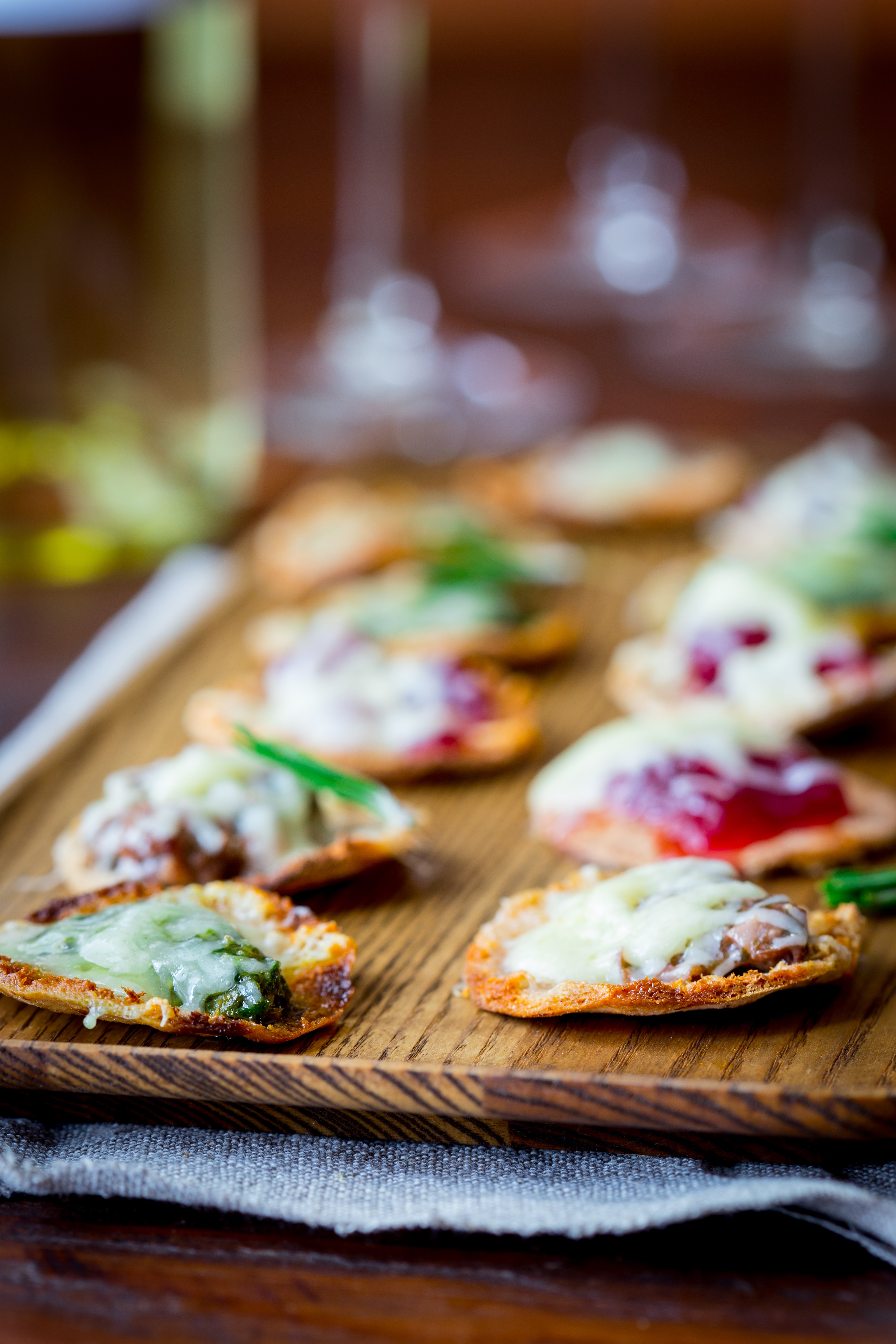 One recipe and three flavors:
1) Cranberry Horseradish; 2) Pesto Sharp Cheddar;
3) Black Olive Tapenade and Cabot Alpine Cheese
These tasty little noshes tickle the palate and fly together in a flash. Serve these at a tapas party or a holiday gathering. They are always a hit!
Ingredients:
4 8-inch pita breads, white or whole-wheat
1/3 cup whole berry cranberry sauce or chutney
2 ounces finely shredded Cabot Horseradish or Sharp Cheddar
¼ cup basil pesto
2 ounces finely shredded Sharp Cheddar
1/3 cup black olive tapenade
2 ounces finely shredded Alpine Cheddar
Preparation:
Arrange oven racks to one in upper position and one in the center. Heat oven to 375 degrees F. Line two baking sheet with foil.
Cut each pita bread into 8 2-inch rounds with a biscuit or cookie cutter. Split each into two. Lay the pita rounds on the baking sheet and bake until crisp and toasted, about 6 to 8 minutes.
Adjust heat to broil. Divide the cranberry sauce among about a third of the pita rounds and top with horseradish cheddar, divided evenly. Repeat with the pesto sharp cheddar combination and the tapenade and Alpine. Broil one pan at a time, while carefully monitoring and rotating as necessary, until the cheeses are evenly melted, 30 seconds to 3 minutes per pan.
Cool slightly before serving.
Nutrition Analysis:
Cranberry and Horseradish
Per serving (3 pieces): 77 calories; 2.8 g fat; 1.5 g saturated fat; 128 mg sodium; 10 g carbohydrate; .69 g fiber; 2.6 g protein
Pesto and Sharp Cheddar
Per serving (3 pieces): 89 calories; 5.9 g fat; 2.2 g saturated fat; 204 mg sodium; 6 g carbohydrate; .81 g fiber; 3.1 g protein
Black Olive Tapenade and Sharp Cheddar
Per serving (3 pieces): 68 calories; 3.6 g fat; 1.8 g saturated fat; 268 mg sodium; 6 g carbohydrate; .69 g fiber; 2.6 g protein
Have any recipes to share with us? Send us a link in the comment section below!
Happy cooking and #EatConfidently!