The presents, the meals, the cookies, the holiday decorations—it all added up to a fun winter, but the spending left a major dent in your wallet. Start fresh this January, and save some cash, by cooking healthy meals at home.
My favorite inexpensive family meals are:
Egg and cheese frittatas
Grilled cheese sandwiches with chunky tomato soup
Black bean and cheese tacos
The Versatile Egg and Cheese Frittata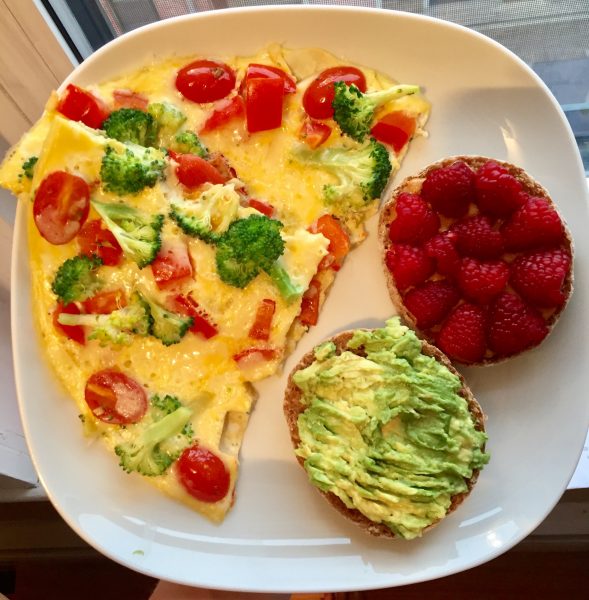 What's in the fridge? Add it to the pan! Frittatas are a quick and healthy way to feed the family breakfast (or dinner). Plus, they're a great way to:
Use foods that are on the verge of going bad.
Pair healthy carbs with, like a slice of whole grain bread or skillet potatoes.
Start by heating a stovetop skillet over medium heat. Sauté butter with veggies (I like chopped mushrooms, kale, broccoli, and red peppers). Meanwhile, whip together eggs, egg whites, and milk. Once the veggies have softened, turn the heat down to low. After a minute, pour the egg mixture over the veggies. When the eggs are nearly set, top with shredded cheese and turn off the stove. Cover to let the cheese melt.
Or, read bon appétit's article on making the perfect egg and cheese frittata.
Tasty Tom's Tomato Soup and Golden Grilled Cheese Sandwiches
Skip the can! Homemade tomato soup is a simple, healthy, and filling meal that can be ready in 30 minutes.
All you need are a few cans of tomatoes, an onion, garlic cloves, spices, and milk. Feel free to use anything from low-fat to full-fat milk. Rather than write out my favorite recipe, check out Chef Tom Douglas' tomato soup. Pro tip: The soup is great served cold with a dollop of plain yogurt.
What pairs better with tomato soup than grilled cheese sandwiches?
Heat a skillet over low-to-medium heat. Butter slices of whole grain bread. Form sandwiches by layering cheese, tomato slices, turkey, and caramelized onions, or whatever you like. Lightly pan-fry the sandwiches until both sides are light brown. Serve with ketchup, salsa, or Sriracha sauce.
Amp up the sandwiches by using cookie cutters to create fun shapes for the kids.
Black Bean and Cheese Tacos
Beans are a great source of protein and come in a variety of shapes and flavors.
My favorite stovetop beans are ready in 10 minutes and feature black beans, cilantro, onions, and red peppers. Add a few spices and you're all set. Don't have black beans? Replace with whatever beans exist in the pantry.
Once ready, top corn tortillas with a scoop of beans, a sprinkle of cheese, avocado chunks, and scoops of salsa and sour cream (or plain yogurt).
Homemade is Tastier, and Makes for Great Photos
Try out and snap photos of any of the above recipes, and make sure to tag Must Be the Milk on Facebook and Twitter.