Zoe Brickely began exploring the world of cheese while attending culinary school in New York City. From there she took on the role of cave manager and American buyer at Murray's Cheese after some time spent behind the counter. Currently, Zoe coordinates sales and communications for Cellars at Jasper Hill – a facility dedicated to preserving the working landscape in northern Vermont through farmstead cheese production. Zoe has been an aesthetic judge and Certified Cheese Professional program committee member for the American Cheese Society (ACS), competed in the Caseus international cheesemonger competition (2009), and has presented many seminars for private companies as well as for organizations like the ACS, San Francisco Cheese School, and the Vermont and Seattle Cheese Festivals. Below, Zoe gives us a glimpse into her journey and passion for cheese. Enjoy!
A Cheesemonger's Tale
By: Zoe Brickley
In this season of commencement speeches and senior celebration, I reflect on my near decade in the job market since I donned the cap and gown. I remember the initial excitement, the uncertainty, and the difficulty imagining myself as a professional adult of any sort.
I can't help but think about that scene in The Graduate, where a young Dustin Hoffman gets prophetic guidance from the neighbor guy. What advice would I have given myself, if I could go back, to help me focus on the path ahead?
I've got one word for me. Just one word… Cheese.
After coming up in the suburban Midwest I never imagined that I would find myself with a career in cheese – my only frame of reference for it was the dairy case at our local supermarket. Nor would I have foreseen my current job on a dairy farm in the remote Northeast Kingdom of Vermont.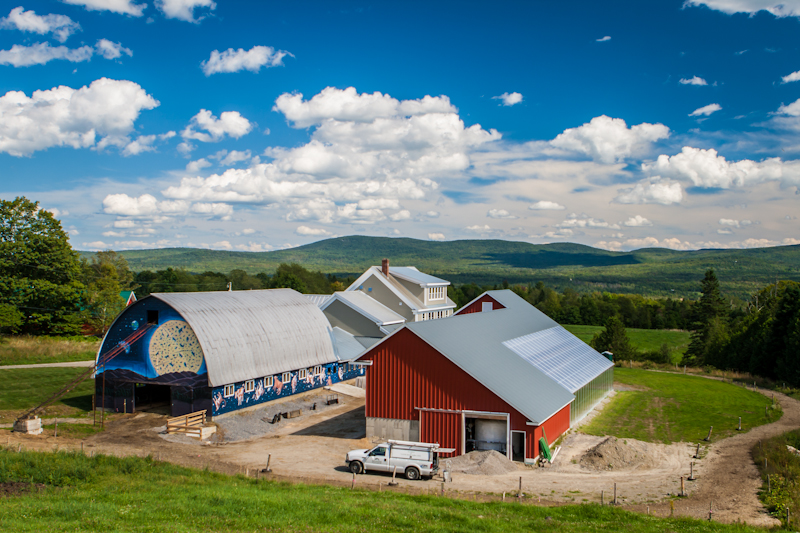 Farming didn't have much appeal for me back then. Perhaps it was due to our local agriculture in the grain belt. The ocean of feed corn surrounding my neighborhood was like water, water everywhere and not a drop to drink; crops you couldn't eat before cycling through beef cattle or pigs or a processing plant. Farming seemed pretty vast and a bit abstract to wrap my over-stimulated, gen-Y brain around.
It wasn't until I found myself with a part-time job in a metropolitan cheese shop (with a slew of other liberal arts grads) that I felt a draw towards agriculture. It began with exposure to a baffling diversity of cheeses I never knew existed; a curious variety of shapes and sizes; an earth-tone spectrum of rustic, natural rinds; aromas and flavors and textures I had never encountered – what a dazzling assault on the senses! Where? Who? How did these marvels come to be? I wanted to know…
I learned that my favorite cheeses, the ones with an appealing look of authenticity and resulting mouthwatering complexity, came from farms. That's right – there was a person behind the cheese a direct connection to a farm. Sometimes they were in France, sometimes they were in Spain, sometimes right in our own back yard. The distinction seemed to be that the cheesemakers with the most enviable products explained their success by describing how they captured their own particular taste of place.
This concept, that a food can embody a taste of place, is referred to in culinary circles as terroir. I came to think of the cheese terroir as a dynamic interface between a landscape, its climate, its animals, its microbiology, and the cultural values of a community all filtered through the craftsmanship of a producer. The stronger this sense of place a skilled cheesemaker had, and the more narrowly they identified with a particular piece of land and herd of animals, the more compelling I realized I found the cheese. I loved imagining these people filtering their bucolic surroundings through a herd of deliberately bred cows. Then coaxing complexity and flavor from that raw material of milk through precise handling and cultivation of specific yeasts, molds and bacteria. I was awed. I was hooked.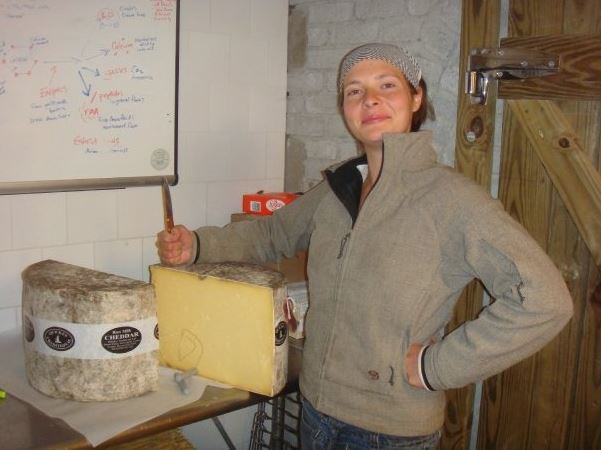 I finally knew what it felt like to be passionate about something. This revelation led me to the intense decision to move from Brooklyn to the Canadian border. For the past four years I've been working with the Cellars at Jasper Hill in Greensboro, Vermont to represent artisan cave-aged cheeses to customers across the country. I get to tell the stories behind the 6 cheesemakers and 6 herds of cows that fill the shelves within our underground aging caves. I work to communicate the value of a hand-made, single source products and the opportunities that these value-added products represent for Vermont's working dairy landscape .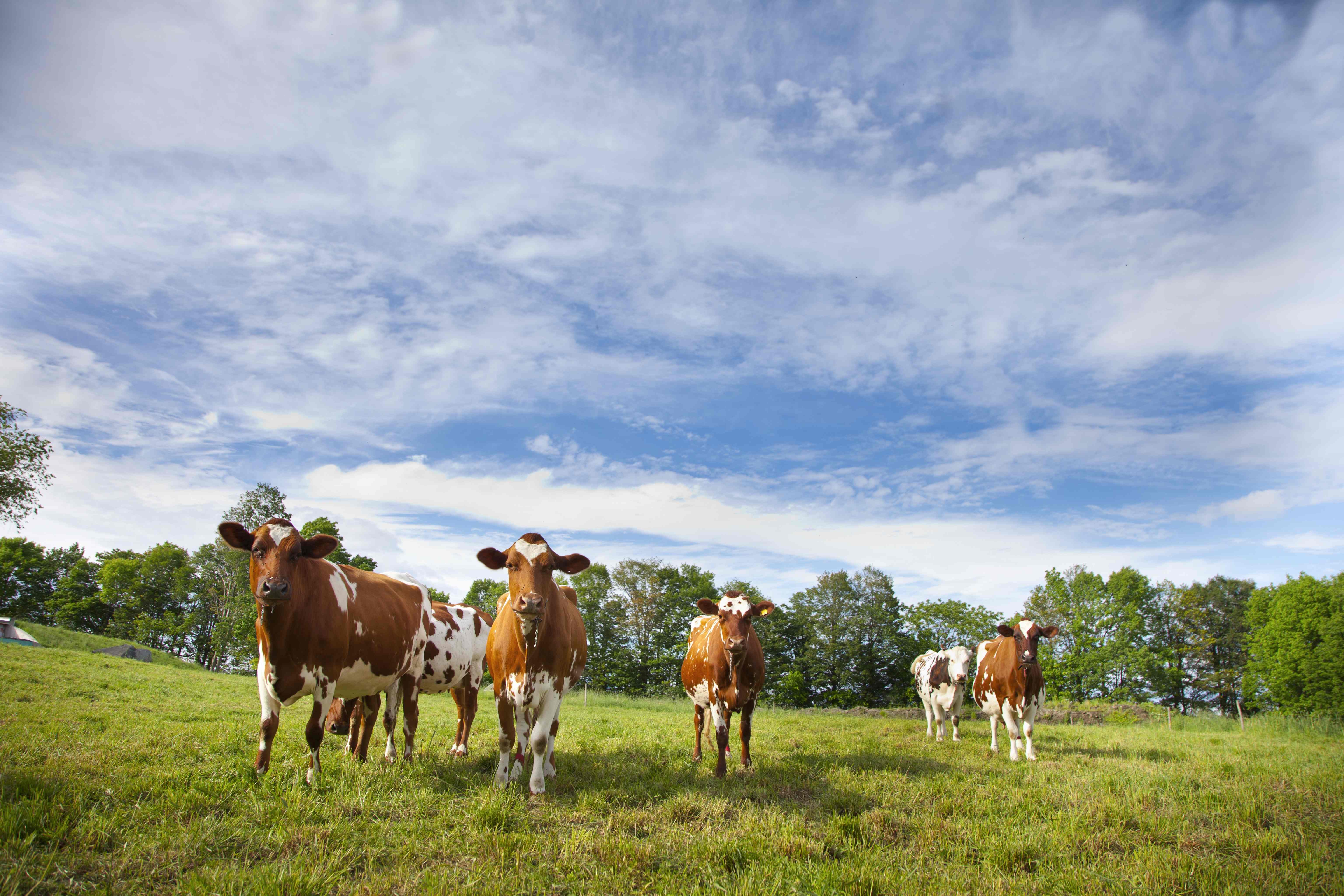 I've come to love the Northeast and I appreciate feeling like I'm a part of a culture of farming. The site of cows dotting the rolling green hills always puts a smile on my face, and I like the family-oriented scale of most of the farms around here. I feel lucky to have found a company to work for that is so committed to keeping this way of life viable for generations to come.
My advice to this season's grads? Get involved! One of the challenges we face as an artisan cheese industry is convincing the next generation of farmers to take the reins. We need skilled herdsmen, cheesemakers, and educators to keep momentum going strong. With such an interdisciplinary field, there are lots of ways to contribute… The easiest way to help, of course, is to seek out and enjoy good cheese!