Mark your calendar for Cabot's annual Open Farm Sunday
Farm families across New England invite you to celebrate local, sustainable dairy farming during Cabot Creamery Cooperative's annual Open Farm Sunday, set this year for October 13.
An expected 51 farmers will throw open their barn doors for tours and info sessions from 11 a.m. to 2 p.m. All participating farms are members of the Cabot Creamery Cooperative.
Visitors will experience family traditions and local flavors, meet farmers, see their cows, join in barnyard activities and of course, sample delicious award-winning Cabot cheese.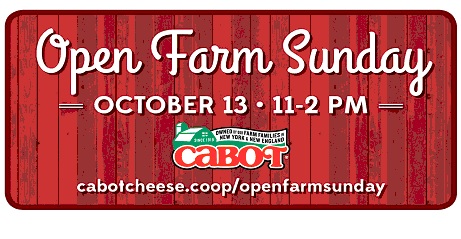 Check out the list of participating farms and find the one in your neck of the woods:
Connecticut
Blue Slope Country Museum and Farm, Franklin
Fairview Farms LLC, Woodstock
Freund's Farm Inc., East Canaan
Greenbacker's Brookfield Farm, Durham
Hastings Farm, Suffield
House of Hayes, North Granby
Laurelbrook Farm, East Canaan
Thorncrest Dairy, Goshen
Maine
Krebs Organic Dairy Farm, Starks
Pleasantville Farm, Warren
University of Maine – Witter Center, Old Town
Massachusetts
Barstows Longview Farm, Hadley
Fletcher Farm, Southampton
Great Brook Farm, Carlisle
Lolans Farm, Middleboro
Tully Farms Inc., Dunstable
Whittier Farms, Sutton
New Hampshire

Echo Farm Puddings, Hinsdale
Sanctuary Farm, Sunapee
Taylor Farm Inc., Meriden
Rhode Island
Emma Acres, Exeter
Ocean-Breeze Farm, Westerly
Vermont
Andersonville Dairy LLC, West Glover
Bouchard Farm, Stowe
Doton Farm LLC, Woodstock
Emergo Farm, Danville
Foster Brothers Farm, Middlebury
Kayhart Brothers, LLC, Addison
Liberty Hill Farm, Rochester
Missisquoi Valley Farm, Westfield
Molly Brook Farm, LLC, West Danville
Rupert Valley Holsteins, West Rupert
Southwind Farm, North Rupert
UVM Cream, South Burlington
Wallace Farm, Waterbury
Wheeler Farm, Wilmington
Woodnotch Farms Inc., Shoreham
And if you happen to be passing through New York on October 13, check out some or all of these great local farms also participating in Open Farm Sunday:
Coon Brothers Farm, Amenia
Country Cousins Farm, Evans Mills
Dellavale, Pattersonville
Dimock Farms LLC, Peru
Douglas Farm, Ilion
Five Mile Farm, Lisbon
Hidden View Farm, LLC, Champlain
Kenyon Hill Farm, Cambridge
LiddleHolme, Argyle
Maple Downs Farms II, LLC, Middleburgh
Tiashoke Farms, Schaghticoke
Toll Gate Farm, Ancramdale
Willow Brook Farms, Millerton
Windstott Farm, Genoa
PS — For those who can't make it to a farm, don't miss out on all the fun – visit Cabot Coop family farmers online at a 'Virtual Farm Tour' at www.OpenFarmSunday.coop.