This summer, Must Be The Milk is taking part in an exciting new adventure, Zip Trips with FOX 25. We are thrilled to be a part of this longstanding program and for the opportunity to meet you, our neighbors, every Friday this summer!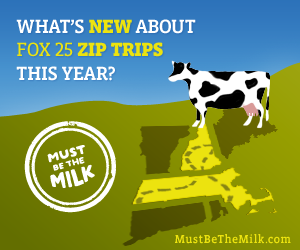 So, what exactly is a Zip Trip? Each summer, FOX 25 Morning News reporters travel through different zip codes throughout Massachusetts (and once to Manchester, NH this year) to highlight and promote the residents, businesses, and town treasures. The Zip Trips are broadcast live from 6 a.m. until 10 a.m. every Friday starting May 23rd for 15 weeks.
We look forward to exploring each Zip Trip town and bringing you a new and unique perspective on the power of dairy each week. Come along with us as we explore the hometowns of some of New England's local dairy farmers, share ideas on healthy summer holiday treats, savvy snack packing tips for the beach and so much more!
We hope you will join us for the next 15 weeks and share your community's history and culture with us through Facebook and Twitter via #ZipTrip and #MustBeTheMilk.
Help us kick off summer right and join us in Watertown on Friday, May 23! If you can't make it, be sure to tune in to FOX 25 between 9 a.m. and 10 a.m. to catch our segment.
Don't fret if you can't make it on the 23rd, there will be 14 more chances! Check out the complete list of Zip Trip towns below and online at FOX 25 and be sure to bring along the whole family. As our friends at FOX like to put it: Zip Zip Hooray!
CALENDAR OF ZIP TRIPS
(We will update this calendar with locations as they become available so check back regularly!)
| | | |
| --- | --- | --- |
| 5/23/2014 | Watertown, MA | Victory Field, 40 Orchard St |
| 5/30/2014 | Foxboro, MA | Town Common, Route 140 |
| 6/6/2014 | Canton, MA | Devoll Field |
| 6/13/2014 | Manchester, NH | LivingstonPark                                      300 Hooksett Rd |
| 6/20/2014 | Sudbury, MA | Wayside Inn, 72 Wayside Inn Road |
| 6/27/2014 | Brookfield, MA | Town Common, Common Street, RT 148 |
| 7/4/2014 | Orleans, MA | Rock Harbor                                   118 Rock Harbor Road |
| 7/11/2014 | Northbridge, MA | Legion Field |
| 7/18/2014 | Natick, MA | Town Common, 1 Common Street |
| 7/25/2014 | Gardner, MA | Helen Mae Sauter Elementary School, 130 Elm |
| 8/1/2014 | Salisbury, MA | Salisbury Beach, 25 Broadway |
| 8/8/2014 | Bridgewater, MA | Legion Field,  175 Bedford Street |
| 8/15/2014 | Jamaica Plain, MA | The English High School, 144 McBride Street, Jamaica Plain |
| 8/22/2014 | Rowley, MA | Town Common 139 Main Street |
| 8/29/2014 | Hingham, MA | Hingham Bandstand, 75 Otis Street |