Ever wonder what keeps Santa going on Christmas Eve?
It Must Be the Milk – and cookies!
What kind of cookies do you leave out for Santa? Do you leave him a glass of fresh, ice cold milk to wash it down? How about carrots for Santa's reindeer? Now's your chance to win a $500 shopping mall gift card simply by sharing your family tradition of leaving milk and cookies out for Santa!
We're teaming up with Hood to offer you this exciting opportunity. All you have to do is visit Hood on Facebook before December 24th and share your Christmas Eve milk-and-cookies tradition. The first 1,000 entries will receive a Must Be The Milk glass and one lucky winner will win the $500 gift card.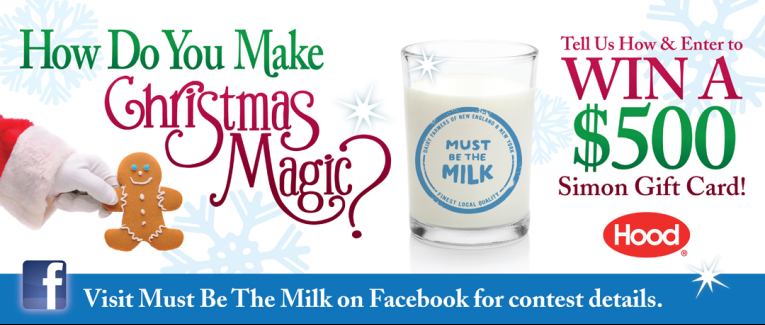 To help get you started, here's one of our favorite Christmas cookie recipes. What makes these cookies so delicious? You guessed it! Must Be The Milk.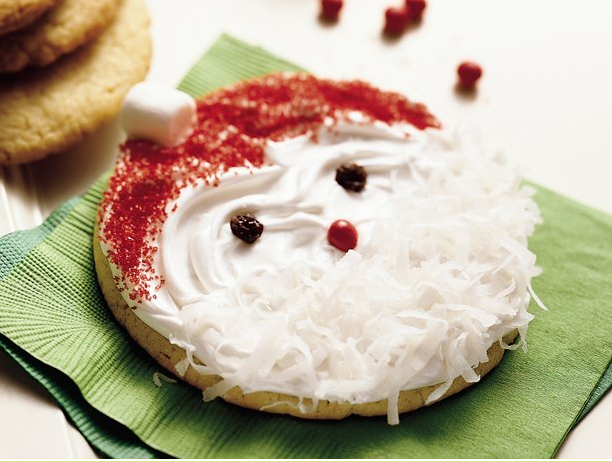 Betty Crocker's Jolly Santa Cookie
Prep time: 1 hour 10 minutes
Total time: 1 hour 50 minutes
Servings: 18
Ingredients:
1/2 cup butter or margarine, softened
1 cup granulated sugar
1 teaspoon grated lemon peel
1 egg
2 tablespoons milk
2 cups Gold Medal® all-purpose flour
1 teaspoon baking powder
½ teaspoon baking soda
½ teaspoon salt
1 cup plus 2 tablespoons Betty Crocker® Rich & Creamy vanilla ready-to-spread frosting
3 tablespoons red sugar
18 miniature marshmallows
36 currants or semisweet chocolate chips
18 red cinnamon candies
3/4 cup shredded coconut
Directions:
1. Heat oven to 400°F. Beat butter, granulated sugar and lemon peel in large bowl with electric mixer on medium speed, or mix with spoon. Stir in egg and milk. Stir in flour, baking powder, baking soda and salt.
2. Drop dough by rounded tablespoon about 3 inches apart onto ungreased cookie sheet. Press bottom of drinking glass on each until about 1/4 inch and 3 inches in diameter. Bake 8 to 10 minutes or until light golden brown. Immediately remove from cookie sheet to wire rack. Cool completely, about 30 minutes.
3.  Spread frosting on cookie (frost and decorate each cookie before starting another). Sprinkle red sugar over top third of cookie for hat. Press on miniature marshmallow for tassel. Press 2 currants for eyes and 1 cinnamon candy for nose into center third of cookie. Sprinkle coconut over bottom third for beard.
Expert Tips:
-To keep the cookies perfectly round, be sure to drop the dough into mounds 3 inches apart so they won't bake together.
-To make the edge of the frosting even, place some of the frosting in a heavy plastic food-storage bag. Snip off a corner, and squeeze out frosting to outline each cookie before spreading frosting inside the outline.
Happy Holidays!