Imagine a diet that is protective and respectful of biodiversity and ecosystems. What foods would be included? What about one that is also culturally acceptable, accessible, economically fair, affordable, nutritionally adequate, safe, healthy, and all the while optimizing natural and human resources?   
Would dairy be on your list? If you said yes, you have been paying attention to our blog and farmer stories! 
These concepts above reflect the definition that the Food and Agriculture Organization (FAO) of the United Nations uses to describe sustainable nutrition–– a phrase that you may have heard before and will be hearing more in the future. This phrase represents a goal for our food system and encompasses pretty much everything that goes into growing food and to getting it to your plate, including you!
This August, for NH Eat Local Month, we will celebrate New Hampshire's local harvest by using dairy to highlight some of our favorite foods in season in August and September.  Sourcing food locally and supporting local producers is one of the key ways we can work towards the vision of sustainable nutrition for New England. 
And, if dairy didn't make it on your list, consider the following reasons why dairy is working to contribute to the sustainable nutrition of our food system:
The Dairy community  has set specific goals and actions around sustainability and committed to environmental stewardship. You can learn more about this in the 2016 Sustainability Report.
Since 1944, U.S. dairy farms have produced 4 times more milk using 90% less cropland, 76% less manure, 65% less water and 63% less carbon emissions. This means dairy has been able to do more with less through innovation.
About 80% of what cows eat cannot be eaten by people. Things like the stalk and leaves of corn that may otherwise be thrown away can be fed to cows and made into milk. They are great food recyclers!
Dairy farms have been practicing good land stewardship. Farmers utilize no/reduced till farming of crops, crop rotation and sustainable pest management techniques like introducing beneficial insects to control pests naturally as well as waste management plans to preserve surrounding ecosystems.
Dairy farms have been innovating their methods for decades and utilizing technology to do so. Farms can track cow health using "fit bit" like monitors, utilize robotic milkers and some farms even have methane digesters to help generate electricity to run the farm by recycling cow manure and food waste. 
Milk provides key essential nutrients like calcium, phosphorus, protein, vitamins A, D and B12, riboflavin, pantothenic acid, and niacin in a versatile and affordable package. It's hard to find all that nutrition in other foods!
So, this August explore farms, farmers markets, or even your local grocery store and consider how dairy adds that special boost to local harvests and sustainable food systems. Make sure to check out our recipe booklet, which includes recipes selected to celebrate New Hampshire Eat Local Month. Below is a snap shot of each recipe.
Cold Brew Maple Coffee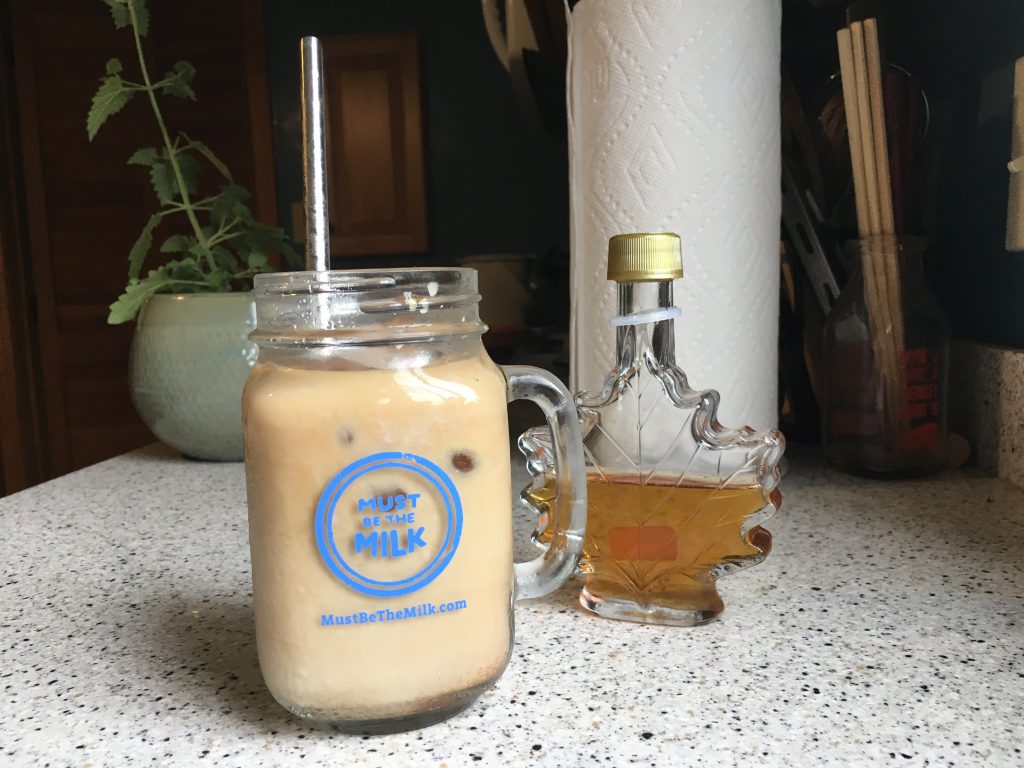 Recipe inspired by my love of maple milk and cold brew coffee!
New Hampshire has several great local roasters that roast beans to their vision of perfection. While coffee beans are not grown in New Hampshire or New England, milk and maple syrup sure are!  Try this cold brew maple coffee recipe for the next hot summer day.  Recipe tip: This is a very simple recipe with easy to find equipment, but you will need to plan to make the recipe the day before you want to enjoy it!
Fish Chowder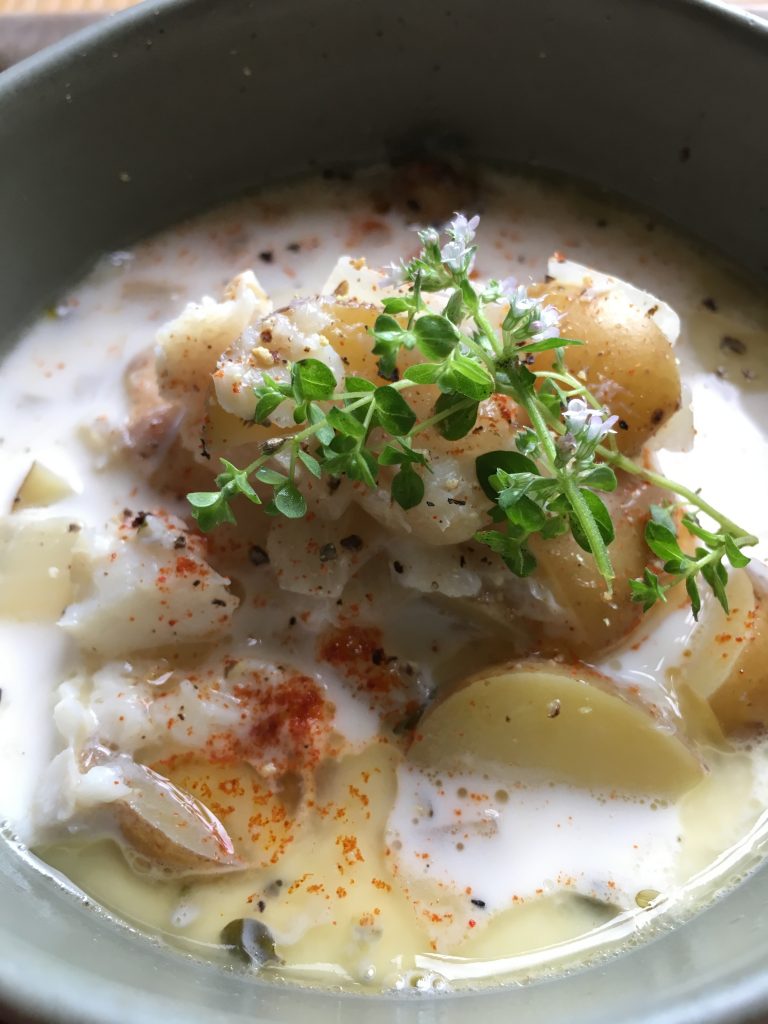 Recipe and fish species inspired by Simmering the Sea.
Like dairy, the fishing industry is highly regulated, includes large and small-scale businesses, and is a year-round local harvest. Have you noticed a shift in the last few years towards more direct to consumer sales through Community Supported Fisheries, which is similar to Community Supported Agriculture shares (CSAs) your local farm might offer? CSFs makes it easier to connect with local fishers, and become familiar with under-utilized species like butterfish, redfish and whiting. all of which are great to pair with dairy for delicious dishes like fish chowder. Our featured chowder recipe uses onion, Yukon gold potatoes and flounder.
Fruit Gazpacho with Feta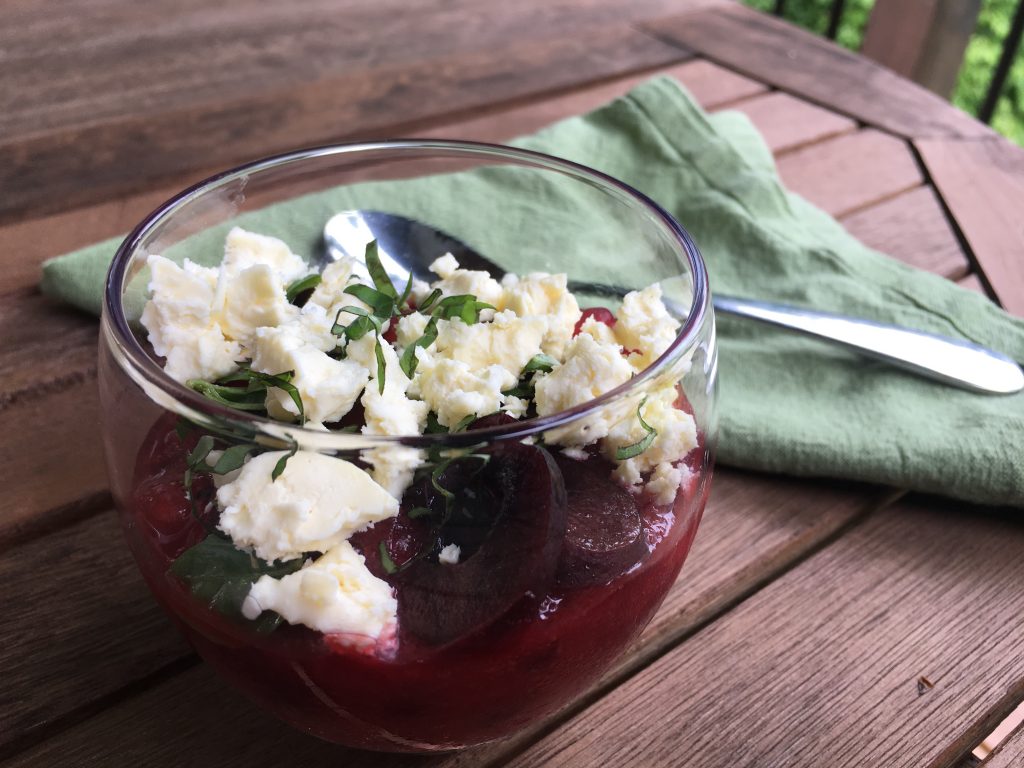 Recipe inspired by DairyGoodness.
New Hampshire (and New England) are lucky to have a variety of ways to connect with local fruit and vegetable producers.  From Pick Your Own, to farmers markets, CSAs, grocery stores and even hydroponic farms for leafy greens, it's clear that producers and businesses are working to make it easier to access locally produced foods!  Luckily the same can be said for dairy! I used New Hampshire-made cow's milk feta cheese and tried a new fruit (currants) for this recipe that also features raspberries, cherries, strawberries, onion and red bell pepper.  I promise it all works together!
White Bean and Pea Open-face Sandwich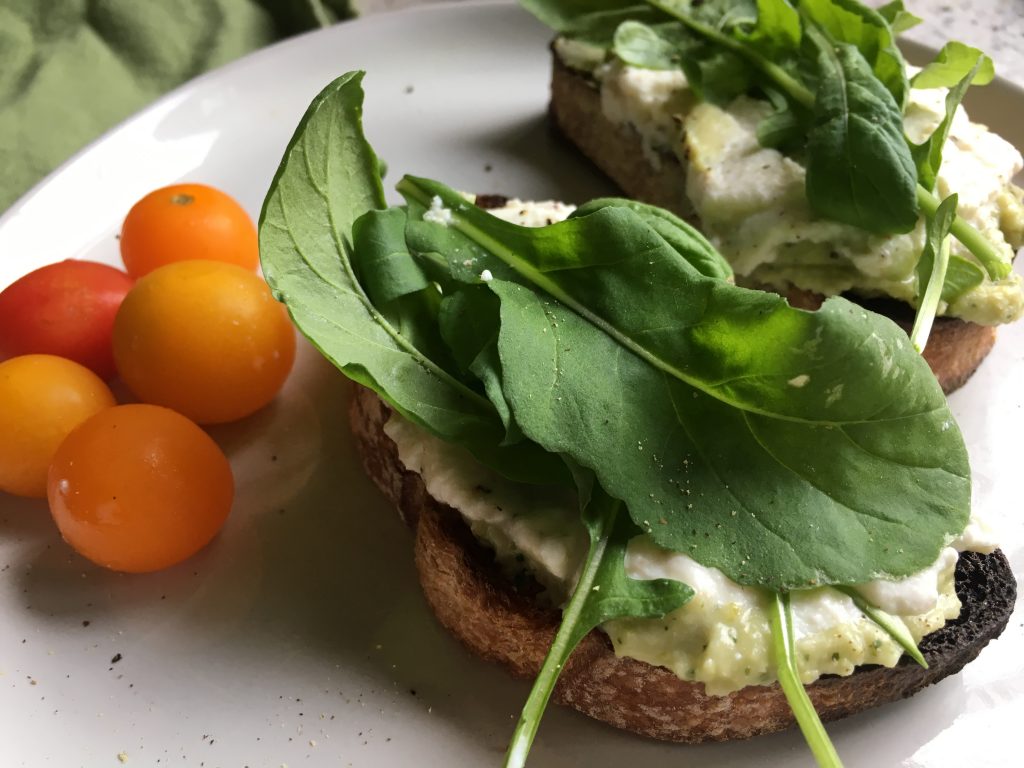 Recipe inspired by  DairyGoodness and Must Be The Milk.
While it' important to support local producers to keep local businesses thriving, you can also count the food you grow yourself as supporting local food systems. For this recipe, I used peas and herbs I grew in my raised bed garden (a major success for me!) and arugula that I grew in a window box!  While sadly I don't have my own cow, I did try out our Fresh Ricotta recipe with whole milk.  This is one of my new favorite meals for hot summer days.
Fruit Gratin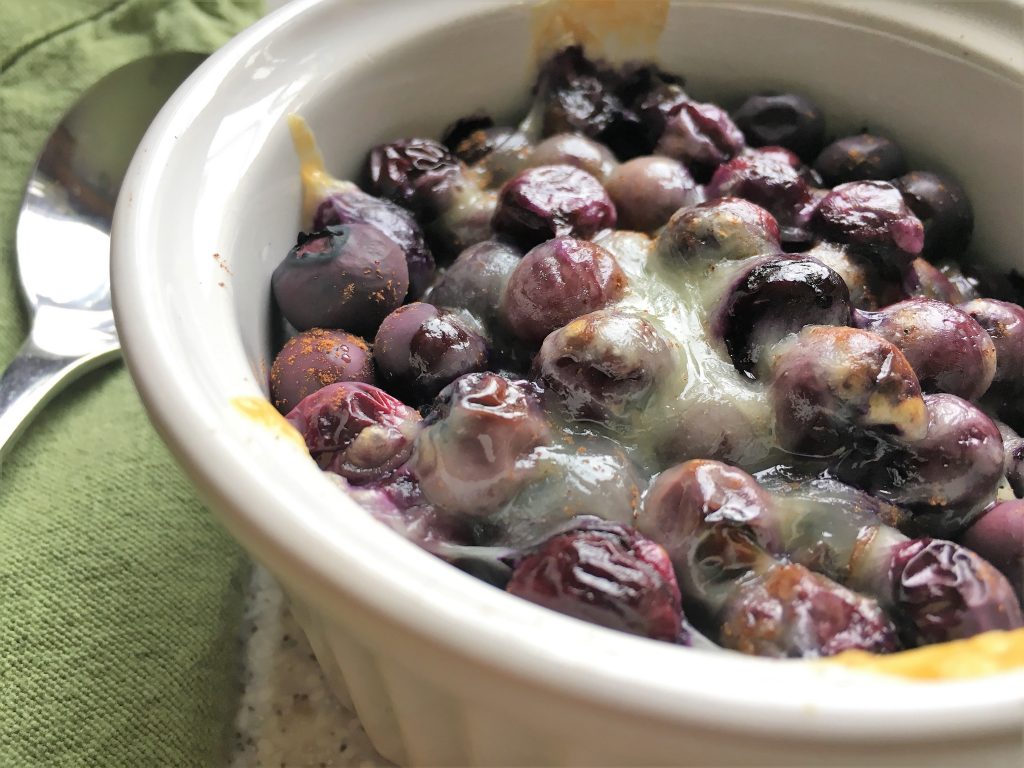 Recipe inspired by DairyGoodness.
Did you know?
You don't always have to go to a special market or farm to support local producers. Your neighborhood grocery store may source fruits and vegetables from local farms during the summer and fall months making it even easier and convenient for you to choose local foods.  But don't forget, that same grocery store also stocks milk, cheese, and yogurt that is produced right here in New Hampshire and the New England region year-round.  Even when the fruit and vegetable harvest is over, dairy will be there for you all year!
Sustainable Nutrition for all– it starts with you!
The FAO vision of sustainable nutrition may seem lofty, but it is achievable and we all can help. Take the first step by making the most of the in-season harvest in New Hampshire or your state and be sure to pair your finds with your favorite "in-season year-round" dairy foods so that you can feed yourself and our entire local food system now and in the future.
If you want to learn more about New Hampshire dairy farms and how to play a role in a sustainable food systems, check out our website and our post on dairy farmers and technology.
For more information about NH Eat Local Month or where to find local producers, check out these NH Eat Local Month Resources.