It's hot! You don't want to turn on the oven and need a quick, healthy meal.  Open your fridge and freezer, and you'll likely have everything you need to get a nutrient-packed snack or meal in a glass in minutes.
Delicious, nutritious cow's milk provides a powerful package of nine essential nutrients, including protein, calcium and vitamin D. However, 8 out of 10 people are falling short on their daily dairy recommendations. The 2015-2020 Dietary Guidelines for Americans recommends getting 3 servings of dairy a day (one serving= 1 cup milk or 1 cup yogurt). If you're not there yet, don't fret! Smoothies can help you reach that goal. 
Combine milk and yogurt with a few other simple and wholesome ingredients, and you have a nutrient-packed smoothie to power you through any moment of the day. Put "moo" in your delicious, nutrient-rich sMOOthies!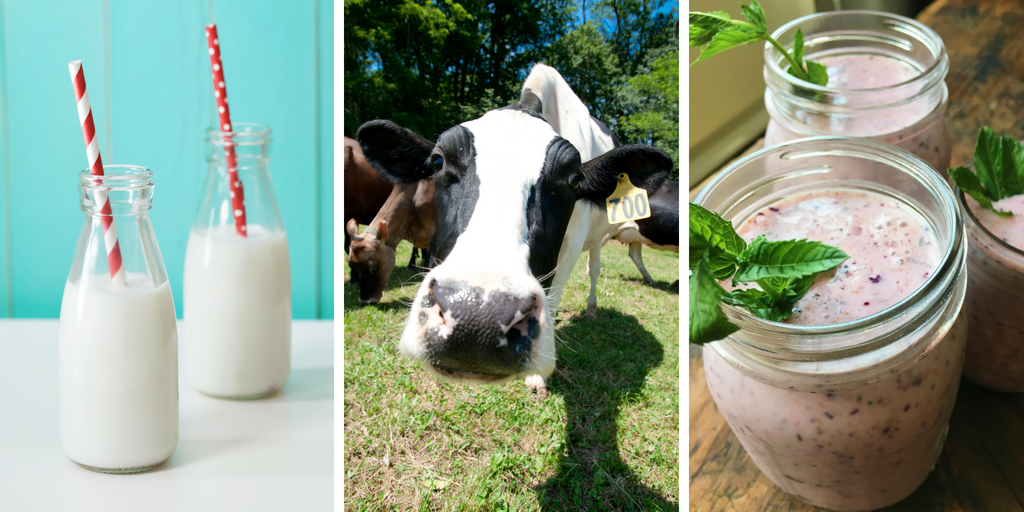 Putting the MOO back in your sMOOthie 101:
Step 1: Start with 1 cup of milk AND 1 cup (5.3 oz container) plain or vanilla yogurt
Step 2: 1.5 Cup fresh or frozen fruit (chopped)
Step 3: 1 Cup fresh or frozen veggies (chopped) 
Step 3.5: Add 4-5 ice cubes if using fresh produce 
Step 4: Combine in blender and mix until desired creamy texture is reached
*Yields around 2 servings to share (or put half back in the freezer for later)
Why put the MOO back in your sMOOthie?
Smoothies offer a great solution to boost fruit and veggie intake, even for the pickiest of eaters.  However, fruits and veggies alone are not the most filling, and you may find yourself hungry for another meal or snack within the hour.  That's where dairy comes in to save the day! Dairy products are full of satiating, high-quality protein.  One cup of milk provides 8 grams of protein and 1 cup of Greek yogurt can have up to 15 grams of protein.  Protein adds build to smoothies, slows digestion, and helps you stay full and satisfied until your next meal.  Not to mention, dairy makes smoothies undeniably delicious! 
Winning combinations to help you drink the rainbow:
Strawberries + Cauliflower
Mangoes + Bananas + Carrots
Blueberries + Raspberries + Blackberries + Spinach
Pineapple + Banana + Cucumber 
Making Smoothies in a Breeze:
Only got two minutes to spare?
Throw milk, yogurt, and your favorite fruits or veggies in a blender and whirl away!
Have five minutes of time to meal prep?
Survey your fruit bowl and refrigerator produce drawers. Cut up any fruits and veggies that are past their prime and throw on a sheet pan to freeze in a single layer.  Once frozen, pop in a freezer bag for easy access to smoothie ingredients.  Tip: frozen banana chunks make for a super creamy smoothie!
For more inspiration on creating your own smoothie masterpiece,
check out the chart below! 

Find the full directions and other recipes here:
Frosty Orange Banana Sipper (Midwest Dairy Association)
Strawberry-Banana Smoothie (The Dairy Alliance)
Peachy Green Pineapple Smoothie (American Dairy Association North East)
Double Cherry Vanilla Smoothie (United Dairy Industry of Michigan)
Check out:
5 Reasons to put "Moo" in your SMOOthies by Toby Amidor, MS RD