Here at Must Be The Milk, we know people appreciate a connection to where their food comes from. That's why we're on the road today, visiting two farms in Vermont, and we have our cameras in hand!
Today, we're visiting Liberty Hill Farm Inn in Rochester, Vermont where we will meet with Beth Kennett and her family. Beth and her family have owned and operated the dairy farm/bed & breakfast for a quarter of a century, and today, we're eager to learn more about their life on the farm.

Tomorrow, we'll  head over to meet with a few folks from the CREAM program at the University of Vermont. We're planning to interview a couple of students and their advisor about the future of agriculture. We'll hear from the students about why studying agriculture is important to them, and we'll learn about what it is like to work within the CREAM program.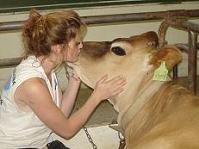 Stay tuned! All of our travels this week will be captured on video, and we can't wait to share them with you! In the meantime, be sure to visit our website where you can watch videos of dairy farms throughout New England.