Sure, George Washington and Thomas Jefferson get all the press for being gentleman farmers, but did you know President William Taft had a pet dairy cow named Pauline Wayne, that lived on the lawn of the Eisenhower Executive Office Building, next door to the White House? For two years, she provided the family with fresh milk and butter, until she was returned to the family farm.
Staff member Kiley Putnam recently talked about Taft's presidential dairy cow during one of our Zip Trip segments. Watch below!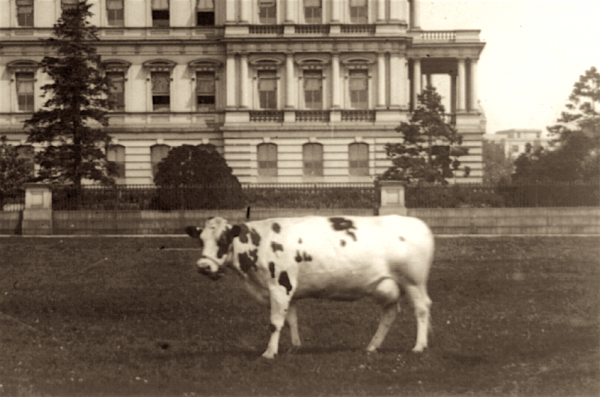 There have been plenty of farmers and former farmers occupying the White House.
When Harry Truman was 22 and before he got into politics, he quit his bank job and moved back to the family farm in Missouri. For the next 11 years, he milked cows, fed livestock, and allegedly could "stir up as good a batch of biscuits as any woman."
Then-Vice President Calvin Coolidge was staying at his father's farm in Plymouth, VT when he was notified that President Warren Harding had died, making him the 30th President of the United States. Coolidge took the oath of office in the front room of his father's farmhouse.
Other Presidential Farm Trivia:
Which two presidents were also peanut farmers? Thomas Jefferson and Jimmy Carter
George Washington's Mount Vernon farm featured innovative crop rotation techniques and our Founding Father introduced grain farming to the area (The locals were more interested in tobacco).
New England's finest John Adams's farm in Quincy, Massachusetts, was called Peacefield.
Thomas Jefferson famously said, "From breakfast, or noon at the latest, to dinner, I am mostly on horseback, attending to My Farm or other concerns, which I find healthful to my body, mind, and affairs."
President James Monroe's farm at Oak Hill in Virginia is still a working farm.
Lincoln was raised on a farm and as president founded the Department of Agriculture, established of the Land Grant system, and passed the Homestead Act.
Do you know any other presidential farm trivia?
Sources:
http://presidentialpetmuseum.com/pets/pauline_wayne/
http://www.bonappetit.com/entertaining-style/trends-news/slideshow/president-farmers/?slide=1