"We are the masters of efficiency. It is in our nature. We do more with less."-Marie Audet, owner and operator of Blue Spruce Farm in Bridport, Vermont, on the innovative nature of dairy farmers.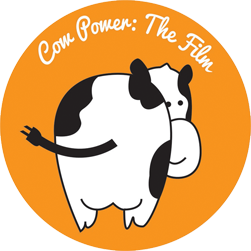 Allison Gillette is a Vermont native and a graduate of Emerson College. When she heard about dairy farmers turning cow manure into energy that could power hundreds of homes and business, a new documentary film was born. "Cow Power," a documentary film produced by Gillette and some of her classmates, tells the story of an innovative collaboration in Vermont that has helped save some the state's family farms and deliver sustainable energy solutions to the community.
The film features three Vermont dairy farmers: Marie Audet of Blue Spruce Farm, Robert Foster of Foster Brothers Farm, and Mark St. Pierre of Pleasant Valley Farm. These three farm families, like many farm families across the US, were looking for a solution to the economic challenges they face as a dairy farmers such as land development and high feed costs. How were dairy farmers going to overcome these challenges in a way that would allow them to sustain their farms for the next generation? By working with David Dunn of Green Mountain Power, the Vermont Agency of Agriculture, local and state government, neighbors, friends, and local businesses, the solution became clear:
Cow Power.
Turning cow poop into power is the concept behind Cow Power.
Watch the film to learn more about Cow Power and the many benefits it brings to the state of Vermont.
The film premiered on August 13th, and below you can watch the trailer. You can also rent the film on
Google Play
. Let us know what you think!