When you think of Vermont, what comes to mind? I think of rolling green mountains, a beautiful working landscape, and really good dairy. And these are just a few of the things that make Vermont so unique and charming. On August 8th, Must Be The Milk celebrated the art of eating in Vermont with a lively discussion about Vermont dairy agriculture at Billings Farm & Museum in Woodstock, Vermont.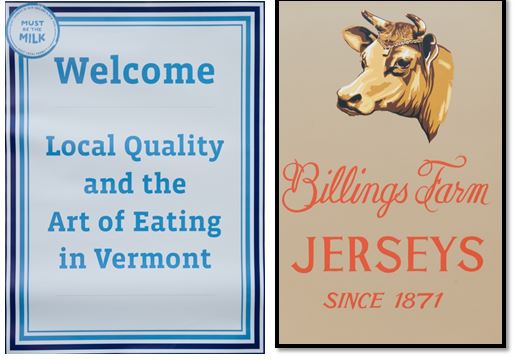 Our guests included a diverse group of Vermonters, all of whom are interested in preserving Vermont's iconic agriculture.  Our panel featured Vermont dairy farmers Beth Kennett and her son David Kennett of Liberty Hill Farm Inn  in Rochester, Vermont as well as Karen Karp, president of Karp Resources, a New York-based food and agriculture consultancy.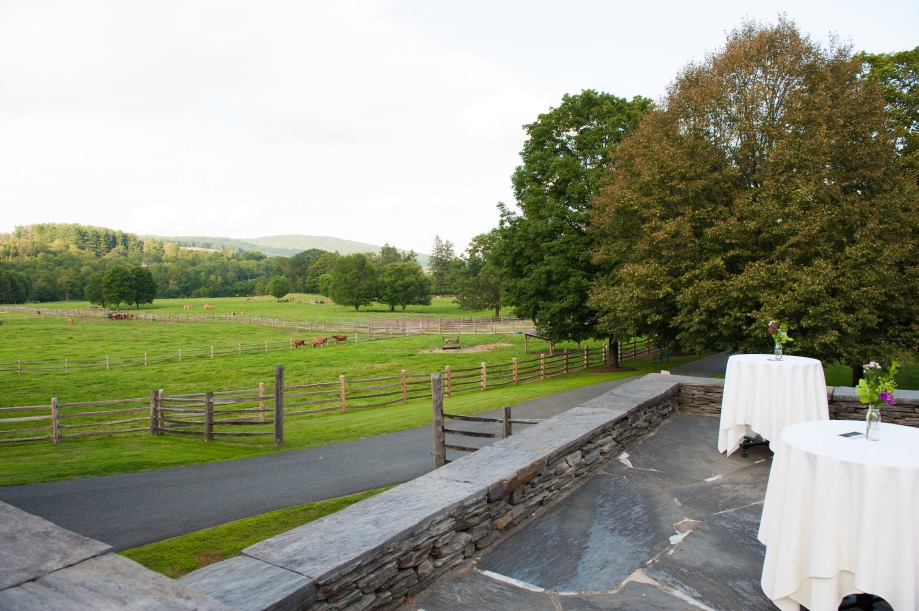 It was a beautiful night for an event, and the setting at Billings Farm & Museum could not have been more picturesque.  The origins of Billings Farm date back to the nineteenth century. Truly a museum of Vermont's rural past, we couldn't think of a more perfect place to host an event about Vermont farms and food.
As guests arrived, they were asked to join the party on the terrace where they were invited to network and enjoy locally-inspired hors d'oeuvres prepared by Chef Greg Farrell of the Woodstock Inn & Resort.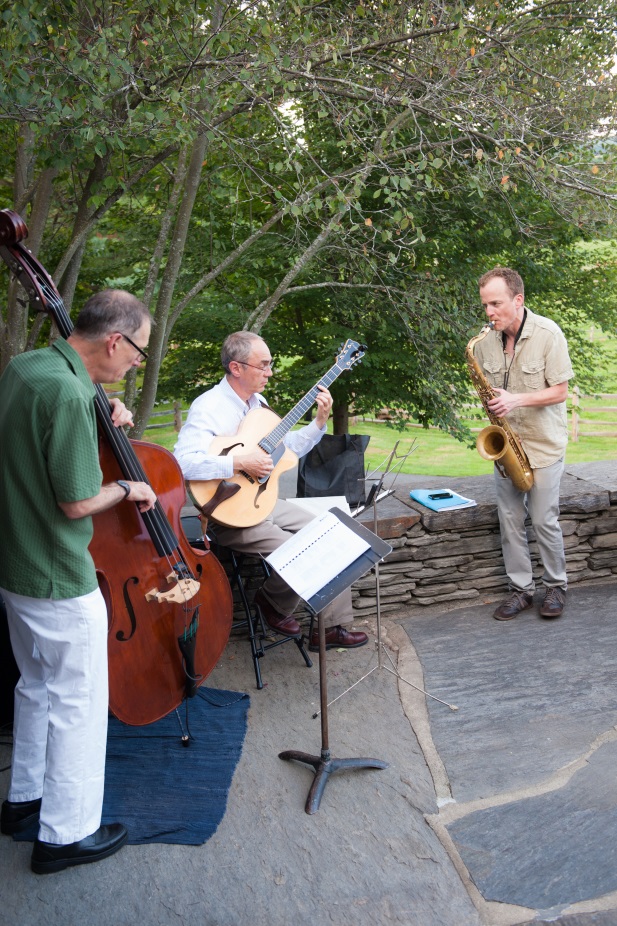 Part of the event included a conversation about the Keep Local Farms Fund. The Keep Local Farms Fund is the home of Must Be The Milk's funding support for New England dairy agriculture. The fund will advance environment, economy and education projects and programs through grants made to non-profit organizations partnering with New England dairy farms.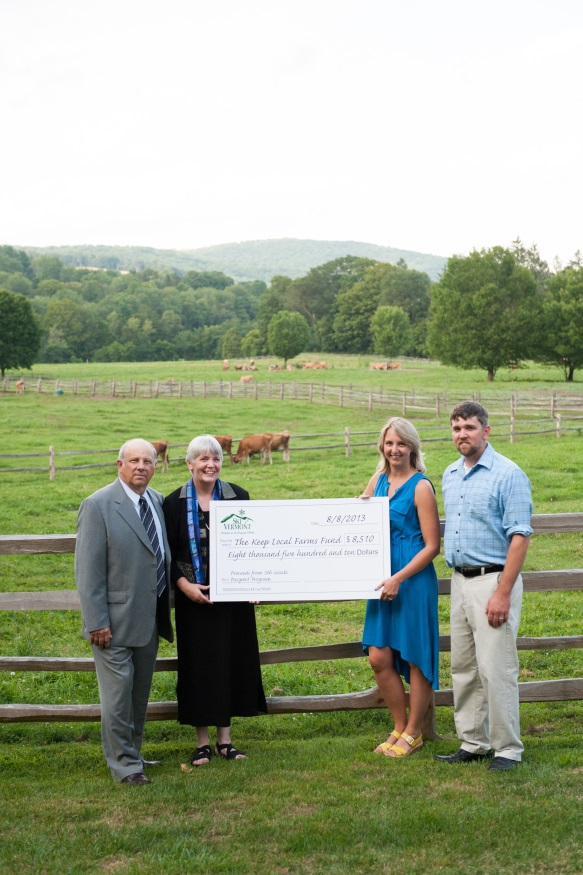 During the event, Ski Vermont presented a contribution check of $8,510 to the Keep Local Farms Fund. The contribution comes from the proceeds of Ski Vermont's Fifth Grade Passport program which enabled 1,900 children to ski and snowboard for free in Vermont during the 2012-13 season.  Contributions from Ski Vermont to the Keep Local Farms Fund over the last three years total nearly $26,000! To learn more about the fund, visit the Keep Local Farms Fund page on our website.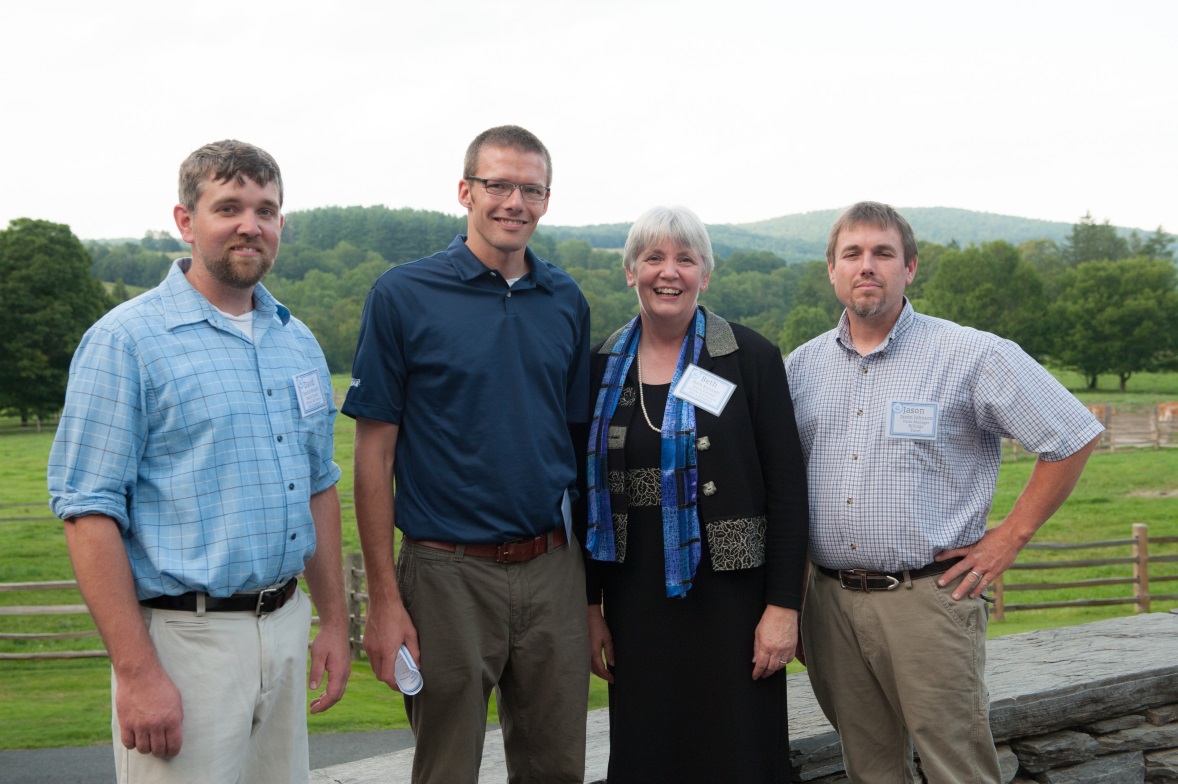 After about an hour, we rang our official cow bell (which dates back to the early 1800's) to announce that it was time for our panel discussion. Guests finished their snacks and conversations on the terrace and moved inside to the theater where they engaged in an energetic and informative panel discussion.

Dairy Farmer Beth Kennett of Liberty Hill Farm Inn sat on the panel and talked about her dairy farm in Rochester, Vermont. One unique aspect about Beth's farm is that it offers guest lodging, meals and a real farming experience for Vermont tourists.  For a quarter of a century, Beth and her family have opened their doors to guests from around the world.
During the panel discussion, Beth explained that by sharing the joys and challenges of farming life, she and her guests come to appreciate how closely their different ways of life intertwine.  Each time a guest buys a locally produced dairy product, whether milk in the grocery store or cheese at a farmers' market, they are helping to sustain local family farms.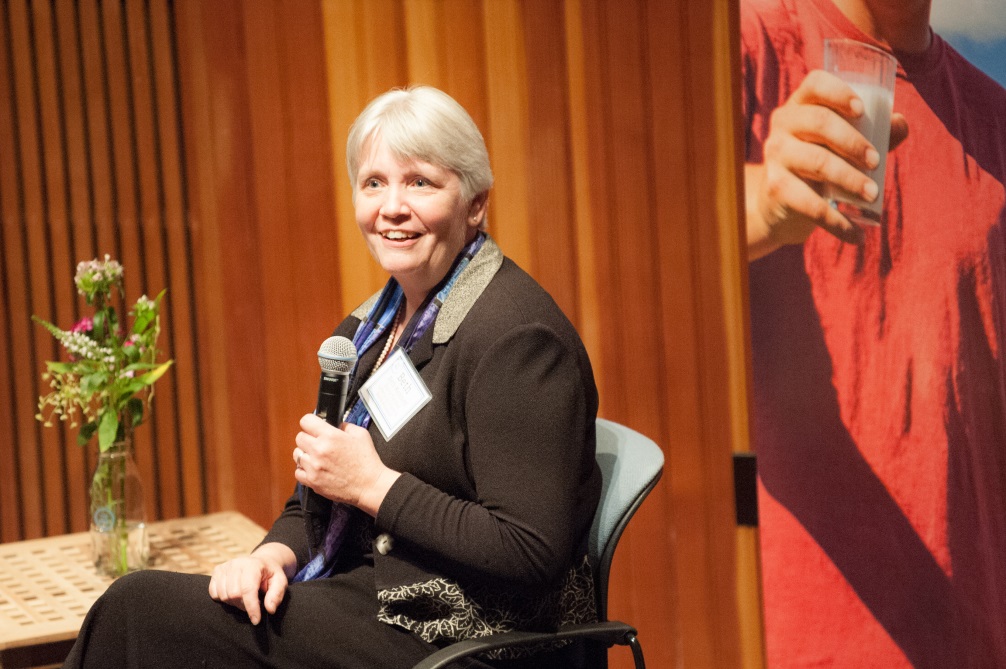 Beth's son, David Kennett, also sat on the panel and talked in depth about his life-long work caring for dairy cows. When the Kennett family bought the farm from John Hunt in 1979, he had a cow named Pearl, a direct descendent from a famous Maryland dairy herd named Dunloggin, considered the premier dairy breed in the 1920's and 1930's. David explained that most of their current herd is descended from Pearl.  David has traced the lineage of the Kennett's cows back to the 1880's when they were imported from Holstein Friesland, an area between Germany and the Netherlands.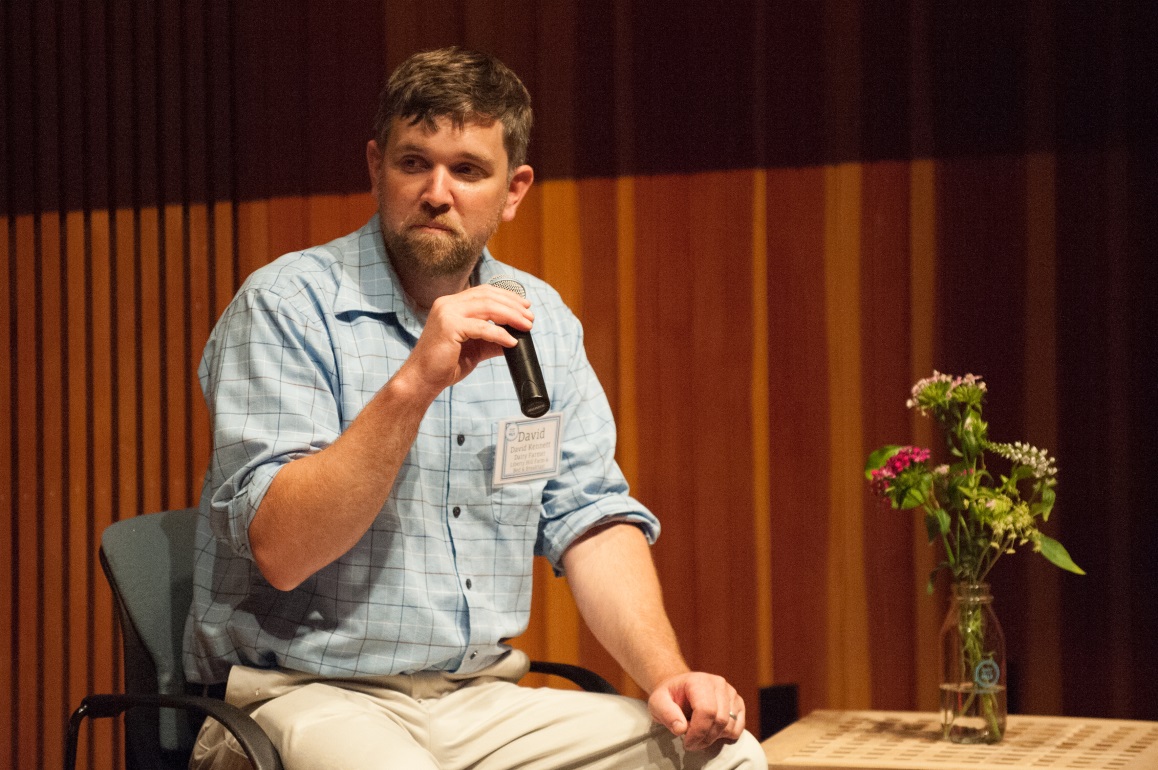 Karen Karp, president of Karp Resources, sat on the panel and discussed the value local dairy farms bring to Vermont's agriculture and culinary scene. Karen stressed the importance of seeking knowledge and sharing accurate information about the nutritional, environmental, and economic benefits of dairy. Karen explained that people are hungry for information about the origins of their food. Not only do we want to know where our food comes from, but we also want to know who it comes from. This is a wonderful opportunity for farmers and their neighbors to learn from each other and share information about the food systems we all share.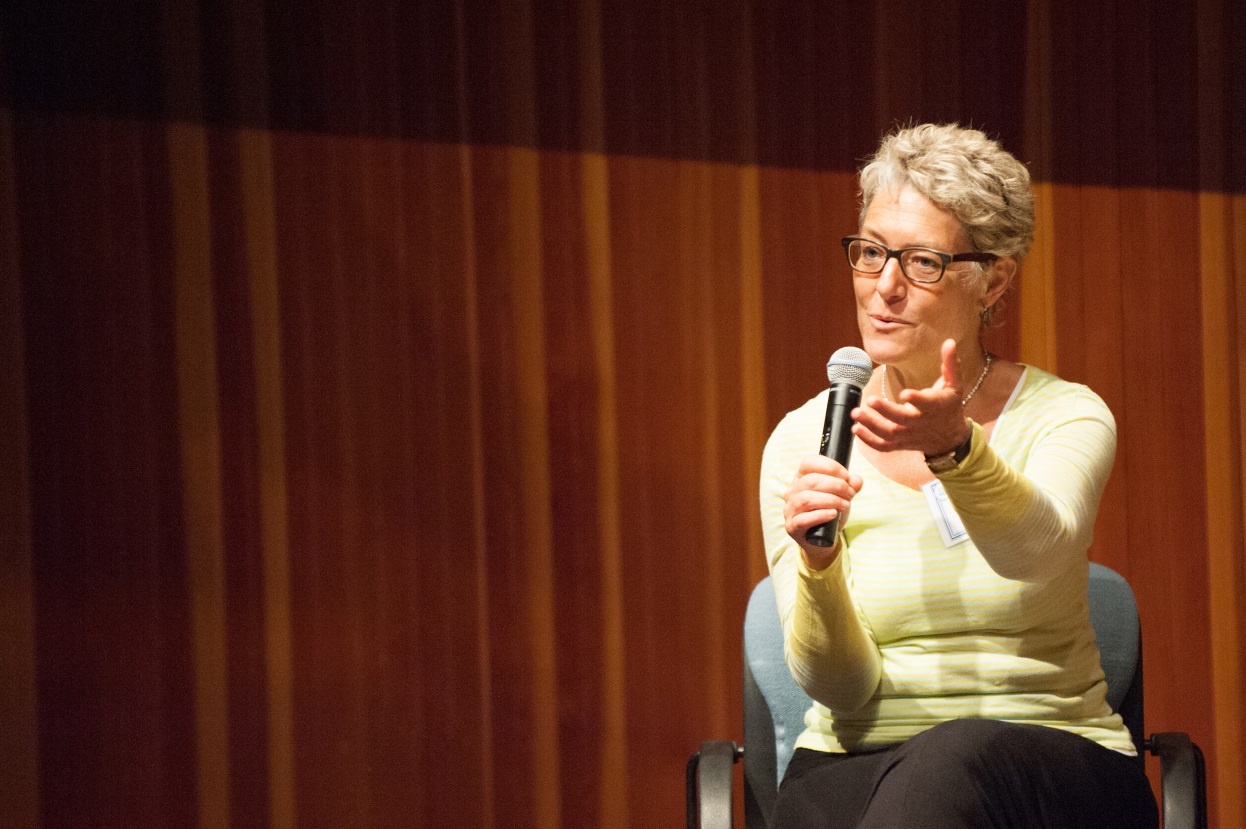 After the panel discussion, guests headed into the lobby for a special frozen treat of Ben & Jerry's Ice Cream, of course!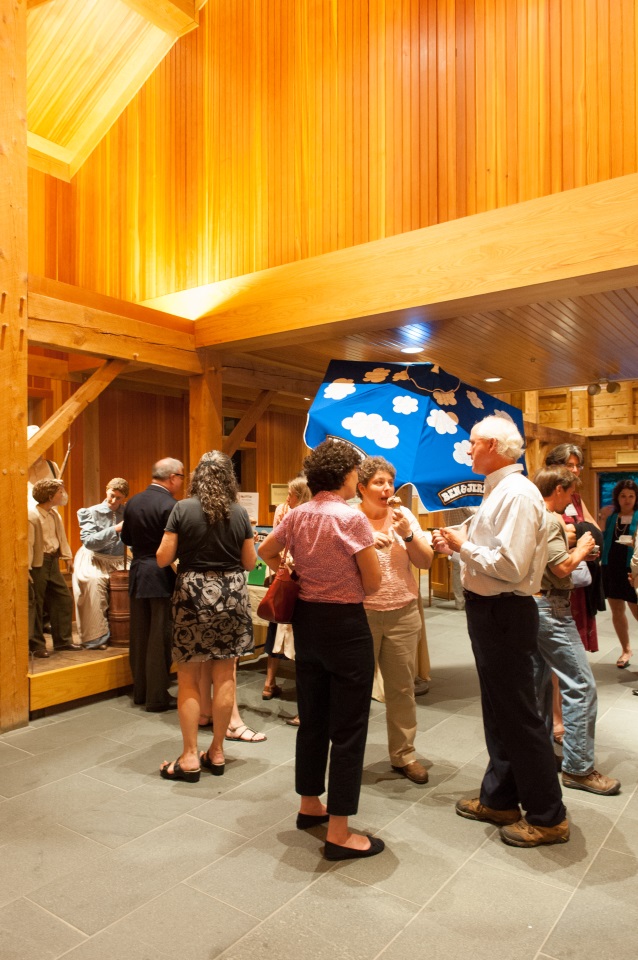 We'd like to extend our sincerest thanks to our panelists and our guests for an insightful and engaging discussion about dairy farming in Vermont. We're looking forward to the next event!