It's winter in New England, which means cold mornings and colder nights. Some of us can't wait for spring, but for many families, winter means getting the skis out, bundling up, and heading to the slopes or their favorite cross-country trail.
We're proud to partner with Ski Vermont, which offers a great get-healthy initiative called the Fifth Grade Passport program. Designed to get youngsters active and interested in a winter pastime (beyond sitting in front of the TV playing X-Box), the program offers 5th graders a chance to ski or cross-country ski free for up to 88 days at many of Vermont's ski resorts.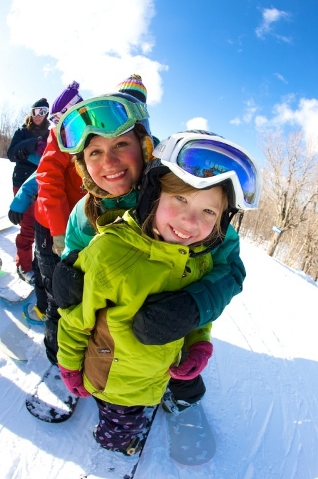 In the past three years, hundreds of families have taken advantage of the Fifth Grade Passport program, and that's great news for us, since proceeds from the program are donated in support of the dairy industry in the Northeast.
Keeping kids active during the winter months is the goal, and many health experts recommend winter sports for all ages.
"For building endurance, [cross-country skiing] is one of the best sports you can do," says Stephen Olvey, MD, an associate professor of clinical neurological surgery at the University of Miami Leonard M. Miller School of Medicine. It also burns more calories than almost any other activity.
Cross-country skiing is an aerobic sport. That means youngsters move nonstop for an extended period of time while their heart pumps oxygen to their muscles, providing them with energy. "It is about grinding it out over the long haul with no help from gravity," Olvey says.
In contrast to cross-country skiing, downhill skiing takes shorter bursts of energy; most ski runs last about two to three minutes, Olvey says.
The muscle groups used in downhill skiing are the "prime movers," including the hamstrings, quadriceps, calves, hip, and feet muscles. To a lesser degree, kids will also use their abdominal muscles for control and strengthen their arms by using poles.
Downhill skiing is a power sport that improves a child's balance, flexibility, agility, and leg and core strength, Olvey says.
Parents are especially appreciative that their kids can stay active during a long New England winter. "My daughter was in 5th grade last year, and simply loved using the passport," says one mother. "I recently mailed in my son's information since he's in the 5th grade this year, so we can get to Vermont and get out in the fluffy white stuff!"
You'll receive a booklet containing coupons for free alpine ski lift tickets or cross-country trail passes at each participating resort. Passport holders need to be accompanied by an adult purchasing a full-price lift ticket or trail pass, and each adult may bring up to two Passport holders.
Passports are valid Dec. 1-May 1, excluding black-out dates. To learn more, visit www.skivermont.com or call 802-223-2439.