We'll admit to dabbling in milk carton art (who hasn't?), but a group in Spain has taken their artistic ambitions to literally new heights.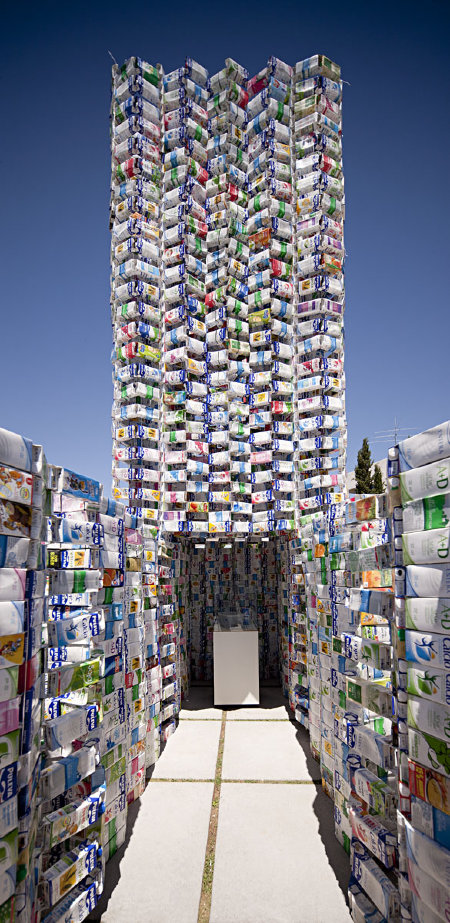 Check out the world's largest major construction project built from recycled materials. It's the "Brik Pavilion," made from 45,000 milk cartons in the province of Granada, Spain.
The project (to mark World Recycling Day, of course!) includes a large wall spanning 100 feet and a 23-foot tower. It uses milk cartons gathered from the recycling bins of 100 colleges in the area, which were transported to the Park of the Sciences of Granada. During the final two weeks of the installation, the structure moved to a recycling plant to complete the cycle.
Wow. All we've ever managed to make out of a milk carton is a basic pencil and pen holder, but here are a couple of great projects to try with your kids during a snowy afternoon (source: artistshelpingchildren.org):
 Milk Cartons Cubby Cubes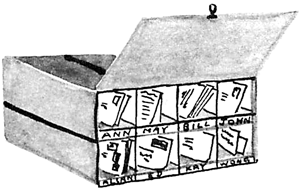 Buying a cubby cubes organizational shelf is really expensive. So don't go out and buy a new one, make one by saving your milk cartons. You might have to wait a few weeks until your family goes through enough cartons, but once they do, you won't have to work very hard to make one. Just glue all the milk cartons side by side, top to bottom. You can do as many rows or columns as you want. Wrap it in decorative paper or paint it by putting some glue into the paint (so that it will stick on the waxy surface.) Now measure the cubicles and then cut out cardboard the same width and height. Cover with decorative paper or paint it. Then tape the cardboard to the top of the box so that the hinge opens and closes as you see in the picture. Label every cube, depending on what you need to organize. You can have a latch on the cubicles by placing a loop and button or by putting magnets on there. It is up to you.
Milk Carton Flower Vase Planters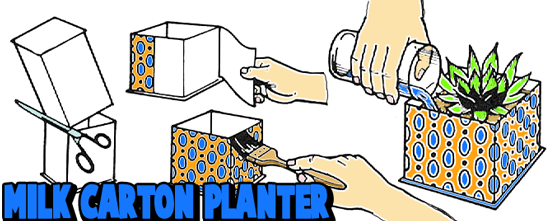 To make this milk carton planter, you will need 1 empty milk carton, decorative paper or wallpaper, sandy soil, and a plant. Cut off carton 3″ above bottom and discard top portion. Now cover outside of carton with paper, folding it inside at least 1″. If wallpaper is used cut a 3″ strip to fit around carton. Next, wet it with sponge and paste to planter. Put two rubber bands around it until dry. If wallpaper is used, shellac when dry. Now put some sandy soil in finished planter (to about 1/2″ from top) and plant a succulent, pansy or other plant. Water plant.