We put it on cones, between cookies, in shakes – we scoop it, spoon it, lick it, love it. It's ice cream, and in honor of National Ice Cream Month, we're diving into a bowl of our favorite frozen treat.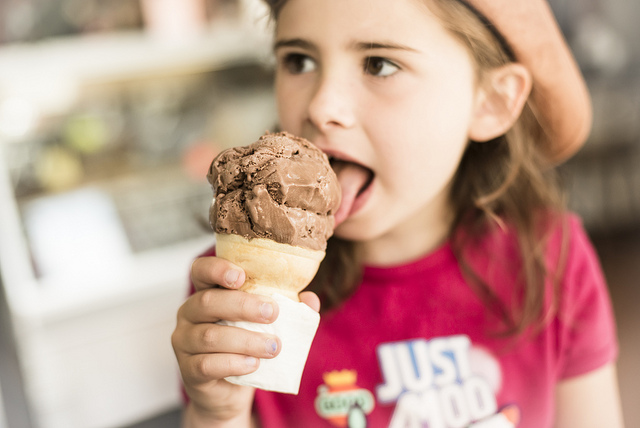 Everyone LOVES ice cream, and the latest poll by the International Dairy Foods Association, found that our fondness is expanding to some pretty exotic flavors. Sure, Vanilla, Chocolate and Butter Pecan are still in the top three (followed by rocky road, coffee and Neapolitan), but according to a recent report by CNN, ice cream shops around the country are tempting taste buds with flavors like Sichuan Peppercorn Chocolate, Habanera Bacon Avocado, and Biscuit & Jam. Why not choose Golden Summer Fig, or Peanut Butter Lavender? And if you're really adventurous, how about Strawberry Honey Balsamic with Black Pepper?
And with this many flavors, you'd expect lots of ways to serve ice cream. Your cone selection alone could take hours (sugar cone? waffle cone? Big, small, gigantic?).
Who could've guessed ice cream would become a national pastime?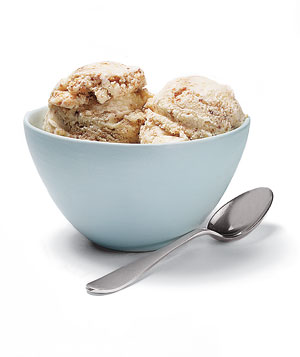 Ice cream was served as far back as the 4th century B.C. and an early fan was the Roman emperor Nero, who between fiddle lessons ordered his servants to hike to the top of snow-covered mountains and return with ice to mix with fruit. The Chinese were also ahead of the curve, and shared their favorite dessert of ice and milk with visiting Europeans.
Once it hit American shores, our love affair with ice cream began. Presidents George Washington and Thomas Jefferson served it to their guests at the White House, as did First Lady Dolly Madison. The first ice cream parlor in America opened in New York City in 1776, and American colonists were the first to call the fashionable dessert "ice cream."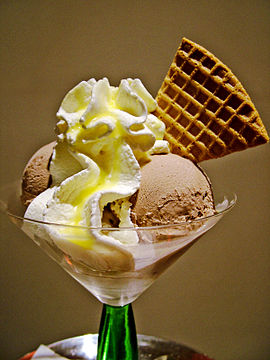 What is ice cream anyway, except a special mix of ice, salt and cream or milk? Thanks to the invention of the wooden bucket freezer with rotary paddles, it could be made faster and creamier.
Other big moments in ice cream history?
In 1846, Nancy Johnson patented a hand-cranked freezer that established the basic method of making ice cream still used today. William Young patented the similar "Johnson Patent Ice-Cream Freezer" in 1848.
In 1851, Jacob Fussell in Baltimore established the first large-scale commercial ice cream plant. Alfred Cralle patented an ice cream mold and scooper used to serve on February 2 1897.
The walk-away edible cone made its American debut at the 1904 St. Louis World's Fair.
British chemists discovered a method of doubling the amount of air in ice cream, creating soft serve ice cream.
The idea for the Eskimo Pie bar was created by Chris Nelson, a ice cream shop owner from Onawa, Iowa. He thought up the idea in the spring of 1920, after he saw a young customer having difficulty choosing between ordering an ice cream sandwich and a chocolate bar. Nelson created the solution, a chocolate covered ice cream bar.
Reuben Mattus invented Haagen-Dazs in 1960, he choose the name because it sounded D
Ice cream became an edible morale symbol during World War II. Each branch of the military tried to outdo the others in serving ice cream to its troops. In 1945, the first "floating ice cream parlor" was built for sailors in the western Pacific.
Is all this info giving you a headache? You may know that an ice-cream headache, also known as 'brain freeze,' is caused by having something cold touch the roof of the mouth (palate), and is believed to result from a nerve response causing rapid constriction and swelling of blood vessels.
So, eat slow, savor every spoonful or lick, as you enjoy the summer with our favorite national treat. I scream, you scream – we ALL scream for ice cream!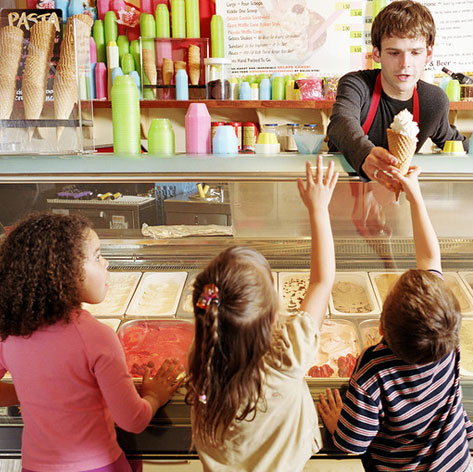 SOURCES
http://www.cnn.com/2015/06/12/travel/ice-cream-flavors/index.html
http://inventors.about.com/od/foodrelatedinventions/a/ice_cream.htm
https://en.wikipedia.org/wiki/Ice-cream_headache