The 33rd Polar Seltzer Great Chowder Cook-Off was held June 7 in Newport RI, and we can't think of a better way to kick off the summer season. And we were there, with Rhody Fresh, promoting dairy goodness and also awarded our own winner of the Ultimate Chowder Recipe Contest!
Featured on the Food Network and Travel Channel, the Great Chowder Cook-Off is the original and longest running chowder championship in the country, drawing competitors and crowds from across the U.S. (Heck, one competitor came from Ireland!)
Not only did festival-goers sample chowders from dozens of restaurants in the competition, they selected the winners in three categories: Clam, Seafood and Creative.
This year's top chowder masters?
Clam Category:
1st Place: Stefano's Seafood / Long Beach Island, NJ
2nd Place: Pike Place Chowder / Seattle, WA
3rd Place: Luke's Lobster + Hurricane's Soup / Greene, ME & New York City
Seafood Category:
1st Place: The West Bar / Cnty Mayo, Ireland
2nd Place: Melville Grille / Portsmouth, RI
3rd Place: The Mooring / Newport, RI
Creative Category:
1st Place: TRIO / Narragansett, RI
2nd Place: StoneRidge / Mystic, CT
3rd Place: 22 Bowen's / Newport, RI
People's Choice – Most Spirited:
Pike Place Chowder / Seattle, WA
OUR OWN CHOWDER CONTEST WINNER:
Amy B won our chowder competition with Rhody Fresh, in which we asked New Englanders to submit their own chowder recipe featuring Rhody Fresh ingredients, of course!
Amy appeared on the Stop & Shop culinary stage during the Great Chowder Cook-off with Chef Tim, who helped cook her winning recipe with Rhody Fresh ingredients. As the winner, she also took home a Rhody Fresh gift basket.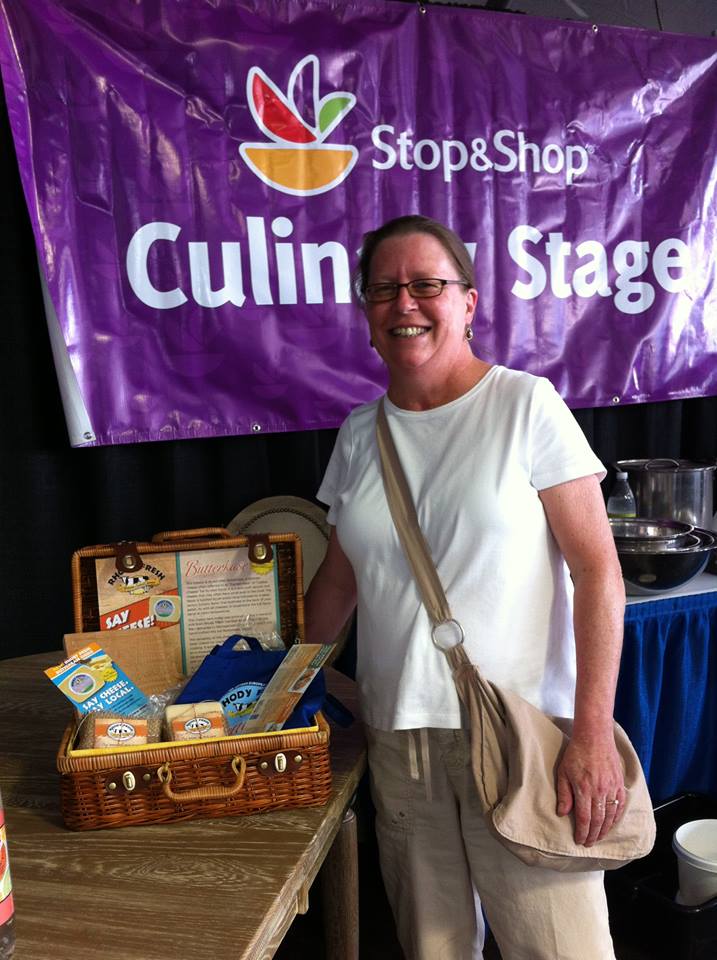 Here's her winning recipe for Classic White Chowdah with a Twist!
Deliciously simple, this chowder can be complimented with an optional twist: serve with bowls of the following "garnishes" for guests to add to their chowdah, including crumbled bacon, caramelized salt pork, roasted corn, dill, lemon wedges, hot sauce, red curry paste, croutons, oyster crackers, and, of course, extra pats of butter.
Ingredients:
24 Fresh Little Necks
1 ½ cups Rhody Fresh Half & Half
1 ½ cups Rhody Fresh whole milk
6 tablespoons Rhody Fresh salted butter
1 medium sweet onion, finely diced
3 celery stalks, finely diced
3 tablespoons all-purpose flour
6 medium red potatoes, diced
1 bay leaf
salt and pepper to taste
Directions:
Rinse little necks under cold water; place a rack in a large pot and add 1 ½ cups of cold water, a pinch of salt and the little necks.
Cover and place on high heat.
Remove little necks as shells open; discard any little necks that do not open. Strain and reserve broth.
Gently and coarsely, -chop the little necks and set aside just enough reserved broth to cover.
Combine half & half and milk and heat just until warm.
In a Dutch oven, or a chowder pot, melt 3 tablespoons of butter over medium-low heat.
Add diced onions and diced celery; sauté until soft.
Whisk in flour a little at a time until thoroughly blended.
Slowly add half & half and milk mixture, stirring until blended.
Add diced potatoes and bay leaf; season with black pepper and salt to taste.
Cover and simmer for one hour.
Add little necks in broth and remaining butter. Reduce heat and simmer until desired thickness.
Sample and season if needed before serving.
Post your favorite chowder recipe on our Facebook page if you get a chance – and good eatin'!