April is National Grilled Cheese Month!  And what makes grilled cheese such a delicious comfort food?  Must Be The Milk!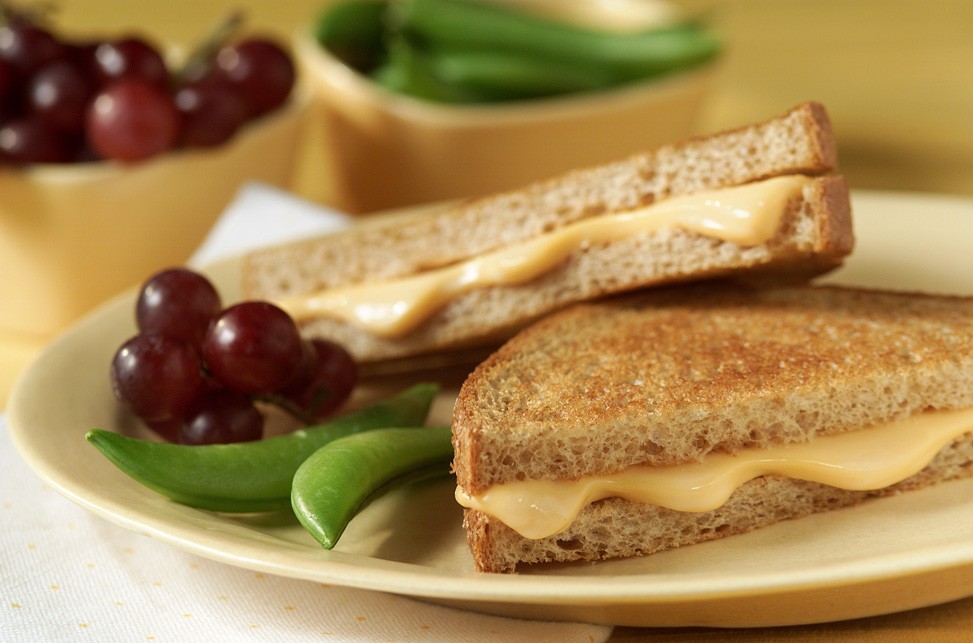 Who doesn't love the ooey gooey sandwich?  It is perfect any time of year!  Pair it with tomato soup, enjoy it open-faced, cut it up in strips for a quick and easy after school snack or take it up a notch with unique ingredients.
Check us out on Facebook and Twitter for some great recipes and ideas throughout the month of April.  And if you are really eager to test out some yummy grilled cheese sandwich combinations, whip up one of these for lunch or dinner today! And don't forget to enjoy a nice cold glass of milk to wash it down.
Spinach Pesto Grilled Cheese Sandwich
Recipe courtesy of Closet Cooking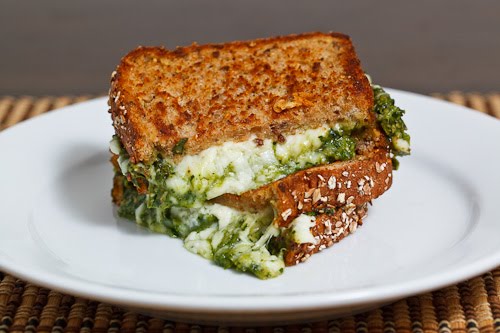 "A tasty spinach pesto smothered in ooey gooey melted cheese and wrapped in buttery golden brown grilled bread." – Closet Cooking
Servings: makes 1 sandwich
Prep Time: 5 minutes
Cook Time: 10 minutes
Total Time: 15 minutes
Ingredients:
1 tablespoon butter
2 slices bread
1/2 cup graviera or gruyere, grated
1-3 tablespoons spinach (aka spanakopita) pesto
Directions:
Heat a non-stick pan over medium heat.
Butter the outside of each slice of bread; sprinkle half of the cheeses on the inside of one slice of bread, top with the spinach pesto, the remaining cheese and finally the other slice of bread.
Add the sandwich and grill until golden brown and the cheese has melted, about 2-4 minutes per side.
Spicy Grilled Cheese Sandwich
Recipe courtesy of PATELGURL via All Recipes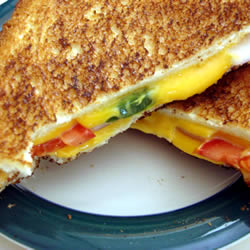 Servings: makes 2 sandwiches
Prep Time: 2 minutes
Cook Time: 3 minutes
Total Time: 5 minutes
Ingredients:
2 tablespoons butter
4 slices white bread
2 slices American cheese
1 roma (plum) tomato, thinly sliced
1/4 small onion, chopped
1 jalapeno pepper, chopped
Directions:
Heat a large skillet over low heat.
Spread butter onto one side of two slices of bread. Place both pieces buttered side down in the skillet.
Lay a slice of cheese on each slice of bread, and top with slices of tomato, onion and jalapeno.
Butter one side of the remaining slices of bread, and place on top of the slices of bread in the skillet, buttered side up.
When the bottoms of the sandwiches are toasted, flip and fry until brown on the other side.
Crab and Avocado Grilled Cheese
Recipe courtesy of Lynn Blair, Carmel-by-the-Sea, CA via Sunset and My Recipes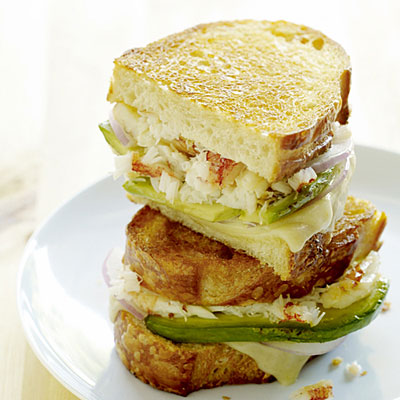 Servings: makes 2 sandwiches
Total Time: 20 mins
Ingredients:
4 slices sourdough French bread
2 tablespoons mayonnaise
Ground white pepper
2 tablespoons softened butter, divided
1/2 pound shelled cooked crab or canned lump crab
1/2 large avocado, sliced thin
2 very thin slices red onion, rinsed, dried, and separated into rings
4 ounces Swiss, gruyère, fontina, or jack cheese, sliced thin
Directions:
Spread bread slices with mayonnaise and sprinkle with white pepper. Layer 2 slices with crab, avocado, onion, and cheese. Set remaining bread slices on top and spread each with 1 tsp. butter.
Melt remaining 2 tsp. butter in a large nonstick frying pan over medium heat. Put sandwiches in pan, unbuttered side down, and cook, turning once, until golden brown and cheese is melted, about 6 minutes total.
How do you enjoy grilled cheese?
Do you have a favorite grilled cheese recipe?  Share it with us – we'd love to hear how you enjoy this traditional comfort food!