The Big Game is almost here and we know what that means: lots of snacks and tasty treats and some crazy awesome commercials with a football game peppered in.
But what pairs well with commercials and a little football?
Well fret not, we have pulled together some of our favorite game day eats to share with you.
Every party needs a dip, right? So get your party started off with this cheesy dip.
Pimiento Cheese Dip
Ingredients:
• 4 ounces grated Cheddar (1 cup)
• 1/2 cup mayonnaise
• 4 ounces cream cheese, at room temperature
• 3 tablespoons sliced jarred pimientos
• 2 tablespoons grated onion
• kosher salt and black pepper
• saltine crackers, for serving
Directions:
1. In a food processor, combine the Cheddar, mayonnaise, cream cheese, pimientos, and onion and puree until smooth.
2. Season with ¼ teaspoon each salt and pepper.
3. Serve with the saltines.
*Adapted from Real Simple.
Chicken is another game day staple but let's mix it up a bit and go beyond the traditional wings. How about this hearty dip with a kick instead?
Buffalo Chicken Dip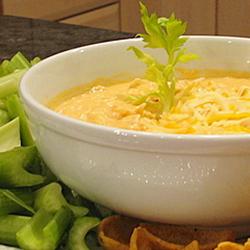 Ingredients:
• 2 (10 ounce) cans chunk chicken, drained
• 2 (8 ounce) packages cream cheese, softened
• 1/2 cup Ranch dressing
• ½ cup Blue Cheese dressing
• 3/4 cup buffalo sauce
• 1 tbsp. Tabasco sauce
• 1 1/2 cups shredded Cheddar cheese
• 1/2 cup Mozzarella cheese
• 1 bunch celery, cleaned and cut into 4 inch pieces
• 1 bag baby carrots
• 1 box of crackers
Directions:
1. Preheat oven to 350 degrees.
2. Drain chicken and place into medium bowl.
3. In an oven-safe bowl, blend cream cheese, dressings, buffalo sauce, Tabasco and almost all the cheese.
4. Once well blended, add in chicken, mixing thoroughly.
5. Sprinkle some of the remaining cheese on top.
6. Place in oven for 25 minutes or until bubbling and golden on the edges.
7. Remove from oven and mix.
8. Sprinkle the top with the last of the cheese.
9. Serve with celery, carrots and crackers.
*Adapted from AllRecipes.
I love to serve this with celery, carrots, and wheat crackers, specifically – they complement the spicy nicely and add a different texture and crunch. It is even great as a leftover – if you actually end up with anything left over after the game – just reheat and enjoy!
Another tried and true game day app is potato skins but let's take it up a notch and make a potato skin bar this year!
Potato Skin Bar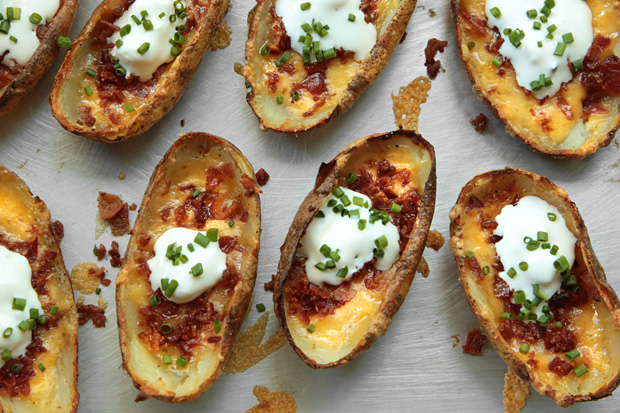 Ingredients:
• 5 large russet or sweet potatoes
• 1 package bacon
• 2 cans of chunk chicken
• 8 oz. of sour cream
• 1 sticks of butter; salted or unsalted
• 1 package shredded Cheddar Cheese
• 1 package shredded Mozzarella Cheese
• 1/2 cup shaved Parmesan Cheese
• 1 jar jalapeno peppers
• 1 cup diced mushrooms
• 1 cup diced olives
• 1 cup diced tomatoes
• 1 cup shaved or shredded carrots
• Hot sauce
• Marinara sauce
• Barbecue sauce
• Ranch and/or blue cheese dressing
Directions:
For potatoes:
1. Preheat oven to 400 degrees.
2. Bake potatoes for 45 minutes.
3. Let cool.
4. Cut into 4-8 slices per potato depending on size/shape.
5. Plate.
For bacon:
1. In a skillet, cook one package of bacon until crispy.
2. Pat dry and let cool.
3. Break apart into tiny, bite sized pieces and place in bowl.
For chicken:
1. Drain chicken.
2. Warm in oven with potatoes for 5-10 minutes or heat in microwave until warm.
3. Place in bowl.
For toppings:
1. Prepare each topping as desired.
2. Place in individual bowls.
When serving:
1. Serve potatoes alongside individual bowls of bacon, chicken, and toppings to create potato bar.
*Add or remove ingredients to suit personal tastes; experiment with turkey bacon, ground beef, tofu, tuna, pesto, yogurt, etc. and/or try reduced and non-fat varieties.
Interested in more recipes or seeking some lighter fare? Check out our recipes page and our #SuperBowl Slim Down blog post.
Enjoy the big game on Sunday and Go Pats!