Blog post written by University of New Hampshire dietetic intern Haley Brimmer.
—
Summer is here and the sun is finally out! As you're soaking up the sun's rays, don't forget to stay hydrated and refuel with healthy snacks. Dairy foods are a great way to incorporate protein, and they also provide your body with many essential micronutrients including calcium, phosphorous and vitamin A.
Ice cream is considered the sweet treat in the summer, but popsicles can be just as satisfying. They can also incorporate fruits, vegetables, herbs and spices, making them versatile and enjoyable for everyone!
Try them homemade!
While it may be tempting to pop into a store and grab one of the many varieties of popsicles available, this may not be the healthiest approach. Many of these products contain added sugars, are high in fat, or are full of processed ingredients. By making popsicles at home, you can control the amount of sugar that is added to them and use natural sugars, such as those found in fruits and dairy. You'll also have the benefit of being able to use whole foods while minimizing the amount of ingredients. Plus, you'll love being able to refuel with a healthier treat after swim practice or a long day at the beach.
Homemade popsicles don't have to be time consuming, either. Most recipes can be made in just a few minutes and can be made using common household equipment (i.e. paper cups, popsicle sticks and a blender).  You could even get the kids involved by letting them pick out fun popsicle molds, choose their favorite flavor combinations, and help with measuring and pouring ingredients.
We found three recipes we couldn't wait to try out in preparation for summer. All are simple to make and take less than 15 minutes to prepare. Try some of these homemade popsicles for a healthier twist on a summertime staple!
Blackberry Thyme Yogurt Popsicles
Recipe adapted from Joyful Healthy Eats, Blackberry Thyme Yogurt Popsicles
This sweet popsicle packs a ton of flavor and looks beautiful too! Blackberries give this recipe an antioxidant boost, the protein from the yogurt will leave you feeling satisfied and the thyme gives this combination a unique twist. The best part is that it uses only five ingredients, and takes less than ten minutes to throw together! Once frozen, enjoy this treat by the pool or use it to soothe a sore throat!
Preparation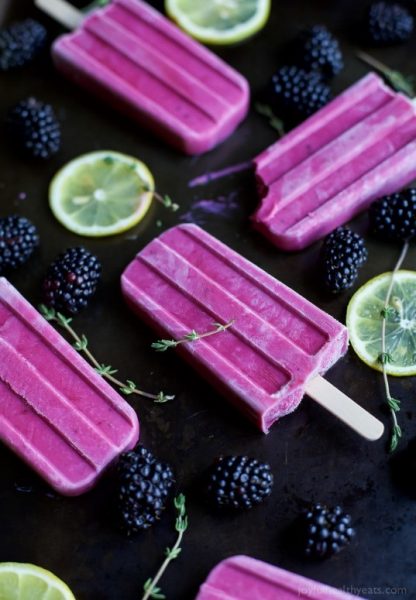 Total Time: 4 hours
Yield: 6 popsicles
Serving Size: 1 popsicle
Ingredients
-1 cup plain Greek yogurt
-1 cup blackberries
-2 Tbsp. lemon juice
-2 Tbsp. honey
-1 ½ tsp. fresh thyme
-Water, optional for thickness
Directions
To a food processor, add Greek yogurt, blackberries, lemon juice, honey and fresh thyme. Blend until smooth. Add water to reduce thickness, if needed.
Pour mixture into popsicle molds.
Place molds in freezer and freeze for 4 hours.
To remove popsicles, place mold tray in bowl of warm water for 20 seconds and pull the popsicles out.
Devour!
Nutrition
Calories: 53
Protein: 4.2g
Fat: 0g
Carbohydrates: 10g
Fiber: 1.3g
Sugar: 8g
Sodium: 17mg
Sea Salt Chocolate Popsicles
Recipe adapted from Spoon University, Sea Salt Chocolate Popsicles
These creamy chocolate treats are perfect for ending a family barbecue or as a dessert when your chocolate craving swings into high gear. The mixture of chocolate and sea salt in this popsicle is perfect for satisfying that sweet and salty craving. With just five ingredients and minimal preparation needed, there's no going wrong with this decadent dessert!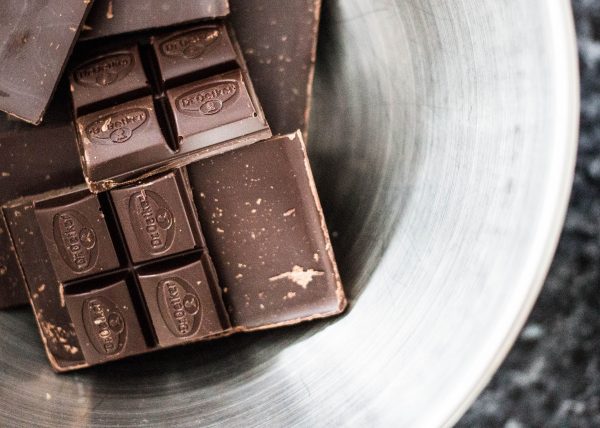 Preparation
Total Time: 4.5 hours
Yield: 6 popsicles
Serving Size: 1 popsicle
Ingredients
-1/3 cup sugar
-1/4 cup boiling water
-2 cups low-fat milk
-1/2 cup heavy cream
-3.5oz. dark chocolate
-1 ½ tsp. sea salt
Directions
Dissolve sugar in boiling water.
Gently heat milk, heavy cream and chocolate in pot until chocolate is completely melted.
Add sugar water and sea salt to mixture and mix until combined.
Allow mixture to cool for 5 minutes.
Pour into molds and freeze for four hours.
Nutrition
Calories: 216
Protein: 4g
Fat: 12g
Carbohydrates: 25g
Fiber: 1g
Sugar: 22g
Sodium: 230mg
Green Smoothie Popsicles
Recipe adapted from Kitchen Confidante, Green Smoothie Popsicles
Want to take your green smoothie to the next level? Make it into a popsicle! This version of a green smoothie is nutritious, delicious and packed with potassium, vitamin C, calcium and natural sugars. Its tropical flavors are sure to make you feel like summer is in full swing! Choose low-fat dairy products, and use Greek yogurt if you want the added protein.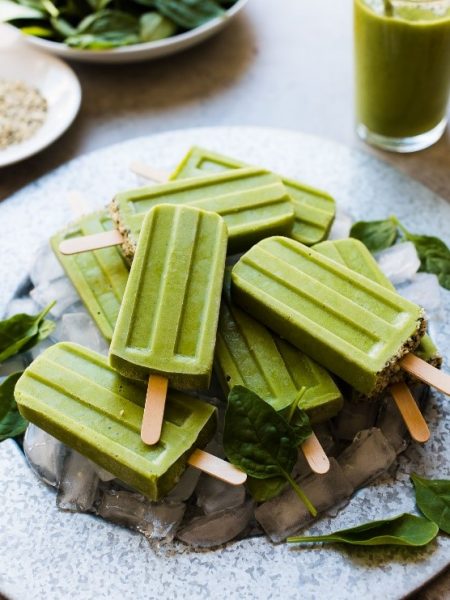 Preparation
Total Time: 5 hours
Yield: 10 popsicles
Serving Size: 1 popsicle
Ingredients
-1 cup low-fat milk
-1/2 cup plain Greek yogurt
-2 very ripe bananas
-2 cups frozen mango chunks
-3 cups spinach
-2 Tbsp. honey
Directions
Place milk, yogurt, bananas, mango, spinach and honey in a blender and blend until smooth.
Pour mixture into popsicle molds.
Insert popsicle sticks.
Place in freezer and freeze for at least 5 hours.
Enjoy!
Nutrition
Calories: 66
Protein: 2.6g
Fat: 0.5g
Carbohydrates: 14g
Fiber: 1g
Sugar: 11g
Sodium: 24mg
In addition to providing your body with protein, low-fat dairy can also improve bone and heart health, which is why it is important for kids and adults to consume an adequate amount each day. Enjoy dairy on its own, such as a glass of milk, or make it into a yummy treat, such as homemade popsicles!
We hope you enjoy these homemade popsicles this summer. Be sure to also check out Must be the Milk's page for even more homemade popsicle recipes, like this Chai Tea Latte Yogurt Popsicle or this Perfect Pair Pop.
—
Haley Brimmer is a dietetic intern at the University of New Hampshire. She worked with New England Dairy & Food Council for part of her community nutrition rotation, where she was involved with Fuel Up to Play 60 and the Football for You programs. Prior to the internship, she attended Clemson University where she graduated with a BS in Food Science. She is originally from Charleston, SC but is enjoying all that New England has to offer!