Every year, one farm in each of our New England states wins the prestigious Green Pastures Award. The winning dairy farms are recognized and selected for their production records; herd, pasture, and crop management; environmental practices; contributions to agriculture and the local community; and overall excellence in dairying.
Meet the 2017 Maine Dairy Farm of the Year!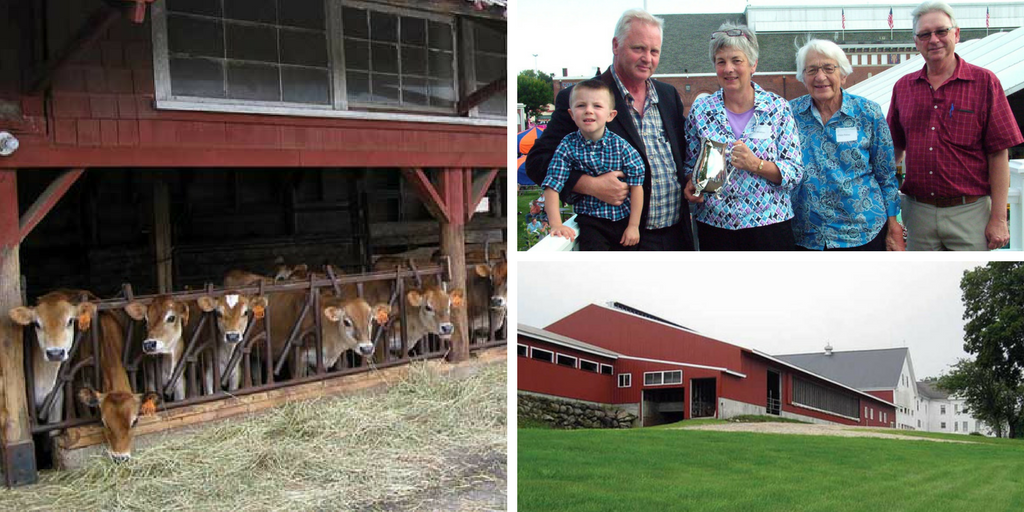 If cows competed in beauty contests, chances are a Jersey would be crowned the winner.
Most folks agree that Jersey cows are among the most striking of dairy cows. Their big brown eyes and long lashes are tough to beat, and their milk is a winner, too – its higher fat and protein content means creamier butter and to-die-for cheese.
Highland Farms in Cornish has the oldest continuously registered Jersey herd in the United States, and maybe that accounts for the farm's success. Its latest accomplishment is winning this year's Green Pasture Award and being named Maine's Dairy Farm of the Year.
The Green Pasture Award is given every year to one outstanding dairy farm in each of the New England states, with winners evaluated on production records; herd, pasture, and crop management; environmental practices; contributions to agriculture and the local community; and overall excellence in dairying.
"We're very excited about the award, because it really is due to the efforts of our younger generation," says Libby Bleakney, who owns and operates Highland Farms with her brother, Daniel Palmer, and cousins David and Lorie Pike.
While several family members work off the farm, everyone is involved during their time off, she says, helping where needed to get chores done, crops in on time, and maintain its pristine grounds.  Several family members of the 6th generation are actively involved in farm operations as their full-time job, notably Jennifer Kimball and Johanna Chapman, aided by a small crew of hired help.  Chad Pike splits his time between the dairy and logging operations; Andrea Emmons is part-time dairy and part-time logging.
The farm is located on a hill overlooking Mt. Washington, across the border in New Hampshire, The cows are housed in free-stall barns with sidewall curtains that help control the environment in the barn, and the Jerseys are fed from forages grown on the farm's 300 acres of corn and grass, as well as supplemented grains, minerals and vitamins. A thousand acres of woodland is also one of the resources for Highland Farms Inc. and its logging operation.
Highland Farms has been a leader in conservation practices, says Libby, since today's dairy farming is more complicated than just milking. The goal of each activity – whether growing feed, controlling water run-off, or creating compost – is to manage and protect the land, soil and water, while also caring for their cows.
Like the family that operates Highland Farms, its cows can boast that they go back a few generations as well. Most of the Jerseys can be traced to the original cows purchased to start the farm.  The farm is a leader nationally in the breeding and development of two notable bulls, Highland Magic Duncan and Highland Duncan Lester bred on the farm. These bulls have sired over 2,800 registered sons and over 28,000 daughters.  Sons of these bulls have sired over 135,000 registered offspring and sons of their daughters have sired another 144,000 offspring, reflecting the huge impact Highland Farms has had on the Jersey breed.
With that kind of lineage, each of Highland Farms' Jerseys can be proud of being more than just a pretty face.