How to Experience Vermont like a True Vermonter
Spend Time on a Dairy Farm – The Heart & Soul of Vermont
If you're from Vermont, you know our humble little state is a special place.  If you're not a native woodchuck, you may have been drawn north, called-to by our rolling green hills, our world-class skiing, or maybe even our maple creemees.  One thing's for sure, whether you're summiting Mount Mansfield, or spending a day on Lake Champlain – you're never too far from a hardworking Vermont dairy farmer.
Family Farming in the Great Green North
Nestled along the borders with New Hampshire and Canada sits the Northeast Kingdom – one of Vermont's hidden gems.  An area composed of Orleans, Essex and Caledonia Counties, it's a part of Vermont that feels more rural, more wild than other patches of the Green Mountain State.  It's an area known for its outdoor landscape and recreational opportunities.  These qualities are made possible in part by those dairy farmers.
Just a few miles from Newport's city center, Maxwell's Neighborhood Farm is home to nearly 1,000 dairy cows. They'll be hosting Vermont Breakfast on the Farm on June 22 – book a spot. Whether it's a warm summer day, or a chilly winter evening – walk into any one of their barns and you'll find the herd of Holsteins, those black and white ladies, resting comfortably.  Look back to 1957 when the farm was first started by Lois and Maurice Maxwell, and progress through the years – no matter how many cows, or the level of technology – cow comfort and animal welfare were always top priorities for the Maxwell family.
Today, the farm is in the hands of the third generation – Matt and his wife Megan are continuing the legacy of those who came before them.  The two, alongside their team of dedicated employees are utilizing practices and technologies that allow them to take better care of their cows, improve their soils, and protect our environment.  Being a sustainable farm is nothing they take lightly.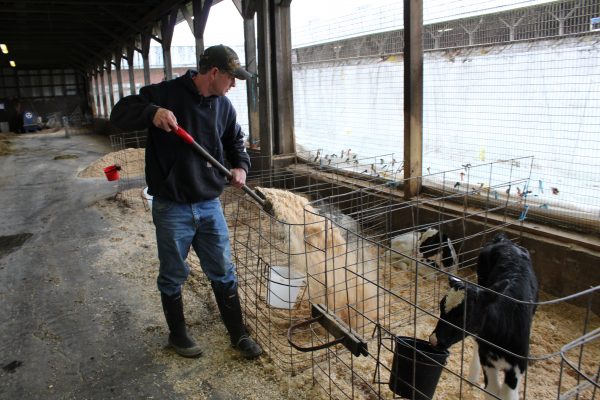 It's no surprise that cows make manure, a lot of it – on the Maxwell Farm, manure is a resource, not a waste product.  Thanks to their methane digester, the farm is able to convert their cow manure into energy for the farm and local homes, and liquid fertilizer for their 2,000 acres of corn and hay.
The farm works extensively with local partners like the Natural Resource Conservation District to improve their field management practices.  The Maxwell's, like many farms in Vermont, utilize cover crops which keep a growing plant on the fields all year long, soaking up nutrients, and preventing runoff into local waterways.
While the farm has grown, it remains a family farm.  Matt's grandparents (Lois and Maurice) still live in the farmhouse, just yards from the barns.  Even the youngest Maxwell's help with daily chores.  It was the family's dedication to animals, land, community and product that helped them become Vermont's 2002 Dairy Farm of the Year.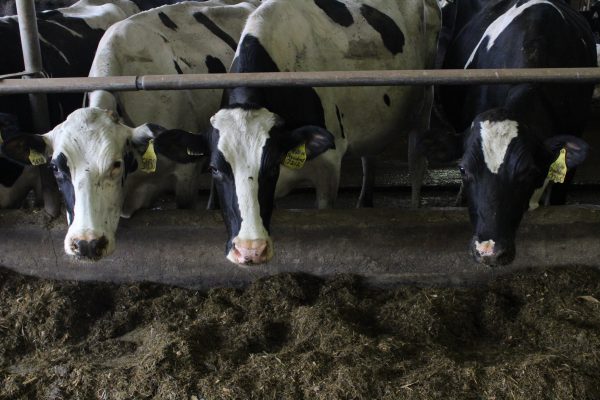 And the farm itself is a part of a bigger family.  Each day 2 tanker trucks of milk leave the farm headed towards the St. Albans Cooperative Creamery.  The Coop is celebrating their 100-year anniversary in 2019 – 100 years of farmers producing healthy, wholesome milk to feed a growing world.
155 Years of Dairy Farming in Central Vermont
Head Southeast down Vermont's scenic roadways and you'll find yourself in Brookfield.  The town, with a population of about 1,200 – is home to the famed and often photographed 'Brookfield Floating Bridge'.  The town is also home to Sprague Ranch, a small dairy farm (relatively speaking) with a huge impact in their local community. The farm will be hosting Breakfast on the Farm on July 27 – book a spot.
Dating back to 1864, John Keith Sprague bought the farmhouse, land, and barns for $2,300.  Over the next 155 years, the farm would grow, advance and innovate.  Today, the farm milks 600 cows.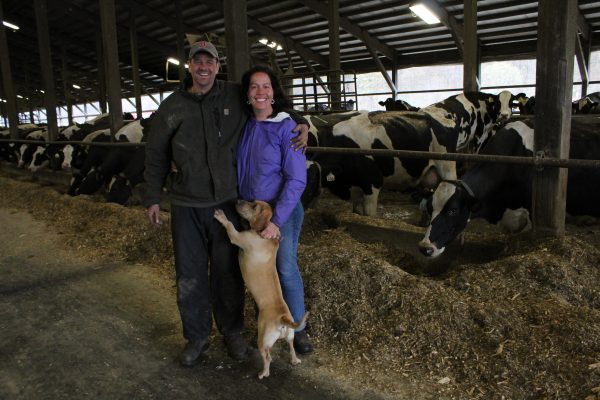 Keith and his wife Chelsea are the fifth generation of Sprague's to be manning the farm.  With a background in engineering, Keith is the resident handy-man and crop expert.  Like the Maxwell's, the Sprague Ranch utilizes cover crops, as well as no-till field management for their 1,200 acres, which eliminates the need to stir up the soil before planting.  This practice helps keep plant-roots in place, further reducing runoff.
With such a focus on water quality in Vermont, dairy farmers like the Sprague's value their role in protecting local waterways like the Sunset Brook which flows past the farm.
The Sprague Ranch is unique, the 2005 Vermont Dairy Farm of the Year themselves, it's one of several family dairy farms in the Central Vermont area that sends their milk directly to Booth Brothers Dairy, a local Vermont dairy processor.  The Sprague milk makes the short journey north up Route 14 to the Booth plant in Barre where it's pasteurized, bottled and distributed to local stores.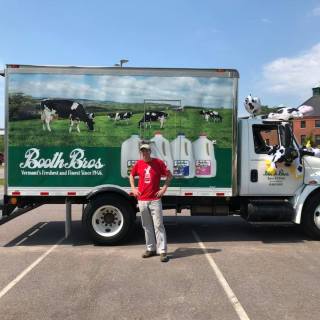 Protecting, maintaining, and enhancing our working landscape – this is the role of the Vermont dairy farmer.
The Sprague's and Maxwell's proudly invite you to their Vermont Breakfast on the Farm events in June and July.  There's no better way to learn about modern dairy farming, and its positive impacts on Vermont.  From creating jobs and supporting businesses, to producing healthy foods year-round, and protecting our environment – dairy farms are closely intertwined with Vermont's legacy, and will continue to drive this state forward.
These are the perfect ways to spend a summer day in Vermont.  And hey, grab that maple creemee while you're here – ice cream brought to you by a local dairy farmer.