What makes Milk House Chocolates in Goshen, Connecticut so special? Must Be The Milk!
Have you ever heard of single-cow-origin chocolates? At Milk House Chocolates at Thorncrest Farm, Kimberly Thorn crafts certain flavors of chocolates with the milk from individual cows! Most importantly, they can ship their chocolates directly to you!
Thorn says she discovered the technique by accident. She had been making chocolates with combined milk from the farm's cows, but one day she forgot to bring home the milk to make the candies. She went back to the barn and milked one cow. The chocolates made from that milk, she said, came out much better than anything she had ever made before. Today she depends on 10-12 cows of the farm's 70 for specific flavors, while the rest of the chocolates are made with careful combinations of milk.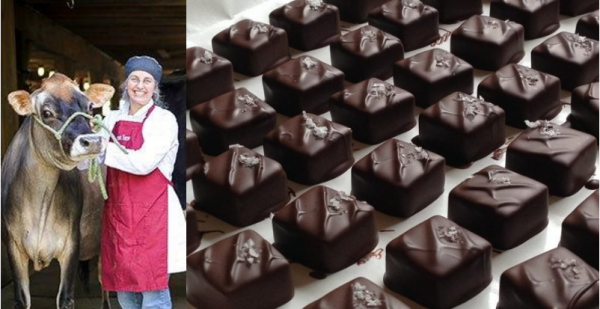 The idea for Milk House Chocolates began in the summer of 1984 when Kimberly was working in Ireland. A small shop down the road was making handmade pastries with fresh cream, butter and milk from the farm close by: their chocolate desserts were amazing!  It was there that she had the idea and dream to make chocolate and treats from her husband Clint's cows.
The variety of chocolates and sweets Milk House offers is perfect for any occasion (especially for that special someone with Valentine's Day around the corner) and that's not all—they also offer cheese making classes!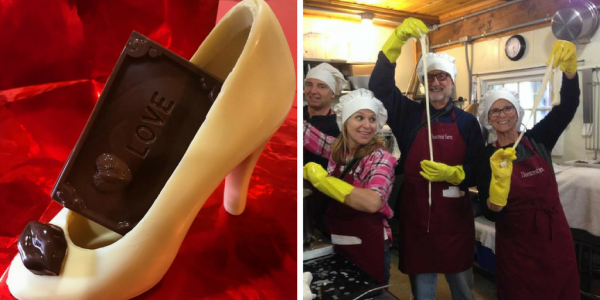 In addition to all their projects, the Thorns do a great job sharing their farm with the community. Thorncrest Farm regularly host farm tours, including Cabot's Open Farm Sunday and the Annual Goshen Farm Tour!
Learn more about Thorncrest Farm and Milk House Chocolates.
Find Milk House Chocolates on Facebook!