King Arthur Flour in Norwich, Vermont is the Disneyland of delicious treats for visitors looking for a yummy snack and bakers in the search of new skills or a tasty recipe. The Baking Education Center at King Arthur offers baking classes for all levels and ages where you can learn how to make everything from pasta to pie dough.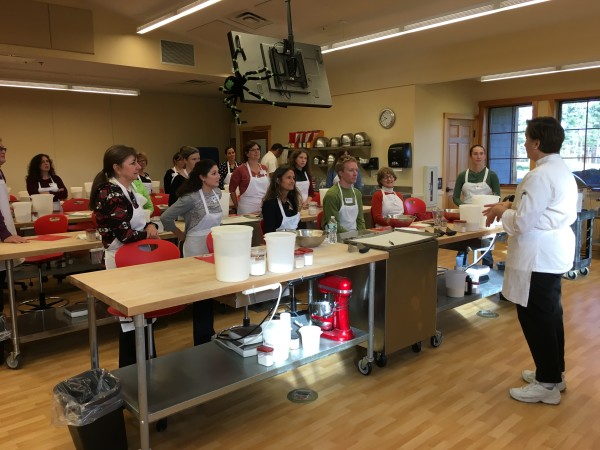 We recently took a class with King Arthur pro, Lee Clark and brought with us 20 dietitians from the Vermont Academy of Nutrition and Dietetics and the New Hampshire Dietetic Association.  The result? A huge spread of delicious dietitian approved bread, pizza, and scones!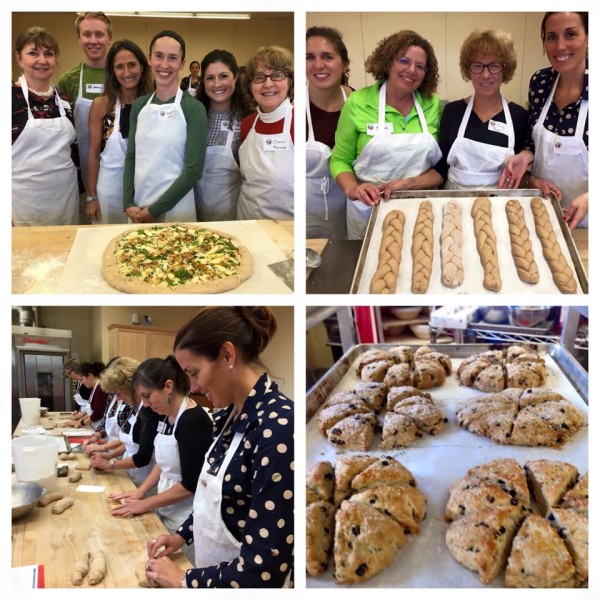 One interesting tip we learned is that milk's fat content plays an important role when it comes to the softness of a crust, crumb or bread.  For baked goods that are soft and moist, it's best to use whole milk in the recipe. The fat in whole milk gives bread the soft texture and also helps it last longer. Most varieties of milk can be used interchangeably in baking.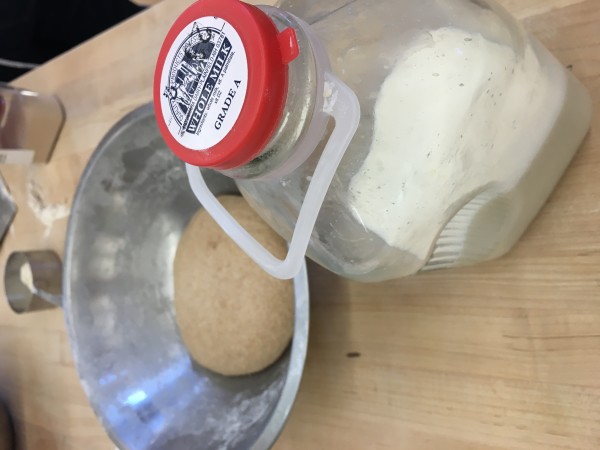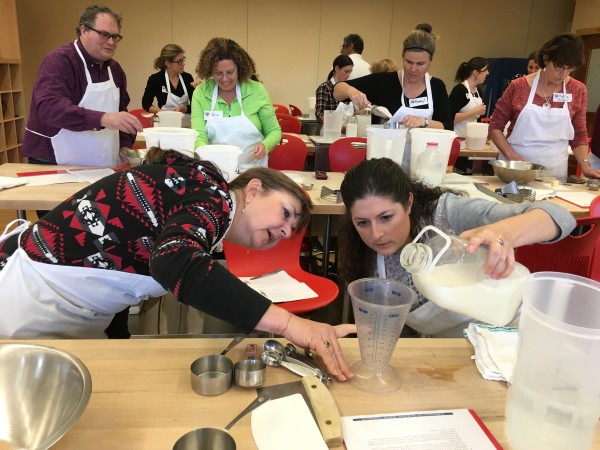 Now, on to the scone recipe we made (makes 12). These scones only take about 30 minutes from start to finish and are an easy way to have a delicious snack on the table. They have a buttery and creamy texture. Contrary to popular belief, scones aren't supposed to be dry and these scones won't disappoint! There are two things that make scones dry: 1) overworking the dough and 2) adding too much liquid too fast.
First up, preheat your oven to 375°F. Lightly grease a baking sheet, or line it with parchment. Then combine 2 cups King Arthur All-Purpose Flour, 1 cup White Whole Wheat Flour, 1/2 teaspoon baking soda, and 1/4 teaspoon salt in a large bowl.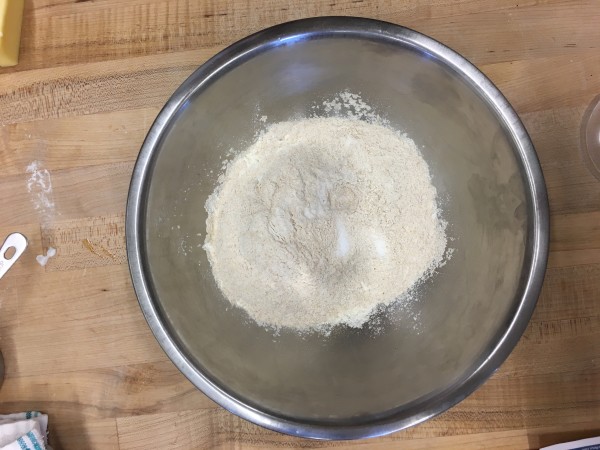 Next take 1/2 cup unsalted butter that is chilled and cut it into small pieces. Cutting the butter into small pieces makes the scones moist and tender. Once you've cut up the butter, blend it into the flour using a pastry cutter or your fingers. You'll want to do this fairly quickly so that the butter doesn't melt.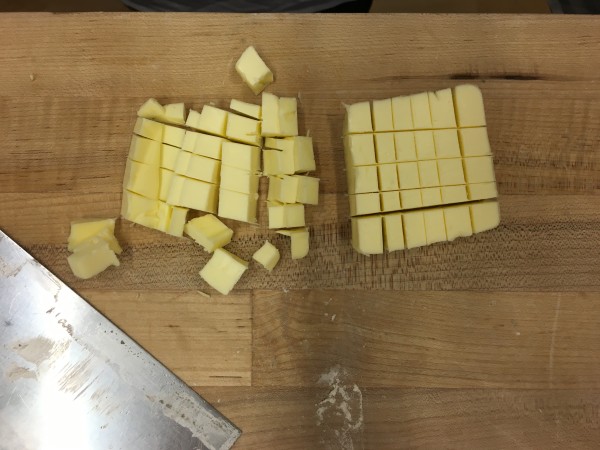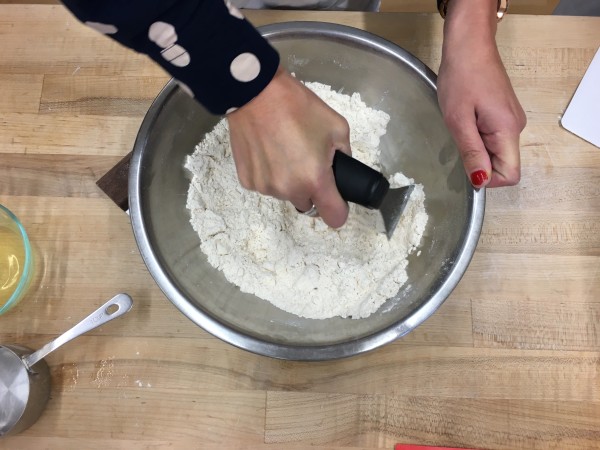 Next, add in 3/4 cup of any fruit you'd like with 2 tablespoons of sugar. We used currants, but you can substitute anything you'd like – raisins, blueberries, strawberries, or chocolate chips for added sweetness!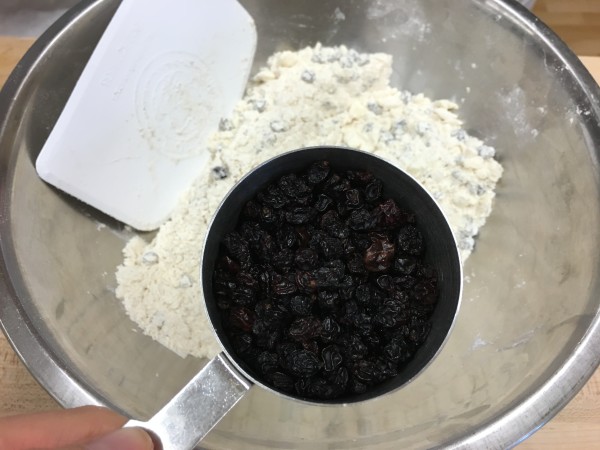 Next separate 1 egg white and yolk. Set the egg white aside for brushing on top of the scones. In a small bowl or liquid measure, mix the egg yolk with 1 cup of whole milk and yogurt combined.
Now, stir the wet ingredients slowly into the dry ingredients, until just mixed. Don't worry if the dough doesn't look perfect – you're doing it right if the dough looks a little rough. Keeping the dough a little misshapen is what keeps the scones from being too dry. Nicely done Jill and Becca!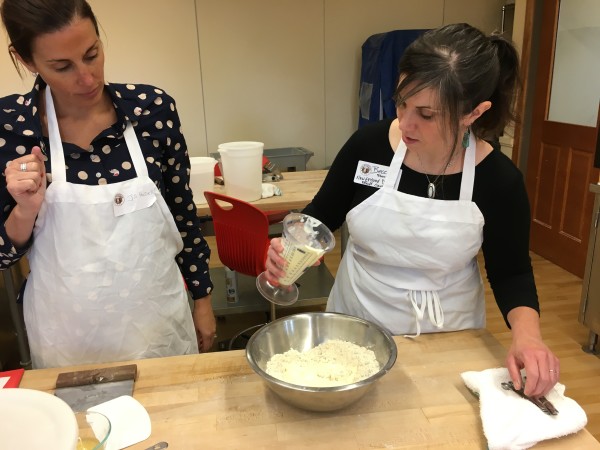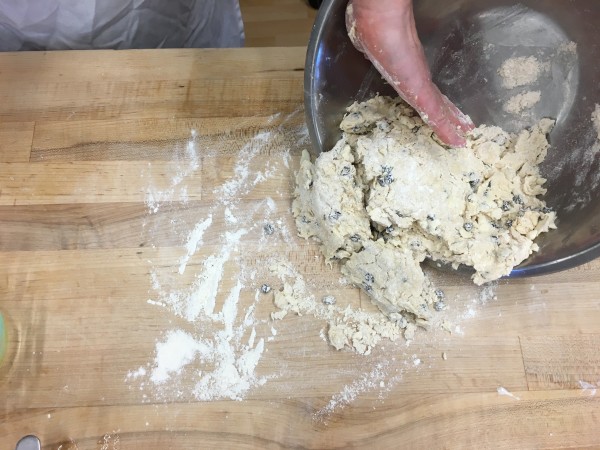 Transfer the dough onto a floured surface and work it about a dozen times so that it holds together. Remember, it's not supposed to be a perfectly smooth dough. Form the dough into 2 round pieces and flatten them.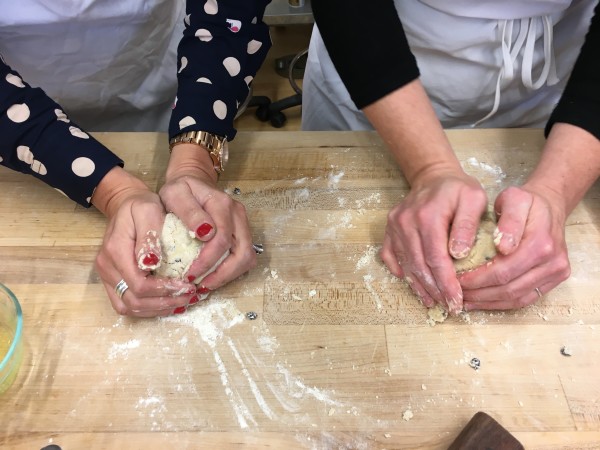 Next, transfer the scones to your baking sheet, beat the egg white and spread it on the top of the scones.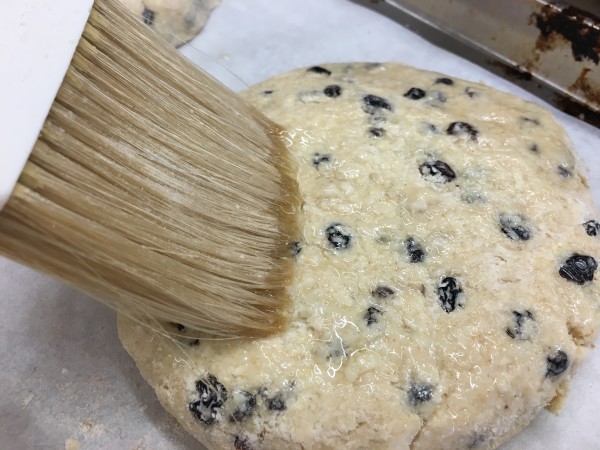 Cut each circle into 6 pieces. Make quick cuts into the dough – this allows the scones to rise better. Spread sparkling sugar on top if desired.

Bake for about 15 to 18 minutes, until they're golden brown. Dietitian, Kay Tran, was the first to grab one of our scones fresh out of the oven and gave them rave reviews! We hope you enjoy making them at home as much as we did! For more scone recipes visit: King Arthur Flour Scone Recipes.