Every year, one farm in each of our New England states wins the prestigious Green Pastures Award. The winning dairy farms are recognized and selected for their production records; herd, pasture, and crop management; environmental practices; contributions to agriculture and the local community; and overall excellence in dairying.
Meet the 2016 Vermont Dairy Farm of the Year!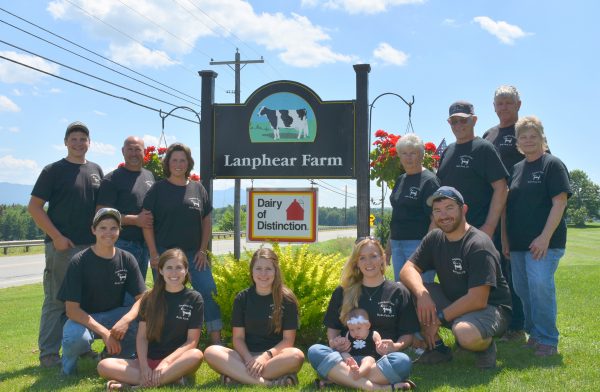 The Lanphear Family Farm has no shortage of Lanphears working the dairy operation in Hyde Park, VT.
In addition to owners Kirk and Katrina Lanphear, the farm's workers include all four of the couple's children: Chelsea, 22; Carrie, 19; Lucas, 18; and Keith, 15. All have been involved in the farm operation, with the boys helping out on a daily basis with the cows, crops, equipment maintenance and other tasks to learn everything they can about managing the farm. They, along with Skylar Poleio, a 10-year employee who the Lanphears consider a son, have expressed interest in taking over the farm in the future.
Thanks to the efforts of the family and extended family, Lanphear Family Farm has been recognized as this year's Green Pasture Award winner, and has been named the 2016 Vermont Dairy Farm of the Year.
The Holstein dairy was recognized for its well-managed herd, high quality milk production, sound management practices and strong work ethic.
The couple bought the farm in 2007 from Kirk's parents, Russell and Judy Lanphear, after working in partnership with them for several years. Today they milk 440 cows in a double-16 parlor twice daily. They ship their milk to the St. Albans Cooperative and have won numerous awards for high quality milk production, including the co-op's annual quality recognition award for the past 23 consecutive years.
The Lanphears' success also can be attributed to good conservation practices. All of their fields are soil tested each year. Some of their 950 tillable acres are along the Lamoille River and its tributaries, requiring strict adherence to conservation guidelines, including creating buffers to prevent nutrient run-off from fields into waterways.