Every year, one farm in each of our New England states wins the prestigious Green Pastures Award. The winning dairy farms are recognized and selected for their production records; herd, pasture, and crop management; environmental practices; contributions to agriculture and the local community; and overall excellence in dairying.
Meet the 2016 New Hampshire Dairy Farm of the Year!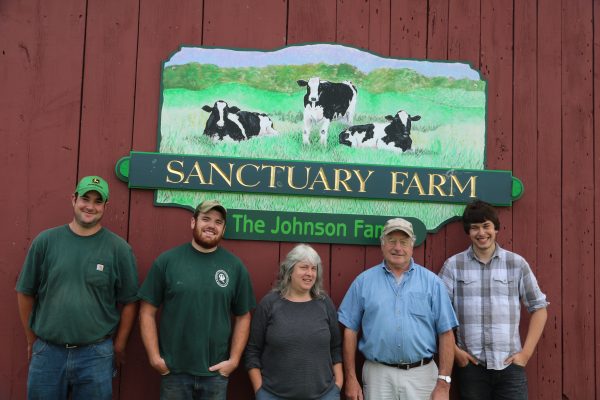 What's the advantage to being a veterinarian running your own dairy farm?
The obvious, of course, says Dr. Jolyon Johnson matter-of-factly. "You don't have to hire a veterinarian," he points out with a laugh.
He adds that despite being a 9th generation dairy farmer, it was his training as a veterinarian that gave him access to hundreds of farms as a student and young practitioner over the years, and that experience has been invaluable. "You learn something new everywhere you go," he points out.
Balancing the demands of a busy large and small animal veterinary practice, along with the operation of a dairy farm is a challenge. Both endeavors require a major time commitment and are almost impossible to schedule, but Johnson points out reliable support on both ends has made both operating the clinic and running the farm possible.
Sanctuary Farm was founded on land granted to the family in the mid-1700's in recognition of its participation in the French and Indian War. The property has remained in the family and has been a dairy farm for the past century. Jolyon's grandfather built a new barn in 1920, which remained in use for 67 years until 1987, when the family built a new tie-stall barn with natural ventilation, comfort stalls, extra wide feed allies for hay storage, a pipeline milking system, and plenty of light.
The dairy barn houses 40 registered Holstein cows.  Milk quality and production are a priority. The heifers (cows that have not yet had a calf) are kept in a barn just across the yard from the main barn. The farm's hay storage barn offers a high roof so hay-making equipment can fit inside, allowing all hay handling during harvest to be done with minimal or no manual labor.
Pasturing is a priority during the summer months at Sanctuary Farm, with cows moved to a different paddock every day. There's plenty of room: Sanctuary Farm consists of 800 acres, with 100 acres of hay land, 100 acres of pasture, with conservation easements established several years ago.
The tradition of family management on Sanctuary Farm continues. The dairy is managed by Jolyon and assisted by his older son, Jared, 26, who recently graduated from the UNH Dairy Program.  Jolyon's wife, Susan, helps run the veterinary clinic and operates an ice cream parlor on the farm with their youngest son, Beck, who also helps occasionally on the farm. Forest products, a maple sugaring operation, and anything else to help support the operation have been part of the history on Sanctuary Farm, testament to the tradition of entrepreneurism among dairy farmers.
Johnson is proud to be a Green Pasture Award winner, seeing the honor as recognition of the family's commitment to the farm and the family legacy. "The award does help to shed light on the dairy industry, and small farms in particular," he says, and that positive exposure is a pat on the back for families like the Johnsons, who work to make their farm successful enough to pass on to future generations.
He adds, "Agriculture is an important part of New England economy, maintaining open vistas and supporting wildlife. Local food production and supporting tourism are resources enhanced by  the continuing success of our dairy industry."
Learn more about Sanctuary Dairy Farm Ice Cream!