Our blog this week is from Massachusetts-based cookbook author and food journalist Heather Atwood. The rich description below sets the stage for the decadent dessert recipe she shared with Must Be The Milk.
There are a few key steps to making this recipe, but it is actually easier than it looks, and you can even make the recipe in stages depending on your schedule during this busy time of year. The reward is in the beautiful presentation and, of course, the looks of your impressed guests as they enjoy the dessert. Give it a try for your next holiday party, and let us know how it turns out by leaving a comment!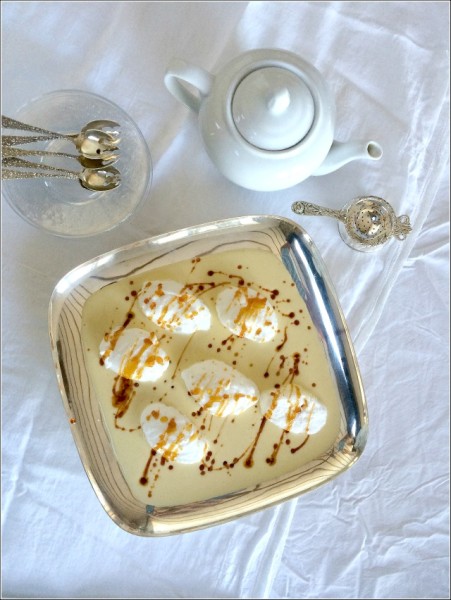 Floating Islands (Iles Flottante)
by Heather Atwood
Meringue clouds float in a velvety, creme anglaise, spattered in crackling gold caramel.
This recipe takes a trio of textures and assembles them into a deceptively simple dessert that appears absolutely elegant.
Iles Flottante or "Floating Island," sometimes called Oeufs a la Neige, or "eggs in the snow," tastes like a special occasion dessert, but makes no heavy demands on skills or time; two of its three components can and should be prepared in advance.  It promises "oooohs" from your holiday guests, and the star ingredient is cold, fresh, delicious milk.
First, two cups of hot milk are added to beaten egg yolks and sugar to make a smooth, sweet creme anglaise.
That is chilled until serving.
Then egg whites are whipped into meringue.  While the whipping happens a large wide saute pan heats another few cups of milk to a low simmer.  The meringues are shaped into ovals with two large spoons, and slipped into their milk poach.  The meringues cook for a minute on each side, and become firm enough to remove.  They are easily handled, and can actually be prepared for up to 3 hours in advance, and kept chilled.
When ready to serve, the creme anglaise is poured into a beautiful, shallow dish.  The meringues are floated therein.  The caramel glazes the dessert in an irresistibly festive and decadent way.
This is a recipe in which our simple refrigerator basic, a carton of whole milk, is dressed in pearls, gilded in gold, and taken to the ball.  Or at least to the holiday table.
Iles Flottante–Serves 6
Ingredients
For the Creme Anglaise:
2 cups whole milk
6 large egg yolks
1/2 cup sugar
1 1/2 teaspoons vanilla extract
 For the Meringues:
4 cups whole milk
4 egg whites (room temperature)
1/4 teaspoon salt
1/4 + 1 tablespoon sugar
For the Caramel:
1/2 cup sugar
1/3 cup water
Instructions:
For the Creme Anglaise:
In a medium saucepan scald the milk.  (Heat just until small bubbles rise around the edges of the pan.)
  Place the egg yolks and sugar in a heavy saucepan, and whisk together until thick and pale.  While whisking, drizzle in a small amount of the hot milk.  Whisk that well, and then slowly pour in the rest of the milk, whisking all the while.
  Bring mixture to medium heat, stirring constantly with wooden spoon.  Cook until mixture becomes thick, and coats the back of a spoon.  Remove from heat, and add the vanilla.    Pour custard through a strainer into a medium glass mixing bowl.  Cover immediately with plastic wrap, pressing the wrap down onto the surface of the custard to prevent a skin from forming.  Chill.  The custard is fine for up to 3 days.
For the Meringue:
Fill a wide saute pan with 1" of milk, approximately 4 cups.
Find two large oval spoons, if using.  Meanwhile, lay a clean kitchen towel on the counter close to your pan.  This is for draining your meringues when done.
  In the large bowl of an electric mixer place the egg whites.  Whip at medium high until just becoming opaque, about 30 seconds, and add pinch of salt.  Keep whipping for 30 more seconds, until just beginning to become dense.  At this point start slowing sprinkling sugar, 1 tablespoon at a time, into the whites, whipping all the time.  Whip until peaks are high and glossy.
  Bring the milk to a very low simmer.  Take one of the oval spoons, and scoop some of the meringue up with it.  Press the second oval spoon down upon the meringue to shape into what looks like a large oval, or a large egg shape.  Remove the top spoon, and then use it to push the meringue into the gently simmering milk, and repeat with as many meringues as will fill the pan without crowding, about 6.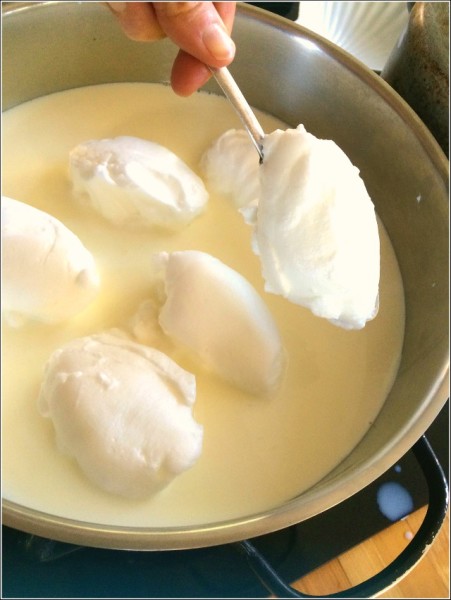 5.  Poach the meringues for 1 minute, and then turn them over, and poach for a minute on the other side.  (If your milk is not hot enough this may take a little longer on each side.  When the meringues become firm enough to turn over they are ready.)  With a slotted spoon, remove each to the clean dish towel to let drain, and continue with remaining meringue.  If not using immediately, remove drained meringues to a baking sheet lined with parchment paper, and chill.
To Assemble:
Pour the creme anglaise into an attractive, shallow serving dish.  Float the meringues in the dish, and prepare the caramel.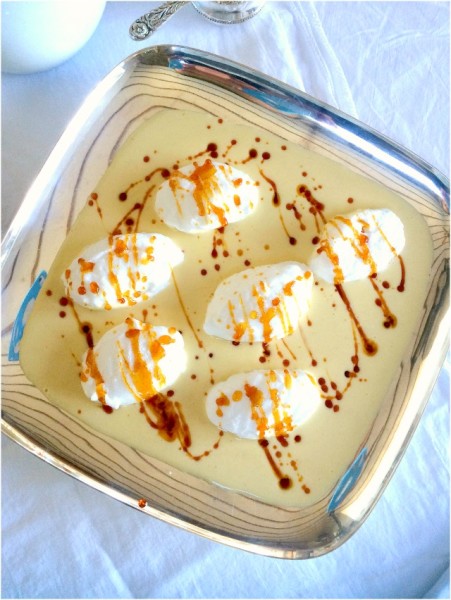 To make the caramel:
In a small saucepan put the sugar and water.  Stir until the sugar is mostly dissolved.  Heat pan to medium high, but do not stir.  Allow the sugar and water to cook, untouched, until the sugar begins to brown.  You can swirl the pan a bit at this point, distributing the cooking sugar.  Remove when the caramel is deep brown all through.
  Bring the pan close to the platter of meringues.  Take a fork, and scatter the caramel attractively over the dessert.  It will harden quickly, so move fast.
  The dish as this point will be fine for up to an hour at room temperature.  Chill if keeping longer than this, but not for more than 2 hours.