The end of the  year is an optimal time for reflection and consideration of new goals for the coming year. Looking for inspiration? Read on to learn more about an exceptionally motivated local dairy farmer committed to sustainability and community support and don't forget to make your year-end contribution to The Great American Milk Drive.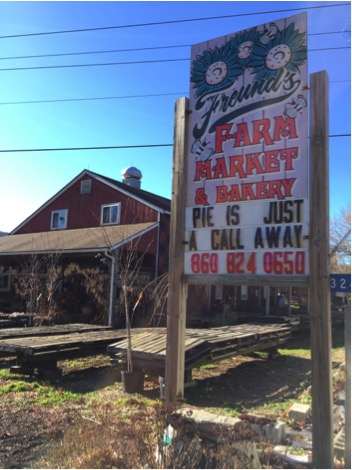 You may already know the Freund Family from their farm stand on Route 44 in East Canaan, CT, home of locally famous pies, farm-to-table catering, and, of course, the Cabot cheese made with milk from their cows. Or maybe you've noticed some of their 300 Holstein cows grazing on the pasture during the summer months. However, you may not have had the chance to meet Amanda Freund, who recently returned to her family's dairy farm and is putting her unique stamp on the business. Spend some time with Amanda, and you know right away you are dealing with one of the movers and shakers of the dairy industry who just happens to live in Litchfield County.
Amanda, along with her brother Isaac, sister Rachel, and cousins Sarah and Andy, is a third generation dairy farmer. Amanda grew up on the farm, and took an interest in farming very early on, occupying the "buddy seat" in the tractor alongside her father as he mowed and chopped hay and corn. However, her experience extends beyond the farm. After graduating from college in 2006 she worked for Congresswoman Rosa DeLauro, the Connecticut Farm Bureau, and UConn Extension, and served two years in the Peace Corps. Last year, she returned to her family's farm, recognizing the importance of the work and the opportunities to make meaningful contributions to her family and community. Amanda believes "Each of these off-farm experiences set me up to be an even better farmer."
To the Freund family, and Amanda in particular, running a modern dairy farm is not just about making ends meet. Their mission is really about being a positive member of the community. The farm is committed to sustainability efforts and applies innovative thinking to its approach. One of the best examples of the Freund Farm's commitment to sustainability is its mission to find a creative solution to a challenge every dairy farmer faces: What to do with all that manure?
Amanda Freund and her father, Matt Freund
Each cow produces an average of 17 gallons of manure every day! After eight years of trial and error, Amanda's father Matt and his brother Ben figured out how to turn composted cow manure into a biodegradable pot suitable for gardeners. The Freund family has received numerous accolades for their innovative CowPots invention including the 2015 US Dairy Sustainability Award for Outstanding Resource Stewardship, a feature on Mike Rowe's "Dirty Jobs" on the Discovery Channel, and recognition on multiple national and local television programs, including CNN. Amanda manages the CowPots product line and says it, "has provided her with a unique opportunity to open up our farm to customers and answer questions about our cows and farming practices."
 In addition to helping gardeners everywhere with CowPots, lending a hand closer to home is important to the Freund family as well. For example, their farm has participated in the Connecticut Food Bank's gleaning program by donating a bounty of winter squash. Amanda also is excited about bringing other young farmers together to volunteer at Connecticut Food Bank and Foodshare in the coming months.
Another way Amanda is showing support for the local community is through The Great American Milk Drive.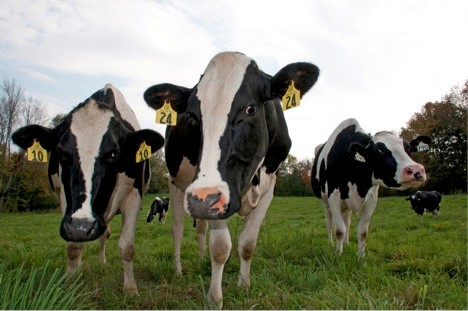 Cows enjoying the pasture at Freund's Farm
The Great American Milk Drive began in 2014 as a way to raise much-needed milk donations for Feeding America food banks like the Connecticut Food Bank. According to Amanda, "Milk is often touted as being a nutritious and affordable food source, but there are people in our communities who need support to put milk on their family's table, and that's what The Great American Milk Drive is all about! In my opinion, there is no more important cause for a farmer to stand behind than ensuring food security for our neighbors and community." It is easy to donate a gallon of milk to a Connecticut family in need through The Great American Milk Drive by giving online.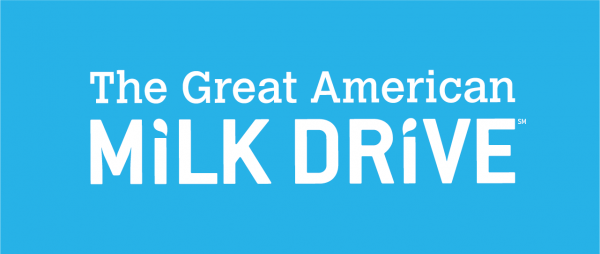 Whether it's preserving the beautiful Litchfield County landscape, providing an innovative product to gardeners, or sharing an extra gallon of milk with families in need through The Great American Milk Drive, dairy farmer Amanda Freund's mission to support her community is a win-win all around.
*See EdibleNutmeg.com for this story and more about food and agriculture in Fairfield, Litchfield, and New Haven counties in Connecticut.