Servings: 4 servings, 2 ounces of milk per serving
Skill Level: Easy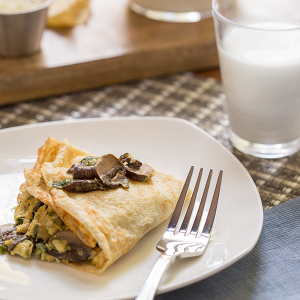 Ingredients:
1/2 cup – all-purpose flour
3/4 cup – lowfat or fat free milk
2 – eggs
2 tablespoons – butter, melted
1/4 teaspoon – kosher salt
4 – eggs
2 tablespoons – lowfat or fat free milk
1 tablespoon – olive oil
1 cup – mushrooms, sliced
1/4 cup – onion, diced
3/4 cup – frozen spinach, thawed and squeezed dry
1 cup – lowfat Swiss cheese, shredded
Pair each serving with:
8-ounce glass of milk
Instructions
For the crepes, in a medium mixing bowl whisk together flour, 3/4 cup milk, eggs, melted butter, and salt until smooth. Cover and refrigerate 30 minutes.
 Preheat a 10-inch nonstick skillet over medium-high; lightly coat the pan with nonstick spray.
Stir the crepe batter and pour about 2 tablespoons into the hot pan, lifting the pan off the heat, tilting and rotating it so that the batter forms a thin, even layer. Cook until the top of the crepe is set and the underside is golden, about 45 seconds.
Turn the crepe over using a spatula or your fingers (fingers work best here) and cook until the second side is lightly browned, about 5 seconds. Transfer the crepe to a piece of wax paper.
Cook the rest of the crepes in the same manner, coating the pan with spray and stirring the batter before starting each one. Stack the finished crepes between sheets of wax paper. (Crepes may be made up to 1 day in advance; store in a re-sealable plastic bag in the refrigerator.)
For the filling, whisk together eggs and 2 tablespoons milk in a small bowl; set aside. Heat olive oil in a 10-inch nonstick skillet over medium.
Add mushrooms and onion and cook, stirring often, until mushrooms are softened and onion is translucent, about 10 minutes.
Stir in spinach and egg mixture and cook, stirring constantly, until egg is set.
Off heat, sprinkle eggs with cheese. To serve, arrange a crepe on each of 4 serving plates.
 Divide egg mixture among the crepes, then fold each crepe into a triangle; serve immediately with remaining 8-ounce glass of milk.
Recipe and image adapted from the Milk Life campaign, representing the nation's milk companies. MilkLife