Servings: 2
Skill Level: Intermediate
Cozy up with this tasty and comforting rose latte made with real dairy milk. You can also enjoy it iced! 🌹💕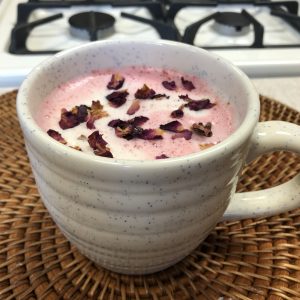 Ingredients:
4 cups of milk
8 tablespoons of dry rose petals
1 teaspoon of cardamom powder
2 tablespoons of sugar
1 teaspoon of beetroot powder per cup
Instructions
Serve Hot:
1) Pour milk into a sauce pan, add the dry rose petals and place on medium flame.
2) Add cardamom powder and sugar to milk.
3) Gently stir the milk and bring to a gentle boil.
4) Add one teaspoon of beetroot powder per mug.
5) Place a strainer on mug and pour hot milk into the mug.
6) Mix well to combine milk and beetroot powder.
7) Top with a few dry rose petals.
Serve hot and enjoy!
Serve Iced:
1) Follow steps 1 through 3 above.
2) Before mixing milk with beetroot powder, chill milk in fridge for at least 30 minutes.
3) Pour chilled milk into mug and mix well with one teaspoon of beetroot powder.
4) Pour over ice and enjoy!