Servings: 3 1/2 Cups
Skill Level: Easy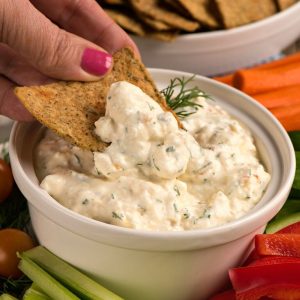 Ingredients:
2 tablespoons extra virgin olive oil
¼ cup shallots, finely minced
1 tablespoon fresh garlic, finely minced
Pinch red pepper flakes
2 cups whole milk yogurt, Greek or plain
1 pound crumbled feta cheese, see note
Zest from half a lemon
Juice from half a lemon
½ teaspoon kosher salt
¼ teaspoon white pepper
2 tablespoons fresh dill fronds, chopped
For dipping
Carrot sticks
Baby cucumber sticks
Celery sticks
Red Pepper strips
Hearty chips that can hold up to a thick dip
Instructions
In a small sauté pan over medium heat, add oil, shallots, garlic and red pepper flakes and cook for five minutes stirring often. Remove from heat early if they start to brown too much. Set aside to cool.
In a large bowl, combine the yogurt, feta, lemon zest, lemon juice, salt, pepper, dill and the cooled ingredients from the pan.
Chill and serve with vegetable sticks and/or dipping chips.
Notes
Note: Some feta cheeses are made from goat's and sheep's milk and the taste is quite sharp and tangy. We recommend cow's milk feta for this recipe. You'll still enjoy a briny flavor but it is more mild than other feta cheese options.
Recipe by Martha Pesa A Family Feast