Servings: 4 servings
Skill Level: Easy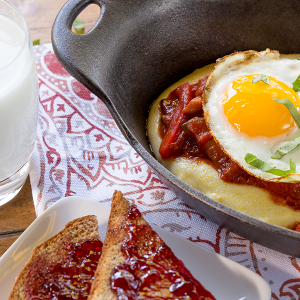 Ingredients:
1 cup – mushrooms, sliced
1 cup – red bell pepper, cut into strips
1 cup – zucchini, halved lengthwise and sliced into half-moons
1 jar (32 ounces) – marinara sauce
2 1/2 cups – lowfat or fat free milk
salt
1/2 cup – finely ground polenta or cornmeal
2 teaspoons – olive oil
4 – eggs
Optional – fresh basil, chopped
Pair each serving with:
8-ounce glass of milk
1 slice – whole wheat toast with 1 teaspoon jelly
Instructions
Spray a large nonstick skillet over medium-high. Add mushrooms, bell pepper, and zucchini, and sauté until vegetables soften slightly, about 3 minutes.
Add marinara and simmer to heat through. Reduce heat to low and keep warm. Bring 2 1/2 cup milk and salt to a boil in a medium saucepan over medium-high. Slowly whisk in polenta, stirring constantly to prevent lumps from forming.
Cook until thickened, about 5 minutes. Remove from heat, cover, and keep warm. Heat 2 teaspoons olive oil in a large nonstick skillet over medium-high.
Carefully crack eggs into pan and cook until whites are set and yolks are cooked to desired doneness, 4 to 6 minutes.
To serve, divide polenta among 4 shallow serving bowls; top with marinara and an egg. Sprinkle with chopped basil if desired.
 Serve with remaining 8-ounce glass of milk and whole wheat toast with jelly.
Recipe and image provided the Milk Life campaign, representing the nation's milk companies. MilkLife