Servings: 1 serving
Skill Level: Easy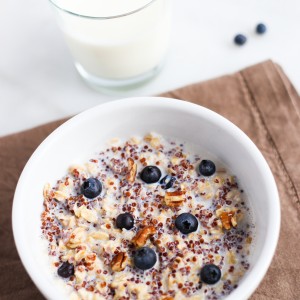 Ingredients:
2/3 cup – lowfat milk
1/3 cup – old-fashioned oats
1/4 cup – cooked quinoa
1/4 cup – blueberries
1 teaspoon – maple syrup or sweetener of choice
2 tablespoons – pecan pieces
2-3 dashes – cinnamon
Instructions
Combine milk and oats and cook according to package instructions to desired creaminess. Stir in quinoa, blueberries, maple syrup, pecans and cinnamon and serve hot. Enjoy with an 8-ounce glass of milk.
Recipe and photo by Elle Penner of According to Elle.
Recipe and image provided the Milk Life campaign, representing the nation's milk companies. MilkLife