Servings: 2 Sandwiches
Skill Level: Intermediate
Why should you have to choose between sweet & savory? This grilled cheese gives you the best of both worlds!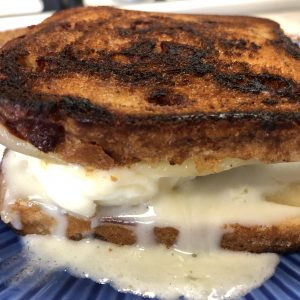 Ingredients:
4 slices of cinnamon swirl bread
4 slices of white cheddar cheese or about 2 cups of shredded white cheddar cheese
1/4 cup of apple butter
2 Tablespoons of butter
3/4 cup vanilla frozen yogurt
Instructions
On each piece of cinnamon swirl bread, spread 1/2 Tablespoon of apple butter on one side.
Put slice of cheese on each bread slice or about 1/2 cup of shredded cheese on each bread slice.
In a grill pan over medium-high heat, toast the sandwiches on both sides until the cheese is thoroughly melted.
Top two of the warm sandwiches with the frozen yogurt, 1 large scoop or 2-3 smaller scoops.
Cut each in half and serve. Enjoy!