Servings: 4 sandwiches
Skill Level: Easy
"Skinny" Greek Yogurt Chicken Salad is the perfect alternative to the traditional version. It's easy, delicious, healthy, and you won't miss the calories!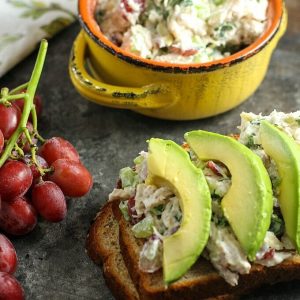 Ingredients:
2 cups grilled or rotisserie chicken, chopped
1/2 cup celery, chopped
1/2 cup grapes, quartered
1/2 cup baby spinach, julienned
1/4 cup sliced almonds
1/4 cup green onions, chopped
1 teaspoon fresh dill, chopped (or more, to taste)
3/4 cup Greek yogurt
2 tablespoons freshly squeezed lemon juice
1 tablespoon honey, preferably local
1 tablespoon water
Avocado slices (optional)
Instructions
Combine chicken, celery, grapes, spinach, almonds, green onions and fresh dill in a bowl.
Combine Greek yogurt, lemon and honey; add to chicken mixture.
Add water for more moisture.
Serve plain, on sandwich bread or crackers. Add avocado slices if you would like.
Recipe by Michelle Nahom A Dish of Daily Life