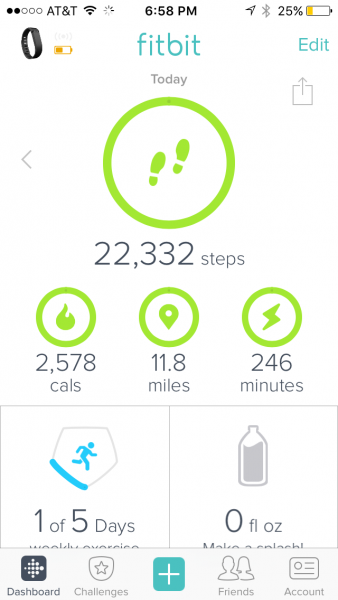 Are you using an activity tracker like a Fitbit to move more in the new year?  Whether you're an athlete, a busy mom, a farmer, or even a cow, you've got to get those steps in to meet your daily goals!
Wait a minute…a cow? You bet! We caught up with two farm families who have joined in on the "Fitbit craze" and so have their cows!
Becky Akins calls Five Mile Farm in Lisbon, NY home. Becky, and her husband Mark, work alongside their grown children Ryan and Allison. In addition to the farm's 500 milking cows, they raise beef cattle, produce maple syrup, and sell sweet corn. 
That means they are moving a lot! Becky gave us the scoop!
MBTM: When did your family start using Fitbits?

BA: Our family purchased Fitbits in July 2015 as part of a health awareness initiative with Agri-Mark and Cabot Cheese. We all continue to track our steps and set personal goals. 
MBTM: What is the average amount of steps taken during a full workday on the farm?

BA: Ryan and Mark average 14,000 steps daily. Some days they have 5000 steps in before breakfast!
MBTM: So the cows have "Fitbits" too? What is that all about?
BA: CowManager tags track the amount of time the cows spend eating, ruminating, sleeping, walking, high activity, and the cow's temperature. This information is sent to a computer and viewed by our family, the herdsmen, veterinarians, and nutritionists.
MBTM: What are the most important things to monitor?
BA: Everything is important. How healthy our cows are is a priority for everyone on the farm. By monitoring daily habits of the cows, we can diagnose problems several days before they visually appear.
MBTM: How many cows have them?
BA: 300 cows have CowManager tags. About a week before a cow is due to have a calf, she will receive a tracker.
MBTM: When did you get the trackers for the cows?
BA: In July 2015, we got CowManager tags for our cows. This was the same time we got Fitbits for our family.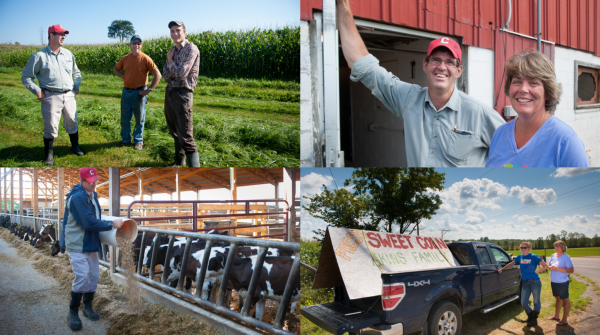 The Akins Family uses "earring style" activity trackers for their cows.  There are several different activity trackers and styles to choose from!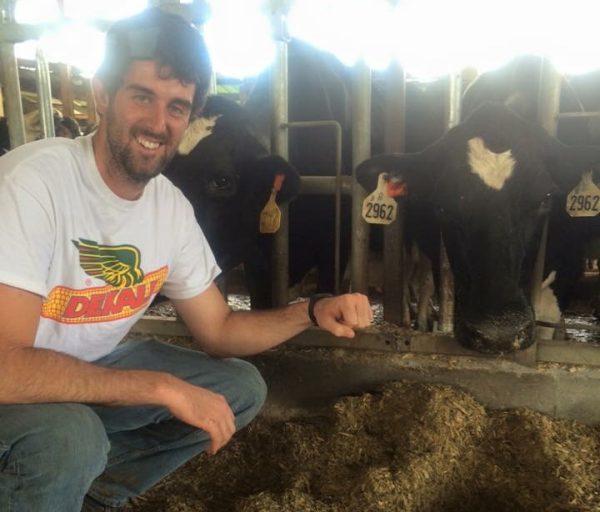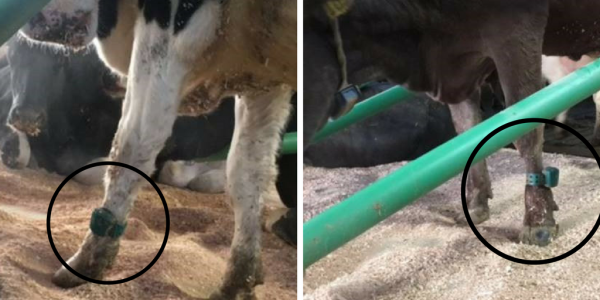 The Manning Farm in Swanton, Vermont uses trackers that fit on their cow's ankles! We also caught up with the Manning family to learn about how they track their cow's activity.
Manning Farms is home to Robert and Sandy Manning, their son David, his children Rebecca, Nick, and Oliver, and grandchildren Ryland and Regan. It has been a family operation ever since it began with Robert's grandfather, Gerald Griswold about a century ago. They have plenty to do with 700 cows (360 of which are milked) and 1,200 acres.
Rebecca Manning Howrigan gave us the scoop!
MBTM: What type of activity trackers do your cows use?
RH: GEA pedometers that fit around the ankle.
MBTM: What is the most important thing to monitor?
RH: It's all important! We will monitor laying time by cow groups, as well as individual cows. It is very helpful used together with step count on individual cows. As you would expect with people, if a cow isn't feeling well, she will not be walking as much and will be laying down more. My computer has an algorithm that will alert me when a cow reaches an "attention" threshold. 
Another important data point to look at is how many times did an individual cow get up and down? I want a cow to eat a good meal and lay down for a lengthy period. If she is constantly up and down, it is a hint that she isn't feeling well.
MBTM: What is the average daily step count for your cows?
RH: The average steps for our cows is around 3,000.
See an example of some data from the Manning's cows:
| | | |
| --- | --- | --- |
| Cow # | Age | Steps |
| 1650 | 6.5   | 4210 |
| 1687  | 6 | 3348 |
| 211   | 3 | 5240 |
| 3  | 4 | 3039 |
RH: I got a Fitbit for Christmas!!! On my first day, I had already walked 6,600 steps before 9:00 a.m.! By the end of the day, I had over 20,000 steps!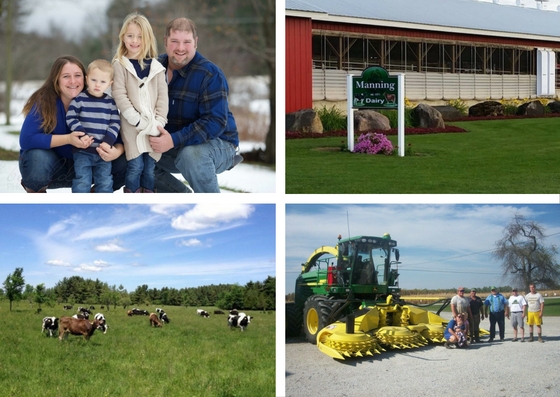 Technology is pretty amazing! Will you use it to get moooving in 2018?