It's officially 2018, and with the new year brings talk of resolutions. One of my favorite New Year's resolutions is to make one new recipe per week. Cooking is a favorite hobby of mine, and this resolution gets me back into the kitchen creating nourishing meals after a busy holiday season of parties and endless cookie trays. It also has me trying new flavors as I incorporate different recipes into my weekly meal plans.
McCormick has released its 2018 Flavor Forecast, which highlights ingredient and flavor trends to try in the new year. Featured spices include turmeric, ginger, cayenne pepper, cardamom and garlic. Keeping these flavors and my resolution in mind, I set out to test some recipes to help you incorporate more dairy and spice in your life! 😉
Turmeric Latte
Turmeric lattes are all the rage. Our version combines milk with spices like turmeric, ginger, black pepper and cinnamon to create a hot or iced spicy latte.
Cold Buster Smoothie
Not all recipes have to be difficult! Nutrient-rich smoothies are a fantastic way to check off that weekly new recipe goal. This Cold Buster Smoothie is filled with spices like ginger and cinnamon and antioxidant-rich blueberries and 100% orange juice.
Yield: 2 servings
Ingredients
1 medium banana (frozen)
1 cup low-fat vanilla yogurt
1/2 cup 100% orange juice
1/2 cup frozen blueberries
1/4 tsp ground cinnamon
1/4 tsp ground ginger
Directions
Add all ingredients to a blender and blend on high to combine
Pour into glasses and enjoy!
Yogurt Carrot Soup
From The Stonyfield Farm Yogurt Cookbook
By Meg Cadoux Hirshberg; Stonyfield Cultured Books*
When I discovered a copy of this book at my local library's book sale, I knew that it would come in handy for work. What I didn't know was that one recipe would become a staple in my household! According to the book, this soup is also a favorite at Stonyfield Farm.
The combination of mustard seeds, turmeric, ginger, and cayenne pepper mixed with creamy, protein-rich yogurt make this carrot soup a must-try. It pairs perfectly with a colorful salad for a lighter meal, or a gooey grilled cheese (hint: see below) for something more filling.
Yield: 3 to 4 servings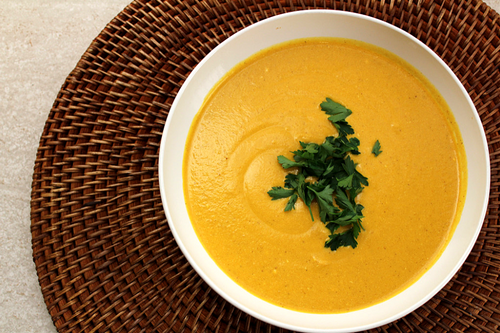 Ingredients
1/4 cup butter
1 onion, chopped
2 cloves garlic, minced
1/2 tsp mustard seeds
1/2 tsp ground turmeric
1/2 tsp ground ginger
1/4 tsp cayenne pepper
1/2 tsp salt
1/2 tsp ground cinnamon
1/2 tsp ground cumin
1 pound carrots, peeled and thinly sliced
1 Tbsp lemon juice
3 1/2 cups water
2 cups plain yogurt
1 Tbsp honey
Black pepper (optional)
Chopped fresh parsley, for garnish
Directions
Melt the butter in a skillet and sauté the onion and garlic until they are golden. Add the mustard seeds, turmeric, ginger, cayenne, salt, cinnamon, and cumin and sauté for several minutes, stirring constantly. Add the carrots and lemon juice, stir to combine, and continue cooking for several more minutes. Add 2 cups of water. Cover and simmer for at least 1/2 hour or until the carrots are tender.
Puree the carrot mixture in a blender (or use an immersion blender) with the remaining 1 1/2 cups of water. Pour the puree into a soup pot and stir in the yogurt with a whisk. Add the honey and heat the soup gently; don't let it boil. Sprinkle with black pepper, if desired. Serve hot, garnished with parsley.
3 Cheese Everything Spice Grilled Cheese
Adapted from Half Baked Harvest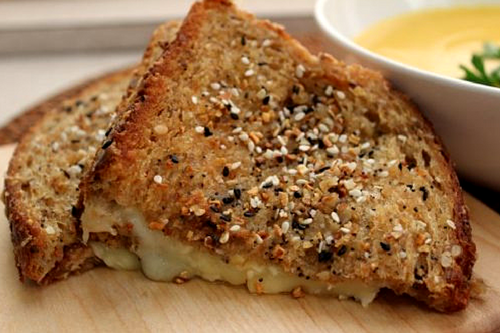 This sandwich takes grilled cheese to a whole new level with the addition of sesame seeds, poppy seeds, onion, and garlic. Want a spice-blend shortcut? Trader Joe's now makes an Everything but the Bagel Sesame Seasoning Blend!
Lactose intolerant? Natural and aged cheeses such as Cheddar and Parmesan contain minimal amounts of lactose, because most of the lactose is removed when the curds are separated from the whey in the cheese making process. Simply leave out the Havarti or fontina or replace with a more aged cheese like Colby or Swiss.
*The IACP accreditation guidelines were followed for this blog post