Servings: 4
Skill Level: Intermediate
You won't mind assembling these quick and creamy tropical parfaits; they turn breakfast into something extraordinary!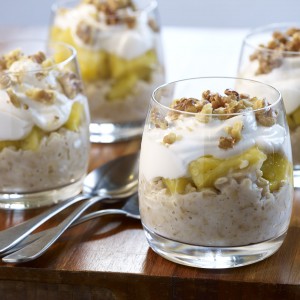 Ingredients:
1/4 cup walnut pieces
1-1/2 cups Old Fashioned Quaker©​ oats
2 cups milk
2 cups fresh pineapple, peeled, cored, diced
2 cups non-fat vanilla Greek yogurt
Instructions
In a small skillet, toast walnut pieces over medium heat, turning halfway through, for 3 to 4 minutes or until walnuts are lightly browned.
In a small saucepan, combine oatmeal and milk; simmer for 5 to 7 minutes over medium-low heat or until oats are tender and have absorbed the milk.
In a bowl or glass, layer 1/2 cup cooked oatmeal with 1/2 cup pineapple, 1/2 cup yogurt and 1 tablespoon walnuts.
Notes
Tip: If you're short on time, instant Quaker©​ oats may be substituted.