Servings: 4
Skill Level: Intermediate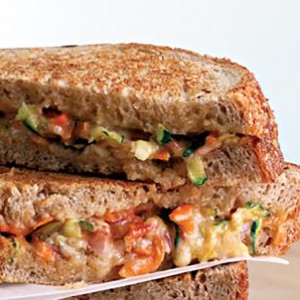 Ingredients:
4 ounces shredded sharp cheddar cheese
1 cup shredded zucchini
1/2 cup shredded carrot
1/4 cup finely chopped red onion
1/4 cup prepared salsa
1 tablespoon chopped pickled jalapeño pepper (optional)
8 slices whole-wheat bread
2 teaspoons canola oil
Instructions
Have a medium skillet (not nonstick) ready by the stove.
Combine cheddar, zucchini, carrot, onion, salsa and jalapeño (if using) in a medium bowl. Divide among 4 slices of bread and top with the remaining bread.
Heat 1 teaspoon canola oil in a large nonstick skillet over medium heat. Place 2 panini in the pan. Place the medium skillet on top of the panini, then lightly press down and hold. Cook the panini until golden on one side, about 2 minutes.
Reduce the heat to medium-low, flip the panini, replace the top skillet, and cook until the second side is golden, 1 to 3 minutes more. Repeat with another 1 teaspoon oil and the remaining panini.
Adapted from Eating Well