Servings: 6
Skill Level: Intermediate
Think of this festive slaw as a cross between a parfait and a salad. There are two different dressings, one light and creamy, and one that's a simple orange juice vinaigrette. Show off the vibrant layers of shredded raw vegetables and apple in a glass bowl or even have fun with individual servings in jars! We love how the flavors of the sweet shredded slaw pair with crumbled bacon, sharp cheddar and toasted pecans.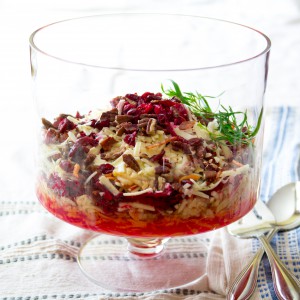 Ingredients:
4 carrots, peeled and shredded (2 ½ cups)
2 large apples, peeled and shredded (2 ½ cups)
2 medium-large beets, peeled and shredded (2 ½ cups)
2 tablespoons orange juice
2 tablespoons cider vinegar, divided
2 teaspoons honey
2 teaspoons minced shallot
1 teaspoon Dijon mustard
¾ teaspoon salt, divided
¼ teaspoon freshly ground pepper
1 tablespoon extra-virgin olive oil
¼ cup low-fat plain Greek yogurt
2 tablespoons mayonnaise
1 teaspoons chopped fresh tarragon
4 strips bacon, cooked and crumbled, optional
1 cup shredded sharp cheddar cheese
½ cup toasted chopped pecans
¼ cup sweetened dried cranberries
Instructions
Place carrots, apples and beets in individual medium bowls. Whisk orange juice, 1 tablespoon vinegar, honey, shallot, mustard, ½ teaspoon salt and pepper in a small dish. Add oil and whisk to combine. Drizzle vinaigrette over the carrots, apple and beet, dividing evenly among the bowls. Toss each to coat.
Whisk yogurt, mayonnaise, tarragon, the remaining tablespoon vinegar and the remaining ¼ teaspoon salt in a small bowl.
Assemble salad in a large glass bowl or in individual glass bowls or jars. Layer half of the carrot, apple and beet into the bowl(s) or jars. Top with half of the creamy dressing. Layer on half of the bacon (if using) cheddar, pecans, and cranberries. Repeat with a second layer of each. Chill until ready to serve, up to 8 hours.
Adapted from Real Simple