Servings: 4 (makes 3 pancakes per serving)
Skill Level: Easy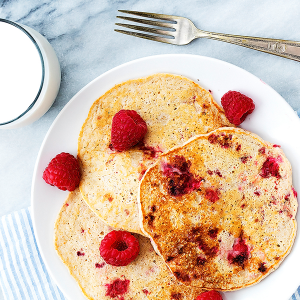 Ingredients:
1 cup – whole fresh raspberries
1 1/2 cups – small curd lowfat cottage cheese
2 cups – old fashioned rolled oats
2 – large eggs
3 tablespoons – granulated sugar
1 teaspoon – ground cinnamon
1 teaspoon – vanilla extract
3/4 cup – milk
Powdered sugar, honey, additional raspberries (optional)
Pair each serving with: 8-ounce glass of milk
Instructions
In a small bowl, slightly mash raspberries with a fork. Preheat a large skillet or griddle to medium heat (275 degrees).  In a large bowl combine cottage cheese, oats, eggs, sugar, cinnamon, and vanilla and mix to combine.
Transfer mixture to a blender along with 3/4 cup milk, blend until smooth. Gently stir in mashed raspberries. Lightly grease preheated skillet. Pour 1/3 cup of the pancake batter onto the skillet. Allow to cook for 2-3 minutes until bubbles begin to form around the edges. Flip and allow to cook 1-2 more minutes until cooked through. Repeat with remaining batter.
Serve pancakes warm along with remaining 8-ounce glass of milk. Top with additional berries, powdered sugar, and honey if desired.
Recipe and photo by Tiffany Edwards of Creme de la Crumb
Recipe and image provided by the Milk Life campaign, representing the nation's milk companies. MilkLife