Servings: 4
Skill Level: Easy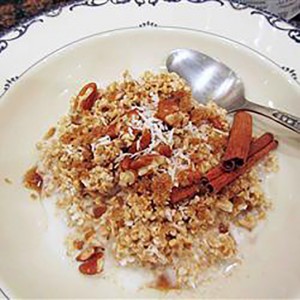 Ingredients:
1-1/3 cups steel cut oats
1/4 cup unsweetened shredded coconut
1/4 cup crushed pecans
2 teaspoons brown sugar
1/2 teaspoon ground cinnamon
1-1/3 cups milk (for first half of recipe)
1/4 cup milk (for second half of recipe)
Instructions
Mix oats, coconut, pecans, brown sugar, and cinnamon in a small container; top with 1 – 1/3 cup milk. Cover and refrigerate for 8 hours or overnight.
Stir ¼ milk into oat mixture before serving.
Adapted from All Recipes