Servings: 8
Skill Level: Easy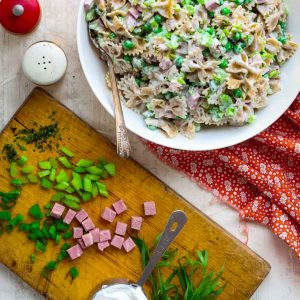 Ingredients:
4 cups farfalle pasta, whole-grain or gluten-free if desired (10.5 ounces)
1 cup plain low-fat Greek yogurt
3 tablespoons mayonnaise
4 teaspoons white vinegar
2 teaspoons Dijon mustard
1 ¼ teaspoon salt
1 teaspoon chopped dill
1 teaspoon chopped tarragon
½ teaspoon white pepper
1 cup frozen peas, thawed
1 cup finely diced ham
1 cup finely diced celery hearts
½ cup finely chopped scallions
Instructions
Bring a large pot of water to a boil. Cook pasta according to package instructions until al dente. Drain thoroughly. Run cold water over the pasta to cool.
Meanwhile whisk Greek yogurt, mayonnaise, vinegar, Dijon, salt, dill, tarragon, and pepper in a large bowl.
Add the cooked pasta to the Greek yogurt mixture and toss to coat. Add peas, ham, celery and scallions. Toss to coat. Serve immediately or refrigerate up to 24 hours in advance. Stir again before serving.
Recipe by Katie Webster, Heathy Seasonal Recipes.