Servings: 6
Skill Level: Intermediate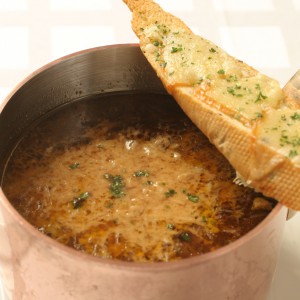 Ingredients:
4 T. extra virgin Spanish olive oil
5 cloves garlic, finely minced
8 c. sweet onions such as Vidalia, thinly julienne
Celtic sea salt (or any sea salt)
2T. light brown sugar
2 sprigs of thyme, finely minced
¼ c. cooking sherry
2 c. Harpoon Brewery Munich Style Dark Beer
6 c. beef stock
French baguette, sliced ½-inch thick on a 6-inch long bias
½ lb. Grafton Village Maple Smoked Cheddar, thinly sliced
Instructions
Heat 2 tablespoons of the olive oil in a large sauté pan over medium high heat. Add garlic and sauté quickly but don't burn. Add onions, season with salt and cook for about 5 minutes stirring often. Add light brown sugar and toss to coat evenly, turn flame to low and cook for about 2 minutes, stirring occasionally until the onions are golden brown and fully caramelized.
Deglaze with vinegar and beer. Add thyme and reduce by half, takes about 10 minutes. Add the beef stock and cook at a low simmer for about 20 more minutes.
Brush each of the baguette slices with the additional olive oil and lightly toast. Preheat the broiler. Transfer soup to individual ovenproof soup bowls. Top with toasted baguettes and sliced Cheddar. Broil until cheese melts and starts to brown slightly.