Servings: 4-6
Skill Level: Intermediate
Recipe courtesy of Mapleline Farm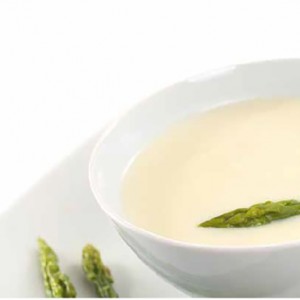 Ingredients:
1 lb. asparagus, trimmed, washed and cut into pieces
½ cup finely chopped onion
1 tsp. celery salt
3 tbsp. butter
3 tbsp. flour
¾ cup Mapleline Farm Heavy Cream*
¾ cup Mapleline Farm Whole Milk*
*For a lighter version, use light cream and low-fat or fat-free milk.
Instructions
In a 1 quart sauce pan, cook asparagus in two cups of boiling water until tender.
Add onion and celery salt, cook until onions are soft.
Puree asparagus mixture in a blender
In the same sauce pan, melt butter and add flour, cook flour until golden brown.
Whisk milk and cream into butter and flour mixture. Stir until mixture thickens.
Add asparagus mixture from blender, mix all together in saucepan until smooth.
Add salt and pepper to taste.